Features
Lawson Hosts May 10 Birthday Bash and Open House
Manufacturers' reps will be on hand, so it will not only be a fun event but also a chance to discuss their latest equipment.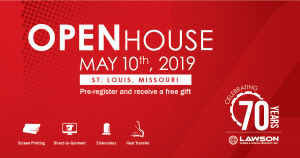 St. Louis-based Lawson Screen & Digital Products hosts an open house at its St. Louis headquarters in celebration of the company's 70th birthday.
The Friday, May 10 event will feature representatives from major suppliers, including Epson, Ulano, and Roland, who will be available to discuss new products and provide hands-on demonstrations.
Interested parties can pre-register to receive a gift the day of the event. All attendees will leave with free samples, and attendance includes complimentary food and drinks.
The celebrations begin at 10 a.m. and go until 3 p.m. at the company's Missouri headquarters located at 5110 Penrose St., St. Louis, MO 63115.