Features
La Crosse Sign Group Wins Two Categories in Daktronics Sign Design Contest
Daktronics, a digital signage solutions provider of Brookings, South Dakota, recently held a Sign Design Contest during its annual Sales Expo. La Crosse Sign Group won the 49-square-feet and smaller competition with a sign for Oakdale Credit Union and the 50-square-feet and larger category with the Wilderness Resort sign.
Sales Expo is held by Daktronics every year to bring sign professionals together to network and learn from speakers and demonstrations. This was the first year the seminar went virtual. The Sign Design Contest continued to be a feature of the event.
"As always, there was some excellent competition for our Sign Design Contest," says Jess Bern, Daktronics. "We congratulate James Fuchsel and La Crosse Sign Group for earning accolades from other sign professionals by winning these contests."
The 50-square-feet or larger winner (pictured above) was a digital sign that replaced an existing static sign. Wilderness Resort wanted to use a real airplane wing in the structure, but it lacked the necessary strength. La Crosse teamed up with another company to create a foam wing to add to the structure, adding to the overall design of the largest digital sign in the Wisconsin Dells area.
In the 49-square-feet or smaller category, La Crosse Sign Group worked with Oakdale Credit Union, which was new to digital signs. They wanted to update a branch sign, so La Crosse arranged an onsite demonstration with Daktronics.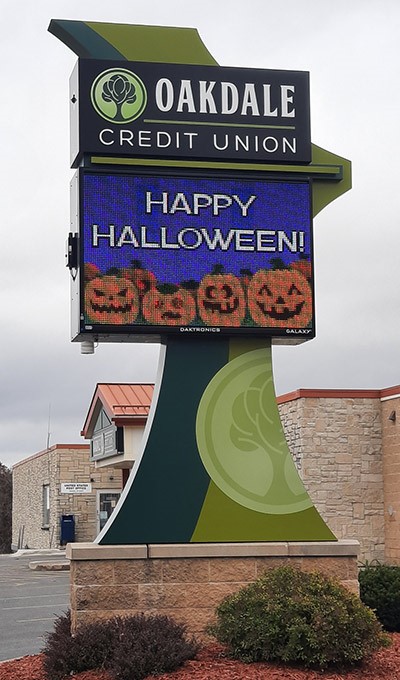 View all contest submissions here.