Features
Koehler Paper Group Acquires Beaver Paper & Graphic Media Inc.
Both companies are focused on a seamless transition.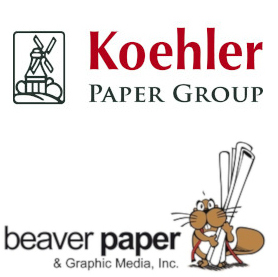 Koehler Paper Group, a global producer of specialty paper, announces the acquisition of Beaver Paper & Graphic Media Inc., a manufacturer of sublimation media to the dye-sublimation and digital print industry.
In 2016, Koehler Paper Group acquired a minority interest in Beaver Paper and simultaneously entered into a shareholder agreement, leading to this final acquisition, according to a company press release.
"This acquisition represents an amazing opportunity to pool the expertise of two global leaders in their sector of the paper industry," says Kai Furler, CEO of Koehler Paper Group. "With our combined knowledge base and industry reach, we can help increase Beaver Paper's efforts to develop consistent, quality products creating a superior portfolio of sublimation media."
As a member of the Koehler Paper Group, Beaver Paper will continue to be headquartered in the Atlanta, Georgia area and will remain the same company under the new leadership.
Koehler Paper Group announces Tobias Sternbeck as CEO of Beaver Paper. In addition, Donald P. Burke has been named CFO to lead the Beaver Paper finance and accounting team going forward. To facilitate the integration, the original owners of Beaver Paper will assist the new management team during the transition period.
Since its inception 40 years ago, Beaver Paper has evolved to offer its sublimation media products in over 51 countries worldwide. The products are also carried by distributors and direct sales out of its Atlanta, Georgia headquarters and distribution facilities in Los Angeles, California; Willstätt, Germany; and Zaandam, Netherlands.
Based in Oberkirch, Germany, the Koehler Paper Group, a family-owned company founded in 1807, brings over 213 years of paper expertise and global reach to support Beaver Paper's growth and expansion.