Features
Kidswear Opportunities for Decorators
Explore fiber content, sizing, trending styles, colors, and designs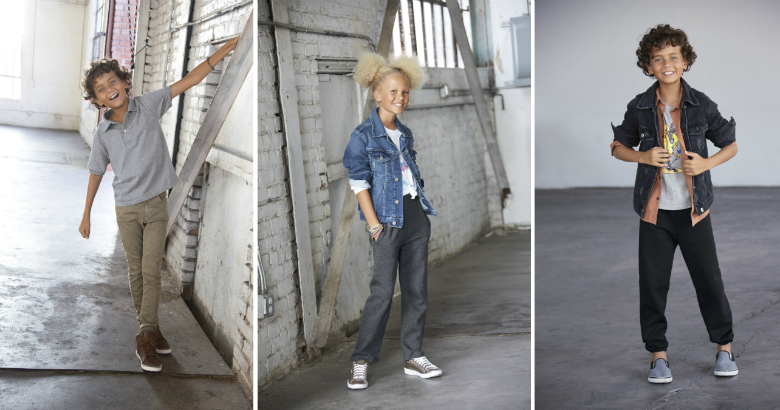 Providing products for clients of all ages is undoubtedly an added business opportunity for print shops. Moreover, decorators who match the right blank with the right print and technique to appeal to kids is what will take them to the next level.
Children are always on the move, which is why they need clothing that can truly take them anywhere. This requirement poses a challenge for apparel decorators who must select and decorate inventory to appeal to today's trends in children's apparel. With that in mind, here are the latest trends in kidswear that all decorators should remember.
With millennial parents wielding $2.4 trillion in U.S. spending power, they are a generation to watch. They influence to move trends and lead change, and it certainly applies to how they dress their children. Many millennial parents are opting for gender-neutral fashion. So stock plenty of neutral colors and stay away from stereotypical themes and styles that scream girl or boy. Millennial parents also want unique items that can be customized and personalized, as well as options that allow them to express who they are. This, of course, is where you come in!
Do kids or parents even care about fiber content?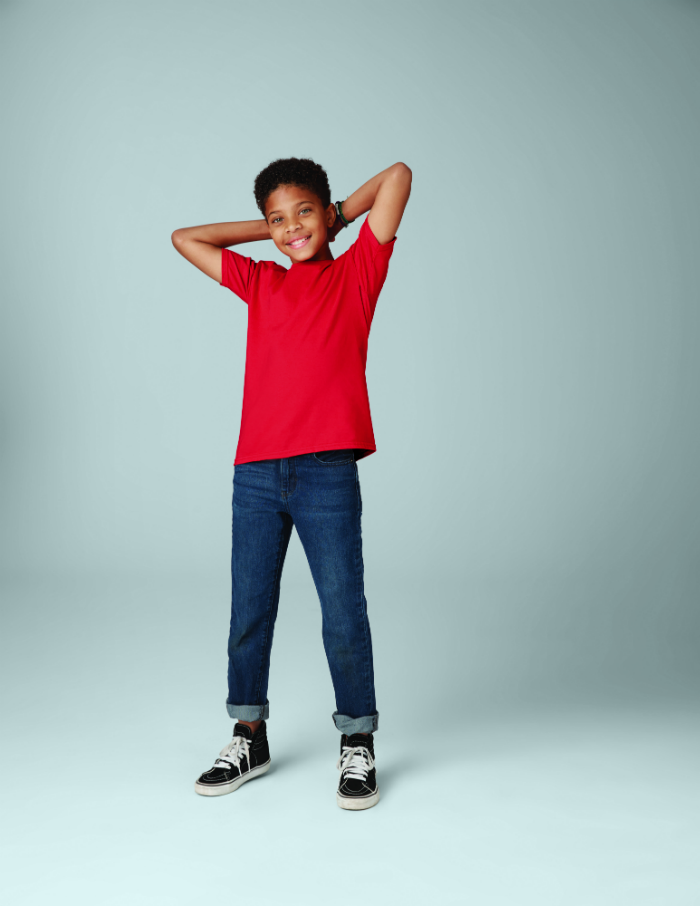 They both do but may not know it. For the most part, kids want to be comfortable and have fun. Fiber content has everything to do with comfort, making a soft hand a No. 1 priority. Parents want versatility for their children with quality fabrics, but they also want their little ones to be at their fashionable best. Durability features such as stretch and recovery and stain release are options that keep parents happy and kids looking great after recess.
Children's fabric options have elevated over the years, and specialty fabrics are now very much part of the norm. Specialty includes everything from slub yarns to snow heather looks to premium blends. If you want to make your shop more competitive, then consider stocking a small sample range of kids T-shirts in better quality and novelty fabrics. If it feels good, fits well, and looks great, it will sell!
One size doesn't fit all
Slim fit Ts are on the rise. However, kids even more than adults value comfort above all else, so the classic fit is not going away. We all know that one size doesn't fit all!
"Fit is all over the board for kids, depending on the market segment and style you prefer," says Kristen Vincent, manager of merchandising at JERZEES. "Kidswear trends do mimic men's and women's trends, from styling details to color and print design. Design features like split hems, high-low hems, curved hems for girls, and longer Ts for boys are key."
Athleisure makes the grade
Parents want their kids to be comfortable and their clothing to withstand visits to the playground, making athleisure an asset to the kidswear market. With a variety of comfortable looks adapted from sportswear to fit every kid, athleisure trends for children include everything from joggers and leggings to elastic finishes, lightweight fabrics, and of course, T-shirts.
Team sports have impacted this trend for kids. Kids want that sense of belonging to a team and putting that on display. And because athleisure apparel has become everyday wear, this is a lucrative market for decorators that offer team sports programs.
Color, color, color!
Every print shop needs a wide variety of colored T-shirts to fit every order. Pre-washed colors and pastels are in style for children, as well as seasonless colors such as white, gray, navy, black, and red. Gender-neutral fashion is gaining momentum, as pastels are no longer just for girls. Pastels such as peach, lavender, and mint have gained popularity with boys too.
Nature-inspired colors like indigo, ocean blue, gray, cream, and olive reflect the eco dyes that manufacturers are incorporating into their production. The rising popularity of earth tones demonstrates the importance of organic sourcing and increased awareness of the environment.
Final touches
The color of a T-shirt can only be trumped by the design statement you make. Retail screen printing has shifted to focus on children's self-expression, so don't be afraid to get creative with your designs!
Screen printing trends include happy prints, motivational quotes, splattered paint, retro brand logos, and block stripes. T-shirts with sayings like "100% Awesome!" and "Little Miss Attitude" are a favorite of millennial parents.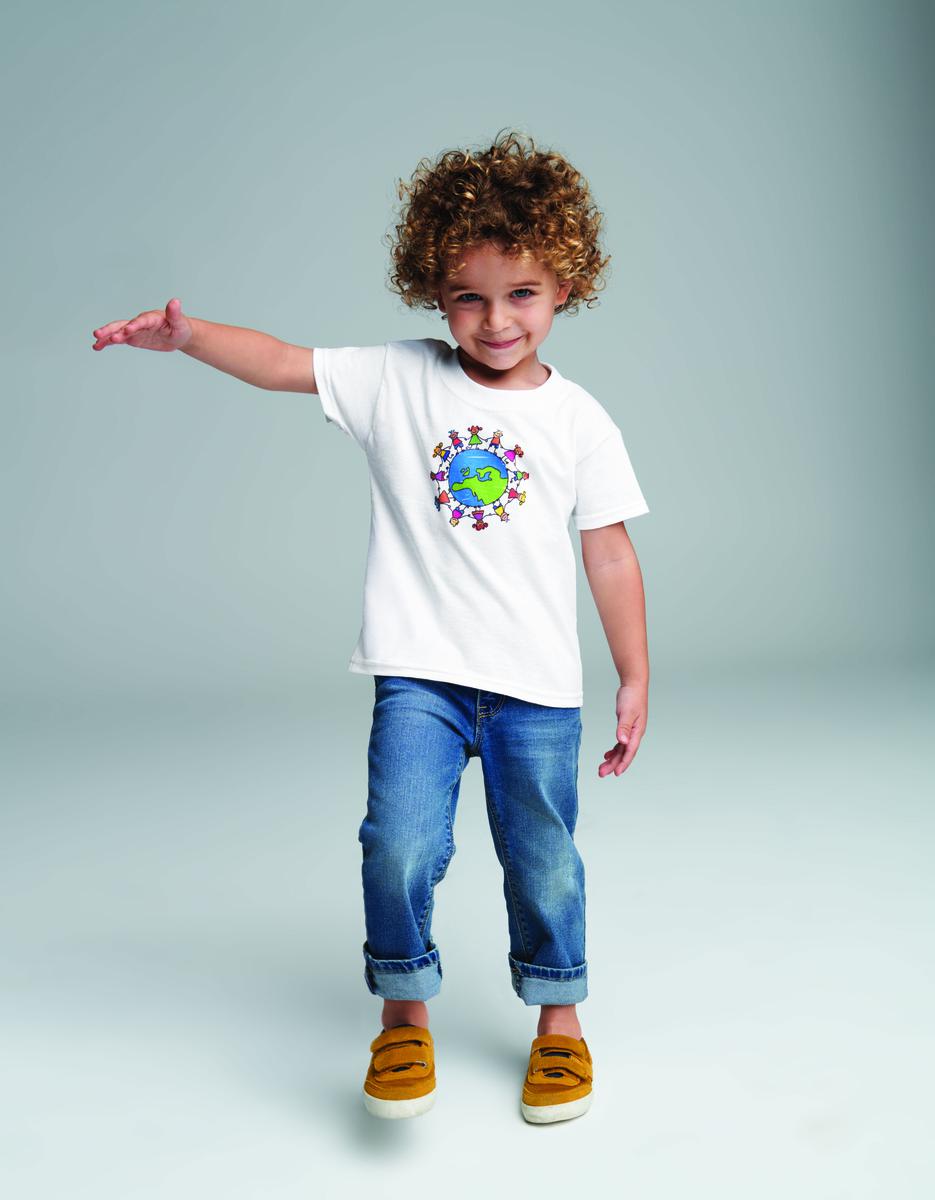 "Decorative trends for youth have always been focused on specialty prints and mixed-medium decorating, including embroidery with screen print or gels with fluorescents," Vincent adds. "Decorations for youth usually have function and feel. These two things help kids relate to the image in a positive, motivating way. Licensing will always be the largest player in youth apparel, but sports and outdoor images are still relevant in the market as well."
Here are several on-trend decorating processes for youth apparel:
High-density inks
Puffs & suedes
Glitters
Reverse applique or any embroidery process
Silicone
Molding/welding patches
Eco-friendly inks like water-based, non-phthalate, and formaldehyde-free inks.
Rotary printing for all-over images
Today's trends in children's fashion offer several opportunities for print shops to become more competitive in the retail clothing market. Remember, the children's clothing market tends to follow many of the same styles that are selling for adults. Many kids, even up to late tweens, want to be just like their big brother or sister, or favorite sports hero. It's crucial to stock items in youth sizes that are your best sellers in adult sizes. Athleisure's growing popularity means higher sales in T-shirts, joggers, sweatshirts, and hoodies. The customizable opportunities available for children in screen printing and embroidery are endless. Children's clothing is all about creativity and self-expression, so have fun with it!