Features
Colorado High School Prepares Students for Sign and Wrap Industry
Students in the Jefferson Jr./Sr. High School Sign & Wrap Lab design, print, cut, and install each project
Jefferson Jr./Sr. High School, an Edgewater, Colorado-based public school, has been training its students in graphic design and the wrapping process since 2019 through its "Sign and Wrap Laboratory" program.
"We are working hard to give students the skills to be able to join the industry right out of high school or college," explains program instructor Shanna Stevens.
Within the program, signage and wrap projects are designed, printed, laminated, cut, and installed by the students.
"I am really passionate about designing stuff, and when I learned I could do it at Jefferson, I was really excited," says student Sundary Garay-Jimenez. "I learned that we can use our skills in the workforce. For example, this past year, we made banners for different companies. We got to design and build them. When I pass by high schools and see our banners and yard signs, I feel really good because I helped do that."
We spoke with Stevens to learn about the ins and outs of the program:
How did the program get its start?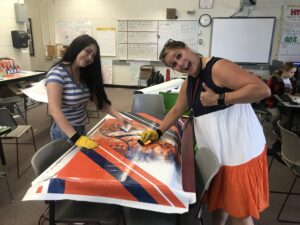 SS: Our auto shop teacher, Jesus Bujanda, was at the SEMA show in Las Vegas when he first met our mentor Dan Nava from IBOW (International Brotherhood of Wrappers). Dan has taken us under his wing and trained Jesus and me over the past few years. Whenever we have questions or concerns, he always makes time for us. I personally have taken a couple of IBOW's online design classes — in addition, Jesus and I went to a car wrapping class that Dan taught in Indianapolis.
Most of our students will be enrolled in "Graphic Design 1" at some point in their four years at Jefferson. A lot of our kids are so talented and creative and find a unique way of expressing themselves. Each class has a group of kids that really love the work and will request to take the second level class, which is when they begin designing and working with the Sign and Wrap Lab.
What do the students learn, and how involved are they in completing jobs?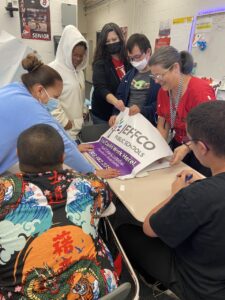 SS: Students do almost all the work in this program. As it has grown, we have been able to step back and allow students to take the lead. My graphic design students do almost all the designs. We work really hard to focus on what our customers want and their design requirements. We make changes based on feedback from our customers before the work goes to print. They also set up the printers with the correct substrate and do all of the installation themselves. I am here to help with organizing and making sure all students get a chance to try different parts of the job.
The program is almost all hands-on learning. We are constantly trying to add more to their toolkits and build portfolios of all of their work that they can use post-secondary. We are excited to add Adobe certifications this year. For this first year, students will be able to earn their Photoshop and Illustrator certifications.
What's the goal for the program and its students?
SS: Our ultimate goal as a program is to create a pathway for our students into the vinyl industry. We want them to be able to walk out of Jefferson with desirable and hirable skills. We want to work with shop owners to do a lot of the training needed to be successful so these kids have another viable option after high school and can make the best choice for themselves. We have been focusing on employability skills and making sure students understand what is needed to be successful after high school.
What were some challenges and triumphs of the project?
SS: COVID has definitely challenged us. We had just begun to really get into a groove when we were shut down. Several of the kids we started with graduated. Since then, we have been working on rebuilding the program and trying to build relationships with different shops so we can get the students exposure.
We have had some really great triumphs as well. One of my students won the "I Voted" sticker contest in Jefferson Country. All voters from our county received her sticker for the 2020 election. We also are starting to get repeat customers because of the quality of our work. The county purchased more security vehicles, and we wrapped all 11 of them in our auto shop. Everything was printed, laminated, cut, and wrapped in-house.
They now use us for all of their needs. The facility management department has also begun to use us for all banners and yard signs. Several businesses in the community have also been in contact, and we are working on building partnerships.
What is your favorite part about the program?
SS: I love seeing students that may struggle in school find something they love and are passionate about. This program has brought a whole new pathway of learning for everyone. It has brought me a lot of joy and new learning as well. I feel so blessed to be a part of it and see the changes in growth as students begin to believe in themselves. I can't wait to see what happens next!