Features
JDS Industries Relocates Chicago Warehouse
The new facility greatly increases the company's space, by some 65 percent.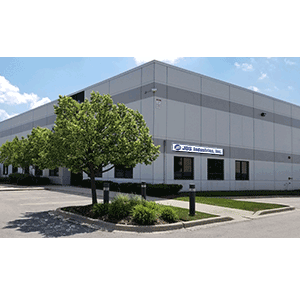 Sioux Falls, South Dakota-based JDS Industries, a supplier of components to the sublimation, awards, and gifts and promotion markets,  announces the move of its Chicago warehouse into a larger facility in Addison, Illinois. The relocation increases its space to 86,000 square feet from 52,000 square feet to accommodate more product and inventory, as well as a larger will-call area to welcome more customers.
The current warehouse, which JDS has occupied for four years, closed September 13th, and the company says it will take approximately two weeks to complete the move. JDS brought employees in from across the nation to help make the transition as quick as possible.
"JDS has outgrown its current space thanks to our customers," says warehouse operations director Randy Deutsch.
"We are happy to be moving," says warehouse manager Eduardo Hernandez. "As soon as we knew we had a new location, the process started (and we got) everything organized and (began) assigning projects to employees. The space will help us organize product so that it's more productive, and the larger will-call area will have counters and computers to help our customers. We have quite a strong will-call base."
The new facility is only seven miles away from the original one so there is little impact on customers, according to Brenna Walsh, communications specialist. Orders placed during the time of the move will be shipped out of the closest warehouse to the customers at no extra cost.
The new warehouse is located at 350 S. Church St., Addison, Illinois.