In a not-so-distant past, before the internet and before vinyl plotters, interior corporate signs were mostly an afterthought. There were nice high-end gold-leaf door signs for lawyers and doctors and the occasional upscaled lobby sign behind the welcoming receptionist at a corporation. Wayfinding consisted mostly of a men's and women's room with instructions to get the key at the front desk.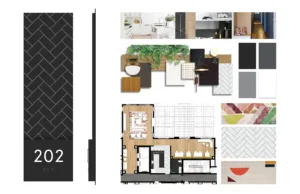 Like the way of the office fax machine (and, unfortunately the office receptionist), times have changed when it comes to a corporate interior environment. Today, creating an interior architectural signage system is an important way to create cohesive branding for a business. Architectural styled interior branding is a great way to make an impression on a client, establish your business as an authority in its industry and make an overall welcome and motivating place for employees to come to work.
Whether your business is a large national sign company, a small town (do it all) shop, or a printer looking to expand into a new market with your large-format equipment, let's discuss design, production, and installation of these impactful graphic systems. Often, taking the elements and cues of a successful exterior architectural signage program and building upon it for the interior.
Designing a successful system
In recent years, there have been several trends in interior architectural signage.
Minimalism: There is a growing trend toward minimalistic signage designs that are clean, simple, and unobtrusive. This includes the use of simple typography, neutral colors, and understated materials like metal, wood, and glass.
Digital Signage: This is definitely a sign of our times because this technology was unheard of 20 years ago. With the rise of digital monitors, more businesses are incorporating digital signage into their interior architecture. Digital signage offers a dynamic and flexible way to display information that can be updated easily.
Wayfinding: This type of signage is becoming increasingly important as businesses seek to provide clear and easy-to-follow directions for visitors. This includes directional signage, maps, and floor plans, often using symbols and icons to convey information quickly and intuitively.
Sustainability: There is a growing awareness of the environmental impact of signage and a trend toward using sustainable materials like bamboo, recycled plastics, and biodegradable materials. The Modulex Group has taken this a step further with its newest innovation, ReBond, a sign substrate made of recycled carpet waste from cruise ships.
Customization: Many businesses are opting for customized signage to create a unique brand identity and enhance the overall aesthetic of their space. This includes the use of custom typography, graphics, and materials to create a distinctive look and feel.
To help explain these trends in real-world terms, I reached out to Lauren Stern, owner of Studio 618 in Charlotte, North Carolina. She is an accomplished environmental graphic designer and member of SEGD, and just recently published her new children's book Signs Have Much to Say.
"I go through the whole project scope and make sure the client and I are on the same page with everything. I do a lot with multifamily projects. In these type of projects I like to get information like the naming (typography) and branding (logos and colors). I also spend a good deal of time reviewing the interior design, which often conceal images of building or decorative materials both organic and structural. I compile all this information and create a set of assets to use as inspiration."
Stern says, "All these elements come into play to create a more cohesive signage design that projects an intentional look and feel to the project and not like it was just slapped on as an afterthought. When it comes to inspiration, it could be something as seemingly insignificant as a herringbone tile pattern used in the building that becomes the sign background."
Overall, the trend in branded and themed graphics for corporate environments is toward creating a visually engaging and cohesive corporate identity that extends beyond the company's digital presence. By using a combination of large-scale graphics, environmental graphics, customized graphics, digital displays, and themed environments, companies can create a space that reflects their brand identity and reinforces their messaging in a powerful and memorable way.
For those already doing work in this area or for those testing the waters, understand that the interior signage arena can be competitive. Focusing on quality and innovation will help differentiate your company and work from others by offering high-quality, innovative products and services.
Keep in mind that this work is often viewed upon as a program or system involving a wide array of products and installation services. These include wayfinding signs, directional signs, ADA signs, wall coverings, and more.
Understanding the technology of digital products is also becoming increasingly necessary. With all this at stake it is important to know your clients: identify your target audience and understand their needs and requirements. Projects of this type may involve working with multiple team members, such as architects, contractors, designers and facility managers. It's important to communicate clearly the expectations of all involved.
With multiple sign types and various locations, these programs can become complicated quickly. New software programs like Sign Agent help to spell out all the different sign copy for each sign type, their location on a site layout and puts design, fabrication and installation on the same page following the same instructions.
On large projects with multiple floors and wings like a hospital or campus this type of program is a must and can easily be shared with the client and other team members for verification, ideally all before production and installation begins.
In Studio 618's case, Lauren describes her design studio as a "one-stop shop in a smaller studio. I give one to three concept drawings of initial sign types and once a final design is agreed upon I begin creating message schedules and location plans for the project. Depending on the type of project, I have a variety of vetted vendors I rely upon to fabricate and install. I always insist upon pre-production samples to verify myself and for client signoff."
What's your vector, Victor?
New advances in technology and manufacturing don't stop here. There is a new kid on the block that is becoming a necessity in medium to large interior signage systems: the digital presence of directories, wayfinding components and general aesthetics.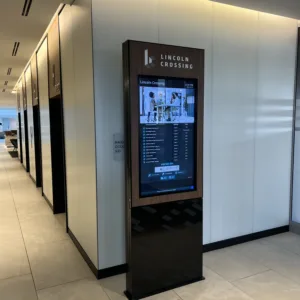 To get up to date on this important element, I spoke with Christina Powell with TouchSource in Layfette, Colorado. TouchSource has been in this developing market since the beginning. This non-static element in interior architecture signage is a game changer.
"Simply put, digital signage solutions deliver visitor entertainment and support ongoing activities and changes not found in traditional signs. This is all done while ensuring brand integrity and synching in seamlessly with the rest of the signage program. It's very important to note to our customer that we are not in the business of selling hardware. Our success is based on relentless focus on our software development that provides simplicity, consistency, clarity, quality, and innovation. Most clients are not capable of or have the resources to create and maintain what we can provide for them."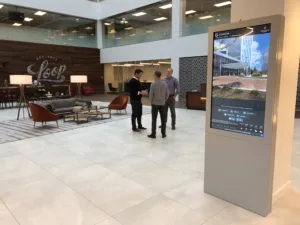 As with most new technologies, digital has often been an afterthought. The future is getting architects and designers on board with this from the get-go. The design and fabrication of the kiosk or display unit of a standalone or wall mounted unit can be enhanced with architectural elements in the rest of the sign system. Design elements, graphics, logos and typography can be provided to the digital company, like TouchSource, to include those elements in the software design for consistency.
"We are already seeing even greater potential for this technology moving forward. For example, for large hospitals or campus, we can provide an application for the visitor's phone to provide on-the-go current location and direction information."
Where do we go from here?
Larger companies in our industry can handle the complete design, manufacturing, and installation of these projects. For smaller companies that may specialize in printed wall coverings or ADA signage there is the ability to work successfully with a plethora of wholesale product companies and partner with specialty installers. Often a wall covering installer is not comfortable installing ADA signs and vice versa. You can bet a specialty digital technician will likely not touch either.
Small to medium sized print and signage companies wanting to test the waters with this type of work may want to reach out and market their fabricating and installation services to architects, designers, and larger sign companies. If successful, transitioning an in-house person for design and another for project management to coordinate the complexity of these programs can then be justified.
This is a very fluid discipline filled with age-old questions of figuring out where to go, combined with every evolving technology. Throw in some amazing design challenges with architectural and decorative components and you have the interior architectural sign Holy Grail. Going to work will never be boring!