Features
INSPIRED AWARD MAKING: SET YOURSELF APART WITH UNIQUE AWARDS
When you open your customers' eyes to new possibilities, you will not only differentiate yourself from the others but gain a customer for life.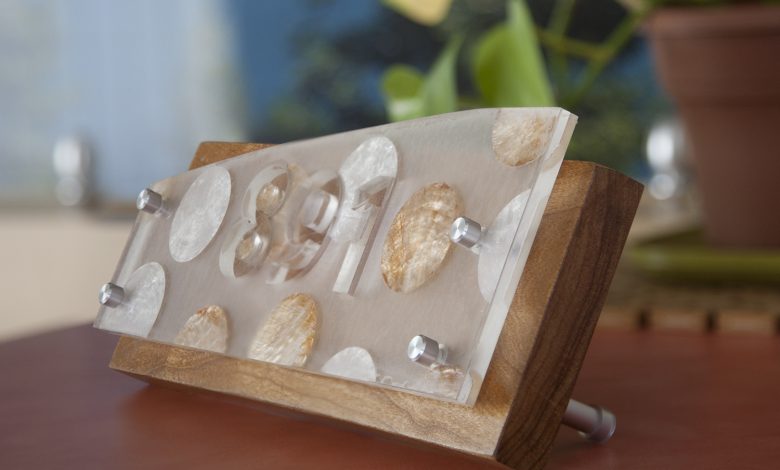 About this Sponsored Content
Johnson Plastics Plus, headquartered in Burnsville, Minnesota, has been a leading supplier to the engraving and sign making industry since 1970. Our Johnson Plastics Plus commitment to serving the needs of the engraving, sublimation and sign making customers remains our primary focus. Visit www.jpplus.com for more information.
When creating an award or plaque for a customer, the tendency is to reach for the tried-and-true wooden backer. These awards are fast, inexpensive, and easy to produce, but may lack the creativity that will set you apart from the competition. When you open your customers' eyes to new possibilities, you will not only differentiate yourself from the others but gain a customer for life.
Let's say your customer is purchasing awards for a construction company. Consider using a faux brick backer plate available at any home improvement store. I have seen saw blades, flooring tiles and corrugated steel used to create some interesting and unique plaques. Mounting a recognition plate to these with small standoffs adds depth and creates an award that really catches the eye.
Is the award for sports? Look at items used in that field for an impressive build. For example, used skis can be cut and bound to make a great backer. Baseball bats can be cut down, split and joined. Old equipment can be painted or stained, then affixed with an engraved label and standoffs.
THINK OUTSIDE YOUR SHOP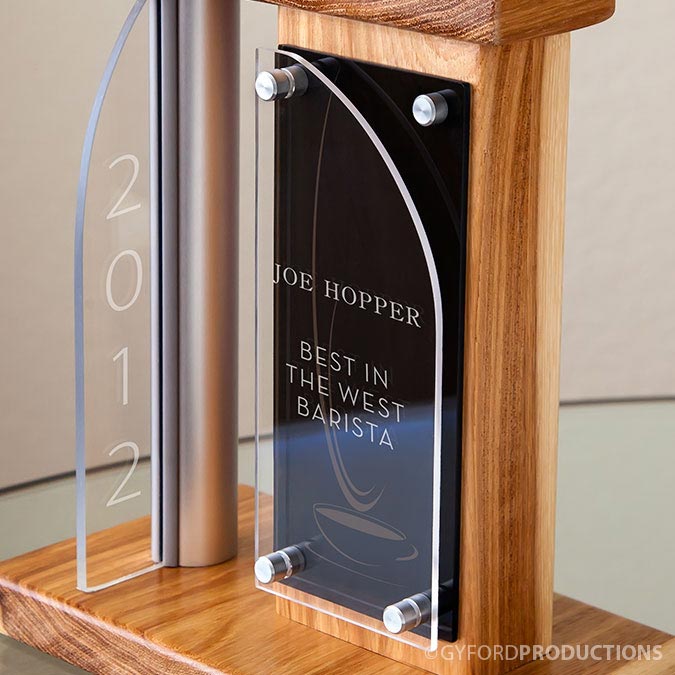 For a more rustic look, check out a woodworker's supply store. They have some beautiful lengths of rough-hewn cedar that can make an otherwise mundane plaque into a visually stunning presentation. Round cross-cuts of various types of wood can really make your customer's awards pop.
Small plaques can be mounted on pieces of lava rock, river rock or other similar stones for tabletop trophies.
Solid-surface countertop material can also make a great backer. Check in with a kitchen remodeling company in your area and offer to buy their off-cuts (they may just give it away). Typically, these contractors discard the material that is left over when a sink opening is cut into a countertop. They may also have small pieces of marble or granite that can find a new life. For them, selling the material is just added profit. For you, it's a great-looking backer for your customer's service award.
Go to a craft store or home goods store and wander the aisles. Look at the materials readily available and think about how you can employ them in your applications; look for a theme. For one-off builds, you may even find some great source material at a thrift store.
STAND OUT FROM THE CROWD
The possibilities are virtually unlimited. When you open your mind, you find inspiration all around you. Your customers will appreciate your resourcefulness, and you will quickly earn a reputation for your original designs and personal service.
For more information on Gyford StandOffs, visit jpplus.com/nbmgyford.