Features
InkSoft Acquires Digital Art Solutions
Both companies are focused on software that serves the graphics and apparel decorating industries.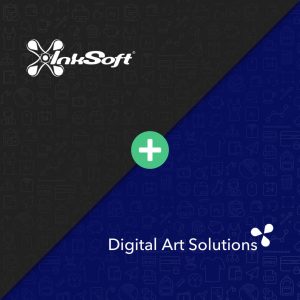 Tempe, Arizona-based InkSoft, which makes software geared toward the print and garment decorating industries, announces the acquisition of another software company based in Tempe: Digital Art Solutions. Both Arizona-based companies, Digital Art Solutions has served graphics and apparel decorating community since 1992, while InkSoft's origins date back to 2009.
DAS offers a range of production-ready artwork and software solutions for screen printing, embroidery, signage, and rhinestone decorating processes.
"We are thrilled to join the InkSoft family of products and services," Digital Art Solutions says in a statement to customers on its website. "We will continue to operate the same way you have come to know and love, but we will be able to reap all the rewards of joining one of the most respected technology companies in our industry."
InkSoft president Scott Allen says he sees the move as addressing two of the biggest challenges facing printers: sales growth and graphic design bottlenecks.
"InkSoft's purpose is to revolutionize the way print entrepreneurs do business and solve real-world challenges," Allen adds. "We now offer a package solution that will make things easier by simplifying the entire design process from initial art concept to finished product from one of the most respected artwork suppliers in the industry."
With the acquisition, both companies maintain their respective brands but will be managed from a centralized headquarters in Tempe, Arizona. DAS founder Craig Mertens continues his role in managing his company's operations.
"InkSoft and Digital Art Solutions are a perfect fit," Mertens says. "This will expand our reach and bring our graphics system to a larger audience. Together, InkSoft and DAS will provide a total solution for sales and production."
"InkSoft and Digital Art Solutions will pave the way for a true all-in-one solution for printers looking to increase sales and become more efficient," InkSoft says in an official statement.