Features
Impressive Trophies Falls Victim to Fire
The Puyallup, Washington-based custom trophy shop is in the process of deciding its next steps.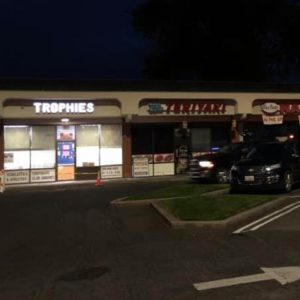 Impressive Trophies, a custom awards shop in Puyallup, Washington, is in the market for a new space after falling victim to a fire on the night of September 25. The fire started in the laundromat that shares a location in a strip mall, but the cause is unknown at the time of publishing. Out of the seven businesses in the mall that are in the midst of figuring out what to do next, Impressive Trophies was fortunate to receive less damage than the others.
Aside from some soot and smoke damage, there is no water or fire damage inside the trophy shop. For now, customers can cross the yellow caution tape to visit the shop by appointment only. That is only temporary, however, as owners Denise Roosendaal and her husband, Mike, are actively seeking a new space to move their shop, as the fate of the strip mall is still undecided.
Denise says this couldn't come at a worse time as they were only into a few hours of a two-week vacation visiting their son on the East Coast, taking a much-needed rest before jumping into the holiday season at their other business, a Christmas tree farm.
The Roosendaals have owned Impressive Trophies for the past four years; however, Impressive Trophies has called the Valley Plaza strip mall home for the past seven years. According to Denise, they got to know the previous owner when they needed signs for their Christmas tree farm. Denise's daughter, Delaney, who is also a business partner, worked for the shop during high school and college summers. When the previous owner decided to retire, the Roosendaals stepped up and have run it as a family ever since.
"You don't realize that your life changes in an instant," says Denise. "Everything happens for a reason and no one was hurt… I'm not really sure how it's all going to work out yet." According to Denise, two other trophy shops in the area reached out to offer help, as well as the manager of a local mall offering a temporary rental space.
Customers can still reach Impressive Trophies at the same phone number and email address. "If they need something, we can do it. We just can't be open to the public," Denise explains. "I don't want my customers to even skip a beat as far as what they need."
Denise tells A&E that they will continue working out of the space until the building manager tells them to stop, or once they find another location.
For more information, visit www.impressivetrophies.com.