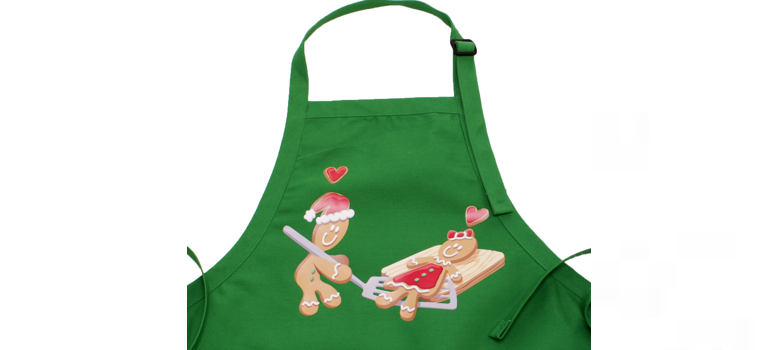 Holiday apron. The holidays are a popular time for baking, making an apron a useful, attractive gift. A full-color digital transfer can be applied to any apron made of cotton, polyester, or a cotton/poly blend. Transfers can be ordered ready-to-print, or you crate them using a printer/cuter and white opaque transfer media.
Holiday shirt. A little tongue-in-cheek humor and glitter makes a shirt a fun gift for the holidays. Using Google or Pinterest, it's easy to find fun sayings like, "My favorite color is Christmas Lights," "Fleece Navidad," and "Santa, did you get my text?"
Holiday sweater. Sweaters are one of the country's most popular garments during the cold months. Turn a blank into a special gift using a variety of special-effect materials such as foil, glitter, reflective, hologram, and more. Add even more interest by using multiple materials in different elements of the wording or design.
Toiletry bag. For the savvy traveler, personalized toiletry bags are a gift sure to wow. They are practical and inexpensive. Easily monogram this gift with heat transfer vinyl to increase its value and make it more special. Heat transfer materials can be used on canvas and cotton. If a bag is made of some type of plastic, a low-temp material needs to be used.
Blankets. Personalized throw blankets make a versatile gift and are easy to heat press with heat transfer vinyl. They are great for keeping in the car, at sports events, and on the couch. A great blanket choice that is ideal for heat-applied graphics is a super soft polyester fleece style. Fuzzy baby blankets are more difficult to decorate because the heat press flattens down the pile, but a product like a cotton receiving blanket prints well.
-Debra Romalia, GroupeSTAHL