Features
How to Check the Performance of Your Laser
Try this method to test your laser engraver's performance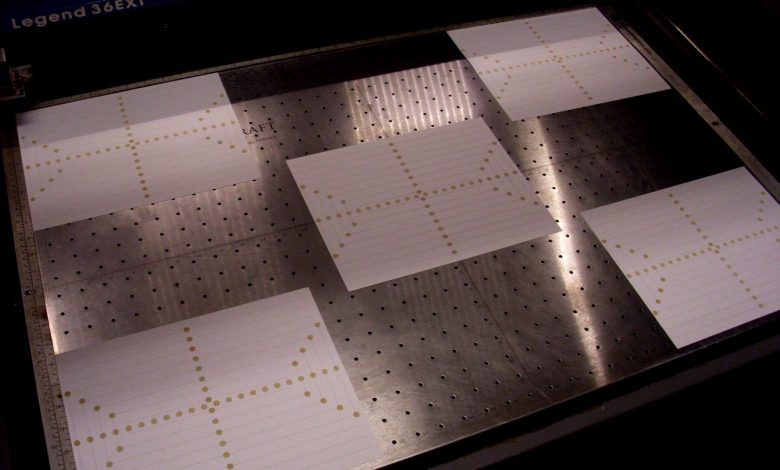 Performance is measured by running a series of rastered graphics and vector lines across the length and width of the work surface. The patterns are drawn so that vector cut lines symmetrically intersect the rastered graphics. I use standard cardstock. My work area is 36″ X 24″, so I use five cardstock sheets, one in each corner and one in the center. Each pattern is identical. You can run one sheet at a time or all at once. Run a combination job with the raster job running first, followed by vector cutting.
Settings for my 60A Epilog Legend EXT are 100% speed, 40% power, and 200 DPA for the raster part of the job; and 100% speed, 10% power, and 200 frequency for the cutting job. At those settings, the cardstock will not cut all the way through. It takes three to four minutes for each sheet to run. After running the job, mark each sheet with the date and position (middle, lower right, upper left, etc.)
With the sheets in place, check them for:
Inconsistent rastered graphics darkness
Gradual changes in rastered graphics darkness in any direction
Odd rastered graphic shapes
Widened vector cuts
Unmatched rastered graphics and vector cuts
If everything looks good, chances are your optics, mechanicals, leveling, alignment, and data stream are doing what they're supposed to do. If not, you or your manufacturer's technician need to troubleshoot to identify the cause. By data stream, I mean any step in the process between the drawing and the laser's firing. It includes the computer, the connection between the computer and the laser, the laser data storage, and whatever feeds the data, reads the data, and executes the command to fire.