Features
Heat Transfer Vinyl Types and Their Uses
This is a quick rundown of the most popular heat transfer vinyl types and their common uses.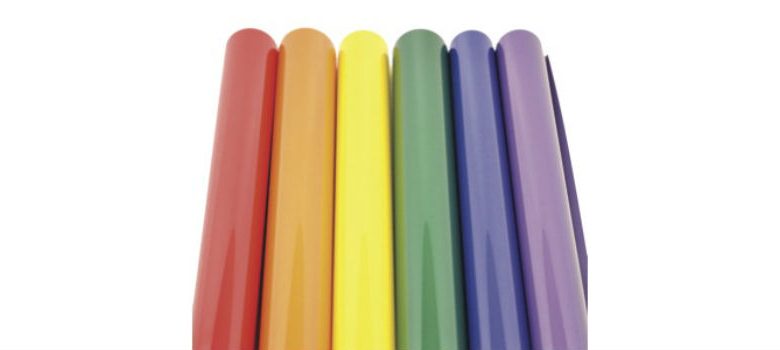 The number of heat transfer options out there can be overwhelming for decorators, so it's worth taking a step back to look at some of the most common categories. If you're just getting started with heat transfer vinyl, consider these categories and their respective applications:
Universal Heat Transfer Vinyl
If you're looking for a vinyl that can adhere to nearly all materials, this is your go-to. From applying to cotton, polyester, and spandex to genuine leather, a universal vinyl will apply at low temperatures and low times.
Standard Heat Transfer Vinyl
For your basic needs, standard vinyl will do the job. This is great for people just starting out or for classic designs. It applies to most cotton, polyester, and blends.
Stretchable Heat Transfer Vinyl
Perfect for when you need to apply a transfer to a garment that has the ability to stretch, for example, uncoated polyester workout gear.
Glossy Heat Transfer Vinyl
Glossy vinyl offers a different look than your standard vinyl that has a matte finish. Great for designs you'd like to draw attention to. It can be applied to cotton, polyester blends, and other materials depending on the brand.
Glitter Heat Transfer Vinyl
Add that sparkle to any garment with glitter vinyl. There are textured, smooth, and even stretchable finish glitters! It's perfect for the cheer and dance world, or everyday wear. It applies to cotton, polyester, blends, and other materials depending upon the type of glitter.
Flock Heat Transfer Vinyl
Flock is a unique heat transfer vinyl that is actually soft to the touch with a suede-like feel. It's a great alternative to embroidery since it gives a raised look. It's also great for retro designs. Flock can be applied polyester, cotton, or blends.
Find news and more helpful tips about heat transfer vinyl here.