Features
Florida Sign Shop Creates Wayfinding Program for New Community
Harbinger Signs partnered with design firm API(+) to create signage for a mixed-use development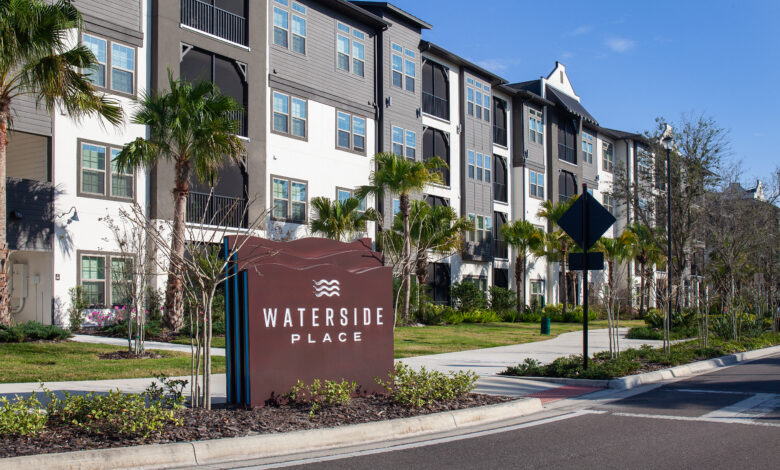 Real estate consulting firm RCLCO recognized Lakewood Ranch as the best-selling, master-planned multi-generational community in the U.S. Located in the Sarasota/Tampa region of Florida, the development is a collection of villages, neighborhoods, parks, and town centers spanning 150 miles near the Gulf Coast. Waterside Place is one of the newest additions to this fast-growing community.
Harbinger Sign, a Jacksonville, Florida-based custom fabricator of commercial sign systems, was tasked with implementing a new wayfinding and identity program for the new mixed-use development. The project was completed in partnership with design firm API(+) — marking the fourth project collaboration between the companies.
"The wayfinding program throughout Lakewood Ranch is exemplary, and Waterside Place is no exception," says Steve Williams, CEO of Harbinger Sign. "Our partnership with API(+) on their community brand identity program for this development resulted in a first-class wayfinding experience for residents."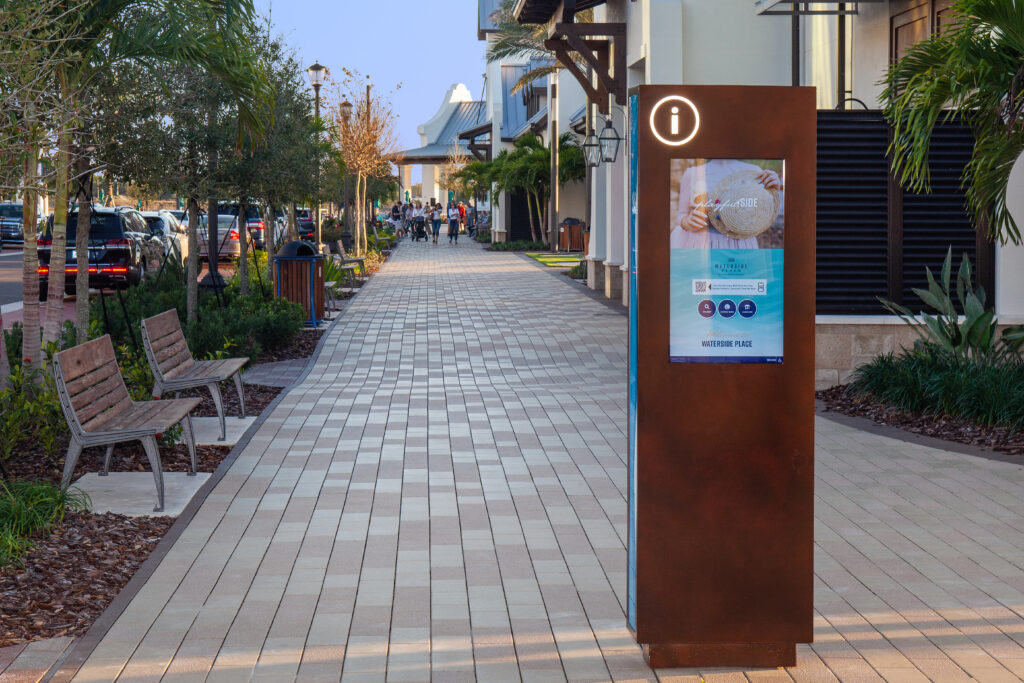 Wayfinding at Waterside Place
The project consisted of the design, fabrication, and installation of multiple sign types, including vehicular and pedestrian directionals, interior and exterior room and building ID, monuments, banners, and kiosks. These signs included a custom layered wave feature as part of API(+) 's community brand identity.
"We realized that we can bring a lot to the table for a project like this by being a part of the team while it's still in early phases," remarks Ed Busey, VP of business development at Harbinger Sign. "We're always happy to pick up the phone when our clients or a designer has an idea that they want to run by us. This sort of collaboration can help make the fabrication process go more smoothly, and, in my opinion, leads to a better-finished product once the project is completed."
As with any large-scale project, the teams at Harbinger and API(+) were met with their fair share of challenges on the project.
"We've worked with the designer team API(+) on several occasions, and it seems like every project they manage to come up with a new fabrication challenge to throw at us," says Busey. "For Waterside Place, the design called for this beautiful, custom, one-of-a-kind mottled bronze finish to contrast the deep blues in the color palette. Our paint team came up with a really interesting multi-step process that resulted in a very distinct, one-of-a-kind look for the program — then we had to replicate that process 200 or so times for every sign."
After 12 months of hard work and collaboration, the project was completed in February of 2022.
"The project is such a great representation of what good placemaking and wayfinding can achieve. All credit to API(+) for that; we're just happy that they trusted us with taking their designs from paper to the real world."