Features
Gymnast Shifts Focus to Thriving Screen Printing Business
Carleigh Stillwagon of Elite Custom Apparel talks equipment, precision, and growing output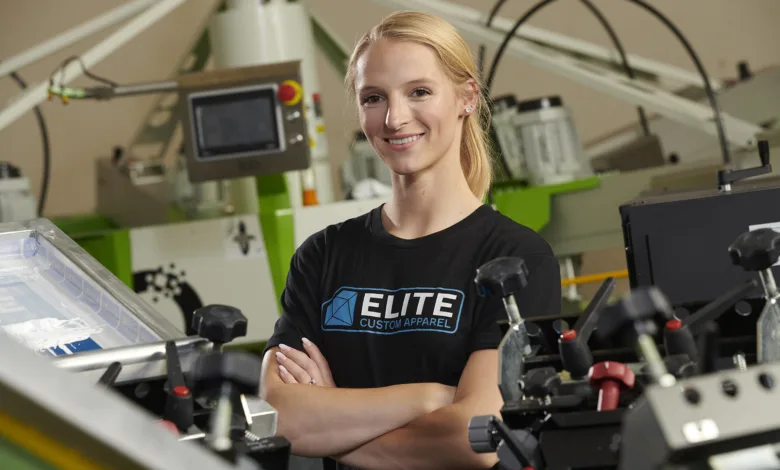 Carleigh Stillwagon trained as an elite gymnast for 14 years, but a long-term injury forced her retirement. Then COVID-19 hit.
"I was going crazy being at home with nothing to do," Stillwagon recalls. "I knew I wanted to start my own business, but I wasn't sure how to go about it. My mom had an embroidery business when I was younger, so I had some knowledge of that. Then it just came into mind, 'Let's make shirts!'"
The 21-year-old started a screen-printing and embroidery business, Elite Custom Apparel with her fiancé, Carter Meade, and occasional help from her mother, Carin Spinola.  She bought a heat press and set up shop in her dad's basement. After several months, she could afford to add an embroidery machine. She made shirts and embroidered hats for friends, gaining inroads into local businesses, including EMS, police, and fire departments. She also started outsourcing promotional products, like customized mugs and keychains.
"The heat press was a great way to start, but it didn't give us good profit margins because production was slow, and it was taking us too long to get orders out," she explains.
Investment in training and equipment yields desired precision in results
To boost production and expand their services, Stillwagon, her fiancé, and her mother attended Vastex's four-day "Screen Printing A to Z" training class to learn the fundamentals of screen printing.
"It was the best investment we ever made," says Stillwagon. "We went to Vastex with zero knowledge of screen printing, and afterward we knew everything we needed to get started."
With a business loan and insights gained from the training, the couple was able to purchase the necessary equipment to start screen printing.
A perfectionist by training and by nature, Stillwagon demands the same level of precision in the screen-printed garments produced. T-shirts and sweatshirts and other garments are printed in plastisol ink on a V2000HD six-color/six-station manual press using a 230 mesh count for thin inks, like red, and a 110 or 155 mesh count for the underbase and viscous inks, such as white.
The machine's micro-registration knobs allow her to fine-tune the registration of specialty pallets for sleeves, legs, and pockets quickly without the need for tools. She finds that the press holds registration print after print.
"When you put a shirt on the screen printer versus the heat press, you have a much more accurate result," she says. "You know that every design is going to be in the same place on every shirt. Once you make your micro and off-contact adjustments, there's no movement of the screens throughout the job."
The couple also relies on the VRS pin registration system to line up positives off-press, attach them to screens, and transfer the screens to the press-in register, thereby increasing accuracy and improving setup times. Stillwagon estimates that a two-color job can be lined up and ready to print in 10 minutes or less.
Shirts are flashed between colors with a RedFlash flash cure unit equipped with an autoflash option that rotates the head of the unit into place above the pallet with the touch of a foot pedal, and then away from the pallet after a preset dwell time.
"We never have to worry about leaving a shirt under the flash too long or not long enough," she says. "If we walk away, we know that nothing will get burned, and the pallets won't be ruined."
Conveyor dryer and donut probe remove the guesswork
Stillwagon describes both the autoflash and the donut probe as game changers. For every print job, the couple runs a donut probe through the infrared conveyor dryer with a test shirt to measure the ink temperature.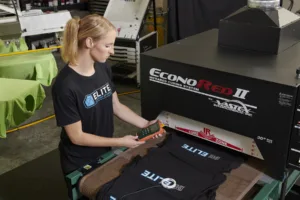 "Plastisol has to hit 320 F on the dryer, so the donut probe gives us the confidence that the shirt is being cured at the correct temperature," says Meade. "A temperature gun measures the surface temperature of the garment, whereas the probe measures the temperature of the ink. So we're getting more accurate readings without burning or under-curing any shirts."
After verifying the test shirt's ink temperature, the couple makes micro-adjustments to the dryer's temperature and belt speed prior to starting the run. Depending on the size of the order, they retest the ink's temperature every 30 to 50 shirts.
The press together with the conveyor dryer allows Stillwagon to keep up with growing demand. She currently prints and cures approximately 50 to 100 shirts per hour, but has reserve capacity.
Prepping screens for precise prints
Stillwagon says the shop's prepress equipment reduces the labor involved in screen preparation and supports the couple's goal of generating precise prints every time.
Screens are coated on the C-100 manual screen coater mounted on a stand.
"The height of the rack is adjustable, which is important because I'm short but others who use it are tall," she notes. "Results are very consistent because you can coat the screen using two hands, and you're level with the screen. If your screen isn't coated properly it can affect your exposure times."
She relies on a 10-step exposure calculator when running the E2000 LED exposure unit to ensure accurate exposure times.
"The calculator hones in on the correct exposure times and then we plug in the numbers on the unit's touchscreen," she explains. "The unit also vacuum seals the screens flat against the glass, and automatically turns off when the exposure time is up."
Exposure times for dual-cure emulsions, which comprise the majority of Stillwagon's screens, take between 200 and 500 seconds. She says that the unit exposes each screen evenly edge-to-edge.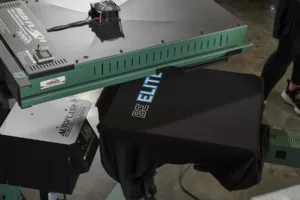 The exposure unit sits on top of the Dri-Vault screen drying cabinet, which is light-tight and dust-tight, and dries up to 10 screens by forcing heated and filtered air through the chamber. Screens are cured in about 20 minutes, depending on ambient humidity as well as the type and thickness of the emulsion.
To reclaim screens, Stillwagon invested in a double-wide washout booth, which allows her to clean two screens side by side. The built-in light illuminates the back panel, making it easier to visually inspect the screens.
"When you're cleaning a screen, the lighting feature ensures that your design is punched out perfectly. And if you're trying to break down the emulsion, the light helps ensure that you're removing all of the emulsion."
Once cleaned, she removes excess water from screens with a vacuum tool to speed the drying process. She estimates that drying screens takes 15 to 20 minutes versus several hours with a fan.
From 100 shirts per week to 100 shirts per hour
Through social media and word of mouth, Elite Custom Apparel has grown rapidly. Four months into their screen printing venture, the couple moved from the basement to a 2,200-square-foot warehouse.
Today, orders range from a minimum of 24 shirts to 600 shirts. To keep up with demand, Spinola lends a hand, and part-time workers are hired as needed.
"We were heat pressing a hundred shirts a week," says Stillwagon. "Now we're screen printing a hundred shirts an hour."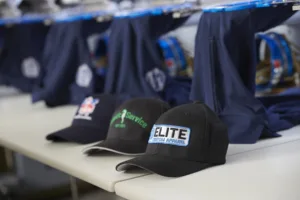 As the business continues to grow, Stillwagon has purchased an automatic printing press to run in conjunction with the manual press. She also wants to upgrade to a bigger drying cabinet and a 54″ wide conveyor dryer. Additionally, she wants to start printing with water-based inks to give shirts a softer quality and allow for more intricate design work.
"We have some big contracts in the works, and we want to make sure we're ready for them," she says. "My dream is to build my own shop and hopefully print thousands of shirts a day."
"Gymnastics gave me the skills and determination to start my own business," she says. "College would not have taught me how to do this. You just need the heart and soul to make it work."