Features
Greentee Promos Quickly Outgrows Home-Based Business
DTG and DTF put Greentee on a path to success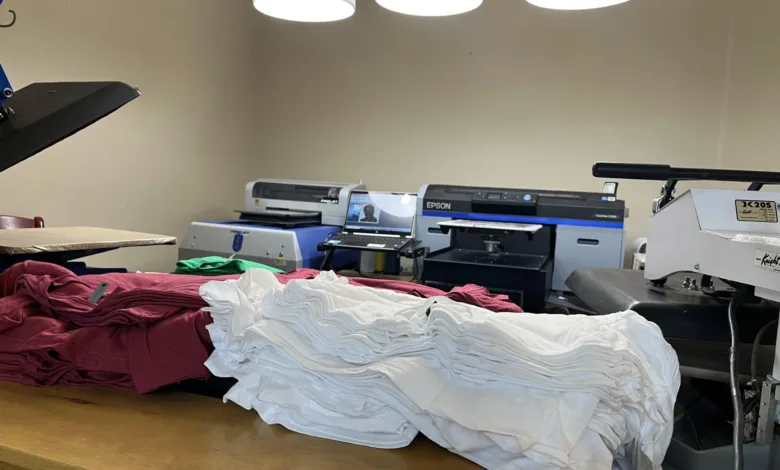 Apparel designer Laura Amidon fell into direct-to-garment (DTG) printing in 2006 when her embroiderer discovered that his newly purchased DTG printer was not plug-and-play and needed a lot of coddling.
Amidon offered to help him operate the printer and quickly loved the new technology. She started using it to print some of her designs for her childrenswear business Young Mi, and within a year, her DTG printing business grew so quickly, she quit Young Mi after five years, taking her graphic design skills to her new business enterprise.
"That business grew faster than the children's line, and I enjoy it. It's still fun for me," says Amidon, co-owner of Greentee Promos in Longmont, Colorado. "Every time I get really cool artwork, it's amazing to see how beautiful it turns out."
Amidon's inventory of equipment includes an Epson F2100 DTG printer, a Freejet Plus DTG printer, an Epson 7720 for sublimation printing, a Graphtec vinyl cutter, two Geo Knight heat presses, and two Hotronix heat presses.
Greentee Promos' operations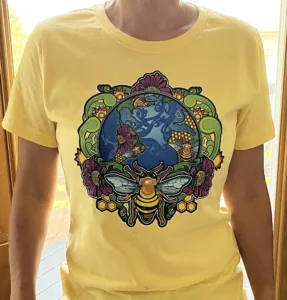 Greentee Promos, also known as DTG Colorado online, provides DTG and direct-to-film (DTF) printing primarily for wholesale and a few retail customers, plus other printing services like screen printing, banner printing, and cut vinyl. Amidon does everything from custom prints to large orders for events, printing full-color detailed images on both light and dark colors. She prints on most types of clothing, including T-shirts, hoodies, and athletic uniforms, and on canvas bags, wall hangings, backpacks, lawn chairs, tents, and sunshades.
Amidon came up with the name Greentee based off her use of an eco-friendly, water-based inkjet printer. At the time she started her business, which was out of her home, DTG was considered revolutionary for its ability to print full-color photographic images, while being an environmentally friendly printing process.
Greentee has since outgrown its home operation, and Amidon wants to order more equipment, so she's looking for an industrial space with hopes to move by fall.
"It's nice to be able to work whenever I want," Amidon says. "But it's just gotten to be cluttering my home, and I really need it out of here."
Amidon's printing and press equipment takes up 1,000 square feet of her and her husband's 5,000-square-foot home. She uses the living and dining rooms for two of her DTG printers and two of her heat presses. There's another DTG printer, a sublimation printer, a vinyl cutter, and a heat press in one of the bedrooms, and another bedroom is used for storing T-shirts. The family room is for the curing oven and another heat press. And in yet another bedroom used as an office, there is a screen-printing press and conveyor oven.
"My husband is a saint for allowing me to do this," Amidon says. "It's been great. All these years we've been here, it's been fantastic. We've just grown out of it."
Growing pains
Lack of space is the primary challenge Amidon faces; plus, the fact it's divided up — she's seeking a large open space of 800-1,200 square feet. Another challenge is Amidon doesn't want to have friends over for entertainment "because it's such a mess," and "it's just T-shirts everywhere," she says.
"We want it be one open space, so we can access everything pretty easily, because it's so chopped up right now," Amidon says.
She wants to bring on two full-time staff. Currently, it's just her and her husband, Craig, a sous chef who's assisting part-time in his role as co-owner. This will allow her to get more into the design work and hire out manual labor and sales.
"I am so busy these days, I need employees," Amidon says.
A better, bigger space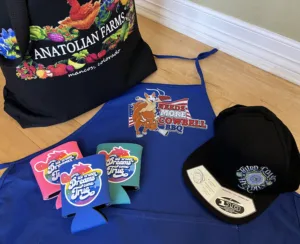 With the new space, Amidon plans to continue with her same customer base, 95% contract work for resell and 5% retail. Her favorite customers are those working in trade and engaged in ad promo work, since they send her the right kind of artwork that's complete and printable and they also understand the apparel printing business.
"I prefer making less per item than spending the time for one-off T-shirts," Amidon says. "For $25, the amount of communication takes a long time. It takes a lot of time, and I just don't have that."
Initially, Amidon focused on print-on-demand (POD), working with one primary large customer, but realized it was costly and that profit margins were low. She now does large orders but will do POD work for drop-ship fulfillment for a couple of regular customers and in emergency situations, such as memorial T-shirts needing a quick turnover.
"I always make it a point to get those done for people because that's important," Amidon says, adding that to do the job, "it's working round the clock."
She's considering expanding her embroidery services but will keep DTG as the heart of her business. She plans to add one to two more DTG printers and one to two DTF printers for additional printing capacities.
"We're getting so busy, we can't keep up with all the orders," Amidon says. "Having a commercial DTF printer will speed things up a great deal."
Order sizes for DTG are small, typically ranging from 30 to 150 units, while DTF printing can be up to 1,000 units. Amidon currently does both, using her DTG machine to carry out any DTF printing jobs, but the transfer process is time-consuming.
A DTF printer can print on rolls of film and does the printing, powdering, and curing all in one operation. With DTG, Amidon has to manually do the steps, printing on a 14″ X 16″ sheet of film, then applying the adhesive powder, putting the film in an oven to cure it, and then pressing the image printed on the film directly onto the garment.
Screen printing
Screen printing, which Greentee also does, is a four-color process, while with DTG, the full spectrum of colors can be used, allowing for the transfer of photographs onto the garment. The result with DTG is a more detailed image, unlike screen printing's one- to two-color spot prints.
"With screen printing, you have to separate the colors, but with DTG, what you see on the screen is what you get," Amidon says.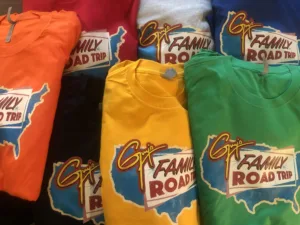 Screen printing is great for large quantity orders and one- or two-color prints, whereas DTG is preferable for multicolor prints in smaller quantities, Amidon says. As such, it's more expensive to use DTG printing for a one-color job, she says.
DTG, which can be used on any substrate from cottons to poly-blends and polyester, results in images that are sharp, a look that is clean, and a print job that is durable.
"The print quality is amazing," Amidon says. "The hand of it is nicer. It's softer. It feels like a very soft print."
DTF, however, has a more plastic, sticker-like feel and more hand to it, nor does it breathe through the fabric, Amidon says.
"There's a process for every job," Amidon says. "That's one of the things that sets Greentee apart is I always advise the customers on the best process for their particular job. It's not always DTG or DTF, it could be vinyl or screen printing."
Amidon gives honest feedback if she sees that the artwork will not look good on the garment and suggests how to alter it to fit the piece. She also likes that she can do both DTG and DTF for her customers.
"It can be a hard business. It can be an expensive business because repairs aren't cheap," Amidon says, adding that regular maintenance is required. "This business is not for the faint of heart."
She's gone through six DTG printers, the first one the slowest, taking about 10 minutes to print a shirt, and expensive at $20,000. Now, she can print a shirt in a couple of minutes and her end costs have decreased.
"DTG is definitely the heart of our business, and it always will be," Amidon says.