Features
Give Kids The World Village Gets New LED-Enhanced Attraction
The resort selected Electrosonic and SNA Displays for its digital signage and related audio-visual needs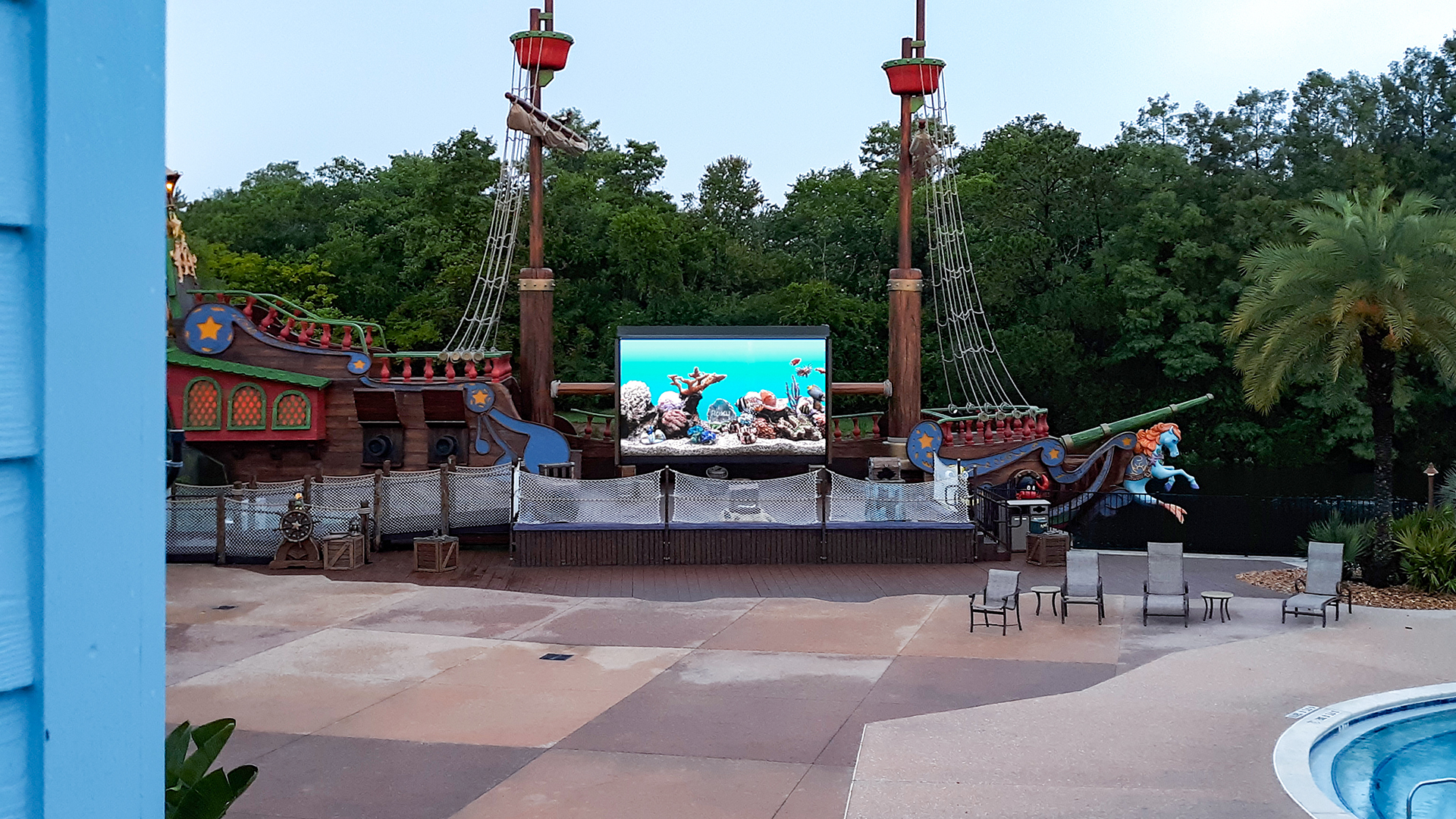 Give Kids The World Village is now more magical thanks to the addition of its brand-new Serendipity-themed pirate ship stage featuring an exterior LED screen. Give Kids The World is an 89-acre, whimsical nonprofit resort that provides critically ill children and their families with weeklong wish vacations at no cost.
The resort selected Electrosonic and SNA Displays for its digital signage and related audio-visual needs.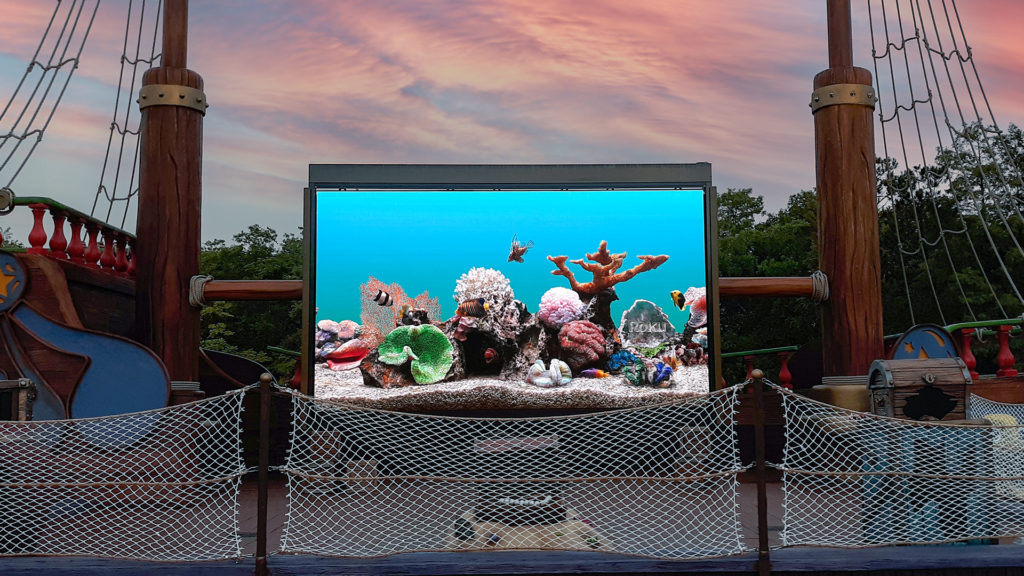 "This display creates an imaginative, versatile backdrop for our weekly Once Upon A Village party featuring pirates, mermaids, and princesses, along with dive-in movies and other outdoor entertainment events," says Give Kids The World president/CEO Pamela Landwirth.  "We are very excited to have this display technology as a dynamic communications piece visible at all times of the day, and are very appreciative to SNA Displays and Electrosonic, as well as to the Don and Lorraine Freeberg Foundation, whose $1.5 million grant made this project possible."
The direct-view LED display is 9'10" tall X 16'5″ wide and contains more than 980,000 total pixels (768 X 1,280). The screen features a tight 3.91 mm pixel pitch and a 16:9 aspect ratio, ideal for the Village's movie events.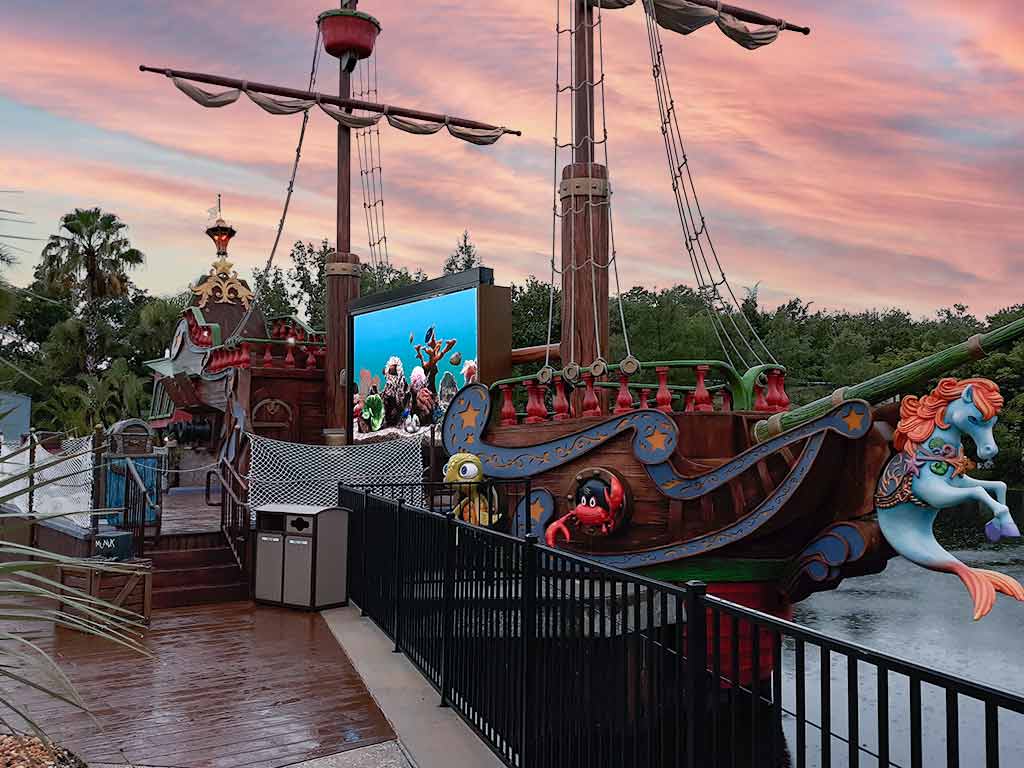 "We are grateful and honored to be chosen as the technology partner for such an amazing organization," adds Jason Helton, executive vice president at SNA Displays. "Give Kids The World means a great deal to me personally, and I couldn't be happier to help brighten the experience for the children and families at the Village."
SNA Displays manufactured and supplied the LED display technology after Give Kids The World evaluated technology at similar sites in Orlando. Electrosonic oversaw the installation and managed the integration of all audio-visual components. The SNA Displays team was present throughout the project to assist and troubleshoot any issues that arose.
"It is a great honor for us to continue to work with such a worthwhile cause as Give Kids The World," says Les Hill, senior account manager at Electrosonic. "Our company and individual staff members give their generous support readily to all of the organization's projects. We certainly appreciate Michael continuing to keep us involved as the Village expands, and we are able to bring a little magic into the lives of their guests. Our partner SNA Displays was very supportive, going above and beyond what was asked and provided the fine pitch technology necessary to create the best guest experience."
Located at 210 S. Bass Road in Kissimmee, Florida, Give Kids The World Village has welcomed more than 176,000 families from all 50 U.S. states and 76 countries since 1986. The Village, rated four stars by Charity Navigator for 15 consecutive years, operates through the support of generous donors and community partners, and thousands of volunteers who donate their time.