Features
GENLED Brands Announces Tech LED as Exclusive Distributor in Europe
The relationship between GENLED Brands and the founder of Tech LED Ltd. goes back a long ways.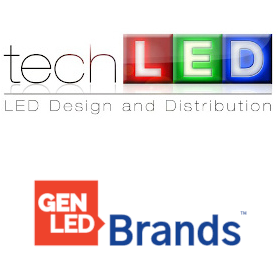 San Antonio-based LED company GENLED Brands, parent company of AgiLight, announces that England-based Tech LED Ltd. will serve as the exclusive distributor and manage all European sales for all GENLED products, including its LyteRayz product line.
Tech LED, formed eight years ago by industry veteran Gordon Addison, will handle premium LED products from both of GENLED's global brands: AgiLight, its signage company, and Acolyte, its architectural lighting division.
Addison has more than 30 years of experience in the lighting business, having completed projects all over the world. Based in West Yorkshire, England, the Tech LED team has worked with such trusted global brands as Holiday Inn, Travelodge, KFC, Walmart, Starbucks and Costa Coffee.
"Having been with Acolyte for three years, we are very excited to be representing the full range of GENLED Brands throughout the UK," Addison says.
Adds Scott Vontobel, GENLED's director of global sales, "I've had the pleasure of working with Gordon Addison for 20 years. Tech LED's quick turnaround times and Gordon's wealth of experience across the LED lighting business make this a perfect partnership as GENLED Brands continues its global expansion."