When most people think about children's clothing, especially clothing for small children, the first word that comes to mind is probably adorable. When the kids start moving around and getting into things, adorable might be supplanted by durable, but it's still going to be in the top five descriptors.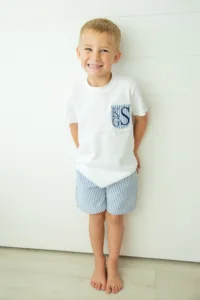 Cute seems to be the default setting when it comes to clothing for children, and there's nothing wrong with that. It can, however, be one of the pitfalls of creating designs and clothing for children. Not every parent, or every child — once they're old enough to have an opinion — is going to default to adorable. Options can be everything in this market. Decorating children's clothing and creating designs for that decoration can be about more than simply making something adorable, though adorable will always be a perennial favorite and shouldn't be discounted.
While adorability tops the list of qualities for children's clothing and designs, one thing that may be at the bottom of the list is the laws regarding designs and what's used to decorate clothing for kids. Copyright is a big issue when it comes to designs. The Consumer Product Safety Improvement Act (CPSIA) can have a big impact on what's used to decorate kids' clothing and even the manufacture and make of the clothing itself. Violating CPSIA regulations can come with hefty consequences, as can violating the rights of a copyright holder, so it's best to know the law and stay on the right side of it.
Fashions and trends
Let's start with being adorable or not adorable and how trends and the tastes of parents and children and even the fashion world can dictate what's in and what's out for pint-sized fashionistas. While children's fashion may echo adult fashion, the trends aren't always exactly the same, so it's best to be plugged into some sites or blogs that specifically discuss children's fashions. In 2023, for instance, the blog at KidsBlanks.com tells us that neutral shades like cream, beige, and black are big for kids, closely followed by nearly neutrals like sage and blush pink. The eParenting.co.uk blog predicts that denim, floral patterns, the color yellow, and neutrals will be the big fashion and color trends in 2023.
Knowing color trends can also be helpful when choosing threads, inks, or blank garments to offer. One resource for color trend information is Pantone. For Spring/Summer 2023, Pantone is predicting a color palette of mostly vibrant shades like Beetroot Purple or Tangelo, with a few classic shades like Gray Lilac and Leek Green to round things out. Chances are, not every parent is going to pay attention to color or style trends and what's fashionable, but it's still something of which designers and decorators should be aware. Whatever is trending in stores or fashion magazines or blogs may filter down to your customers, so having a heads-up and a head start on being trendy is always a good thing.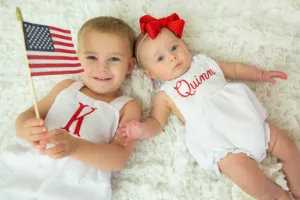 Another trend to be aware of is gender neutrality. Whether it's gender-neutral baby showers or gender-neutral clothing, the idea is that nothing specifically points to gender. When creating products for a baby shower, it might mean bibs or burp cloths that say "thank God for little blessings" rather than "thank God for little boys/little girls." It may mean not sorting decorated clothing options on your website so the trucks are labeled "boys" and the princesses are labeled "girls." Basically, the gender-neutral fashion movement is working to get us away from "blue is for boys and pink is for girls." It also rejects ideas like the one that boys are rugged and rough-and-tumble, while girls are delicate and dainty. In a nutshell, this movement supports the idea that there are no things or traits specific to boys and no things or traits specific to girls, there are just things and traits. For some, this might be overthinking things, but it is a trend that's happening, so every decorator should know about it.
Children's clothing and the law
Another facet of creating clothing for children that must be addressed is copyright. The first thing to cover is what specifically can and can't be copyrighted. Things that can be copyrighted include graphic designs, logos, and textile or fabric designs. Granted, there are rules about how original the design or logo must be, and it must demonstrate a minimal amount of creativity. Brands with logos may also trademark them, so even if they would not be protected under copyright, they may be protected under trademark.
So how does copyright affect you in your shop? Well, almost everyone has heard a horror story about a shop that created something that infringed on a popular company's copyright and got caught. It may be tempting to take a chance with the idea that you're too small to be noticed, or that you can change the image of the final design enough to escape infringement, but it's a roll of the dice that has huge consequences if you come up snake eyes. The same thing applies to buying a design and violating the licensing agreement.
A good rule of thumb is to always read the licensing agreement or terms of sale before you buy a design, and then make sure you follow that agreement. For designs that are based on things like cartoon characters, sports teams, or other elements that were created by someone else, buy a licensed design and use it accordingly. Keep in mind that buying a design with a license does not always mean that you can use the design to make things to sell. Read the licensing requirements of the design carefully to be sure that you can put the design on items that will be for sale.
Please also remember that any designs you buy are for your use only. There are groups on Facebook and in other places where people share copyrighted designs. When you buy a design, you are paying for your ability to use it. If another decorator wants to use the same design, they should go buy their own copy. Sharing copyrighted designs is stealing profit from the creator of the design and is illegal. Copyright exists for a reason, and that reason is to protect the rights of the creator and ensure that others can't disseminate their work without paying for it and agreeing to whatever licensing rights are available.
Also, just to bust this myth once and for all, there is no mythical percentage by which you can change a copyrighted design so you don't get sued for using it.
Some people will tell you there is such a percentage and that it's 10% or 30%, but that's neither accurate nor safe to believe. Even if there was such a percentage, you'd have to go to court to determine if your design changes fell within that percentage and then it would be up to the opinion of experts to determine if that was so. There would be court costs and stress and it would be a subjective judgment. It's far easier, and safer, to simply buy a licensed design and use it to create whatever you want to create.
The second aspect of the law and children's clothing that we shouldn't forget is the Consumer Product Safety Improvement Act (CPSIA). A lot of times, when people think of this act, they mostly think of subjects like flammable fabric in children's sleepwear, but it covers more than that. CPSIA requires that all children's products, including clothing, meet minimum federal safety requirements.
The regulations impact clothing intended for children 12 and younger. Requirements of CPSIA may be of particular interest to screen printers, as they discuss things such as the allowable levels of lead in coatings—like ink—that may be used on a garment.
CPSIA also has added requirements about third-party testing, requiring the use of Consumer Protection Safety Commission (CPSC)-accepted labs, the issuing of certificates of conformity, and the affixing of permanent tracking labels on children's products.
One important provision of CPSIA is the requirement for a Children's Product Certificate (CPC), in which a manufacturer or importer certifies that their product complies with all applicable regulations. A CPC is issued after third-party testing, generally in a CPSC-approved lab. A CPC must be provided to, or available to be accessed by, each company that uses the manufacturer's or importer's product. According to the law, decorators are considered manufacturers since they alter the garment by adding decoration; however, you may be able to avoid some of the requirements of the law by registering as a small batch manufacturer.
To be considered a small batch manufacturer, a company must certify that total gross revenue for all products from the prior calendar year is less than $1,337,894, and that they've produced 7,500 units or less. Being certified as a small batch manufacturer will not exempt a business from all of the law's provisions, but it can help. Keep in mind that a business must register with the CPSC to be granted an exemption from third-party testing.