Fiber versus CO2 Galvo-Based Laser System Review
With so many laser system choices, it's sometimes difficult for consumers to understand what system will best suit their immediate needs while supporting growth.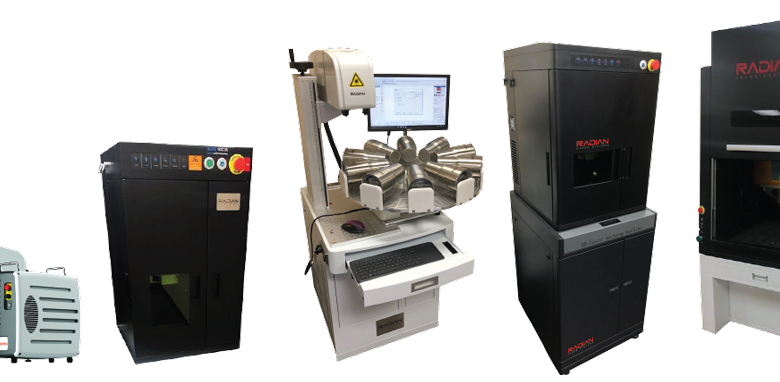 Radian Laser Systems, Anaheim, California, was established in 2002 to produce high-quality industrial laser solutions utilizing galvo-based CO2 and fiber laser sources. Radian designs, manufactures, and distributes customized laser marking machines, laser cutting tables, and work stations utilizing CO2, fiber, and UV lasers. Radian serves a wide range of industries and in addition to selling machines, the company provides machine customization, applications engineering, system repair, and production marking services. For more information, visit www.radianlaser.com.
Fiber, CO2, flatbed, UV… with so many laser system choices, it's sometimes difficult for consumers to understand what system will best suit their immediate needs while supporting room for growth. Radian Laser Systems is a manufacturer of fiber and CO2 laser systems that offer the ability to mark on curved or irregular systems without object rotation. Customers come to Radian specifically for this unique feature. While our systems are great for drinkware, they are amazing for other applications as well. Our lineup of fiber and CO2 systems in various form factors allows us to customize a system to meet our customers' needs.
FIBER LASERS
Fiber laser systems are designed for annealing, deep etching, engraving, or marking inorganic materials such as metals, stainless steel, and lightly powder-coated surfaces, making them ideal for part marking of serial numbers, barcodes, part numbers, or contact information where the system is simply removing paint or gently etching the surface without damaging the integrity of the part. Some industrial applications are increasingly using fiber lasers for removing rust, oxides, and contaminants. These systems are inexpensive to own as they typically operate using less power than a CO2 system, they have low maintenance, and do not require larger fume extractors or external chiller units as a CO2 does.
Radian's 2-D and 3-D galvo-based fiber laser systems are available in a variety of form factors, including the protable mini, desktop with optional stand, and open frame. The open frame form factor is versatile, allowing use of indexing accessories or installed in larger enclosers that can be used with shuffle tables for increased productivity. A variety of wattages ranging from 20W to 120W allows for a system with the right amount of power to support your job, and is great for marking on 2-D flat surfaces as well as 3-D curved or irregular-shaped objects without rotation of the workpiece.
CO2 GALVO-BASED SYSTEMS
CO2 galvo-based laser systems are designed for marking, engraving, cutting, and distressing organic materials such as wood, stone, ceramic, fabric, heavy powder-coated objects, and paper. These systems have a diverse set of abilities, making them ideal for integrating with industrial applications where marking and engraving are part of a larger assembly process. They are also available in large free-standing enclosed form factors that allow for optional indexing or shuttle table accessories for increased production.
Radian's CO2 laser systems are inherently fast, so these tools can step up your production needs. They are known for their speed and precision when marking drinkware due to their ability to mark on the curved irregular surface without rotation of the object. The functionality allows drinkware producers to produce custom products in seconds versus minutes.
CONCLUSION
Fiber and CO2 laser systems both have their place in various industries, from awards and personalization, promotional products, fabric distressing, card manufacturing, and customization to industrial part marking. It depends on the customer's application needs and preparing for future demand.
Contact Radian for more information.