Features
Featured WRAPSconnect Project: Signs and Wonders II
WRAPSconnect panelist Austin Smith of PROSERIES Wrap Tools showcases his moxie and talents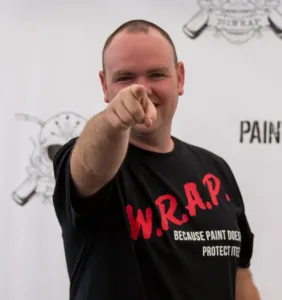 Austin says, "I recently was involved in a project to wrap a 23-year-old, yellowing, three-story tall, 107-foot Houseboat. Oh yeah… that is 680 miles from our location, and on the water. Where do you even begin with an opportunity like this? Well step by step we did a survey, produced a quote, sold the job, and then designed, printed, and sent a team to Kentucky to wrap a houseboat. A lot of shops would have shied away from the opportunity to take on such a project."
"However, sheer experience with handling it all allowed me to not only accomplish the task but do it in a way that brought our team to lead in ways they can't in just a shop and grow in ways they never would in the same environment. These projects, that I will call experiences, come along, the question will always be, do you want to tackle them?"
Austin has been involved in the vinyl, and later the wrap industry, since 2000. Initially owning part of a vinyl decal shop, and then in 2008 opening his own wrap shop, #201WRAP, in Jacksonville, Florida.
In 2012 he founded and launched Paint is Dead to the wrap world, and shortly after founded PROSERIES Wrap Tools in 2017. Today, Austin spends time in all three entities, giving himself a very unique look at the industry.
Learn from Austin at the WRAPSconnect panel
Meet the Masters @ WRAPSconnect brings top wrap industry influencers together to share their expertise on a variety of industry topics, sure to dazzle, inform, entertain, and befuddle (just kidding about the befuddling, though there may be some of that at the post-panel Happy Hour).
The panel meets at WRAPSCON @ GRAPHICS PRO EXPO in Long Beach, California, on Thursday, August 17, from 4-6 p.m. at the Long Beach Convention and Entertainment Center. There will be a 45-minute moderated session with the panel and 30 minutes of Q&A, concluding with a Wraps family Happy Hour, aka, Meet the Masters.
For more info, go to g-p-x.com/wrapscon. WRAPSCON is free with your registration to GRAPHICS PRO EXPO, which runs in Long Beach, August 17-19, with classes starting August 16.