Features
Featured Project: Using Film to Celebrate Films
The wall and floor graphics used Mactac's films printed on an HP XL 3000 latex printer.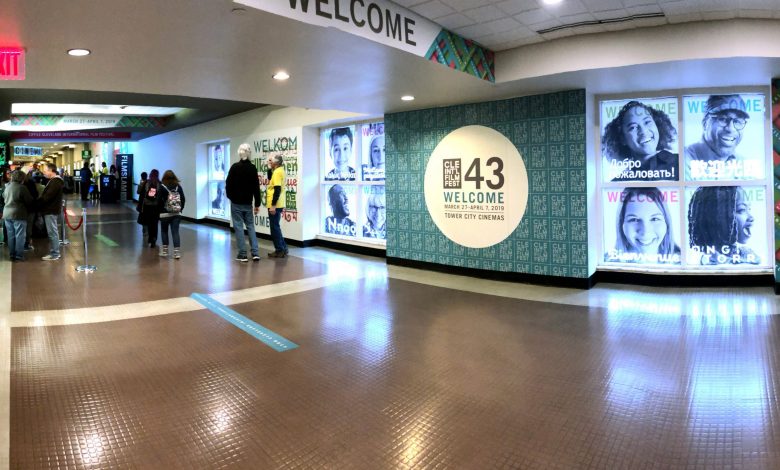 This featured project comes to us from Stow, Ohio-based Mactac, a manufacturer of pressure sensitive films used in the wrap and signage industries. Earlier this year, the company's films were chosen by Repros and Type Twenty Seven Design & Letterpress, both of whom are Cleveland-based.
The two companies had been tapped by the Cleveland International Film Festival to bring its 2019 theme of "Welcome" to life.
According to Mactac, the film festival's organizers wanted to transform the festival's venue, Tower City Cinemas, into a warm and inviting space to align with the festival's theme of "Welcome." One of the easiest ways to do that was through graphics, so the festival folks engaged Repros, a large-format production facility, who then contacted Type Twenty Seven Design & Letterpress for graphic design assistance. Mactac's films were chosen for the installation.
"We were thrilled with how this product captured the detail of the photography," says Type Twenty Seven owner and creative director Brittyn Dewerth. "In addition, the ability to die-cut the material allowed us to focus light while blocking out the distant scenery-resulting in beautiful typography stretching across the floor as the day progressed. We could not be happier and look forward to using this again."
For the wall graphics, Repros and Dewerth chose Mactac's IMAGin ROODLE Removable Wall Graphics (RO628W54L100) and MACmark MACtransfer Application Tape (ST1054). The graphics were printed on an HP XL 3000 latex printer.
For the floor graphics, they chose Mactac's Rebel Removable Multi-Print Media (RB528RW54L150). The graphics were printed on the HP XL 3000 and overlaid with PERMACOLOR PermaFlex Textured Laminate (PF6554).
The annual Cleveland International Film Festival attracts more than 105,000 people.