Features
Featured Project: The Movember Foundation Runs Ad Campaign Using Quividi Technology
Quividi's real-time facial recognition technology is at the core of this campaign.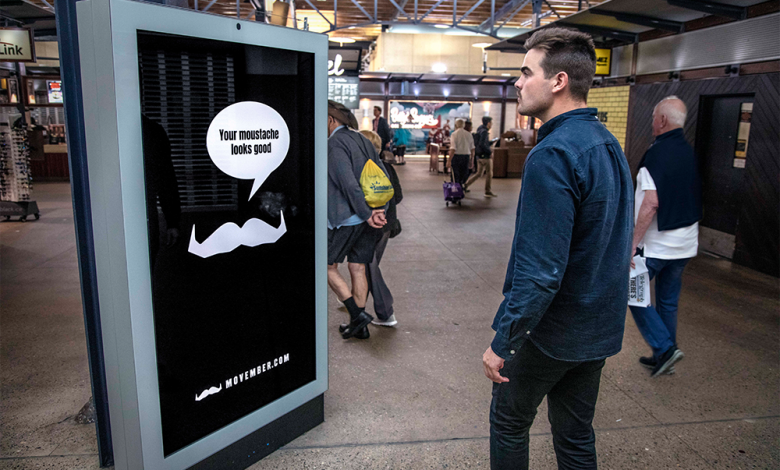 Quividi, a developer of an automated audience measurement platform that has offices in New York and Paris, recently teamed up with the Movember Foundation, a men's health charity, to run what they say is the the first digital out-of-home (DOOH) advertising campaign reacting to the facial hair of passers-by.
In Australia and the UK, during the month of "Movemember," the campaigns ran on the retail and service signage networks of VMO and Clear Channel, respectively. Bearded passers-by were greeted on screen with a specific, humorous message (for example: "2016 called, it wants its beard back"), whereas moustachioed men were congratulated for their look ("Your moustache looks good"). Passers-by with no facial hair but who smiled at the screen were also served with a triggered, contextualized message ("This smile is a money-maker"). Everyone walking by was delivered a message urging them to support the Movember Foundation by growing a moustache for the month of Movember.
"We are really proud of this creative campaign that we have collaborated on with Quividi, VMO and Clear Channel UK," says Juliette Smith, chief marketing officer for the Movember Foundation. "The moustache has always been designed to grab attention and start important conversations about men's health and this takes it to the next level. Innovation is really important to the Movember Foundation, as people are increasingly asked to fundraise or donate to charities. It is important we continually trial new technology, in order to help us reach our goals of reducing the number of men dying prematurely by 25 percent and halving the number of deaths from prostate and testicular cancer by 2030.'
Quividi's privacy protected technology helps marketers count and classify their audience in real time, broken down by demographics, facial attributes and mood, as well as the opportunities to see the viewers' attention time.