Features
Featured Project: Reinterpretation of Picasso's Guernica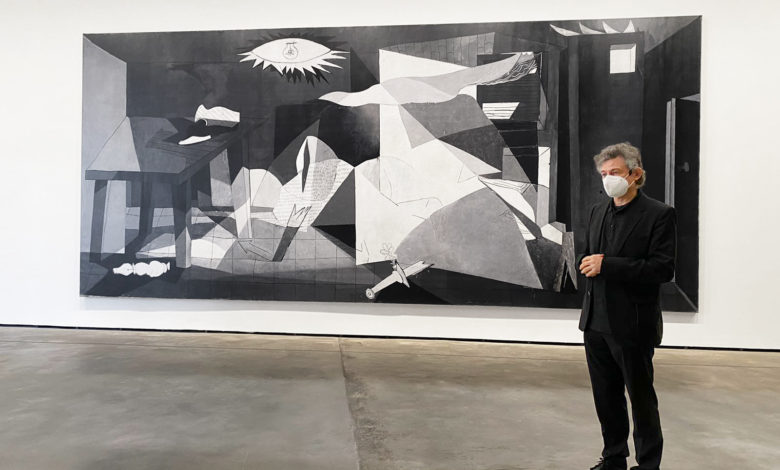 A world-famous Pablo Picasso painting reworked by Spanish photographer and artist José Manuel Ballester and printed by Durst is the star attraction at a special exhibition in Bilbao, Spain. For the first time, a modified Guernica—originally painted by Picasso—has been printed full-size using digital printing and production technologies from Durst.
Ballester has international recognition for his art of interpreting famous paintings by eliminating humans and animals. Guernica is a 1937 oil painting on canvas recognized as one of the best-known works of Picasso. Many art critics regard it as one of the most moving and powerful anti-war paintings in history.
Ballester's work, "Around Guernica, 2009/2020", is an emptied version of Picasso's painting that conveys an updated look. It is now a centerpiece at the exhibition, "2020/03/15 José Manuel Ballester", in the Guggenheim Museum Bilbao, showing Bilbao city during the lockdown. The exhibition, which also includes a selection of large-format photographs that reflect Bilbao's deserted streets and spaces, is open until Feb. 21.
During the lockdown last spring, Ballester received special permission to move around the deserted city of Bilbao and capture landscapes and images. These images were the first step of a project in collaboration with Estudios Durero and the Guggenheim Museum Bilbao, including a photographic exhibition, the publication of a book, and reproduction and exhibition of "Around Guernica."
The Guggenheim Museum Bilbao approached Durst customer Estudios Durero to print the reworked Picasso on a specially coated, hand-woven linen material supplied by the museum. It measures 11.5′ X 25.5′.
Estudios Durero and Ballester spent a day in the customer experience center at the Durst headquarters in Brixen, Italy, to print the Picasso Guernica interpretation on a Durst Rho 512 six-color machine. They had one chance to get it right, as the available material was sufficient for only one print run. This meant no test print on the final material.
"It has been a true honor for us and for Durst to develop this special project together with José Manuel Ballester and the Guggenheim Museum Bilbao," says the owner of Estudios Durero Ander Soriano. "In Picasso's original work and in Ballester's reinterpretation, the painting only uses a very wide range of grays and a very high resolution in all its shades, so the print quality must be exceptionally high to offer a true value to its reproduction. And that would have been impossible without the Durst Rho 512 6 C ."
Rafael Carbonell, Durst Iberica, adds, "Estudios Durero has been a loyal customer, and it was a real honor for Durst to support the Guggenheim Museum Bilbao in this special project. When you are printing only black, gray, and white, the quality needs to be exceptionally high to give art its true value."