Features
Featured Project: Interactive 'Aquarium' Brightens Children's Hospital's ER
Interactive digital displays have many types of applications, as this project demonstrates.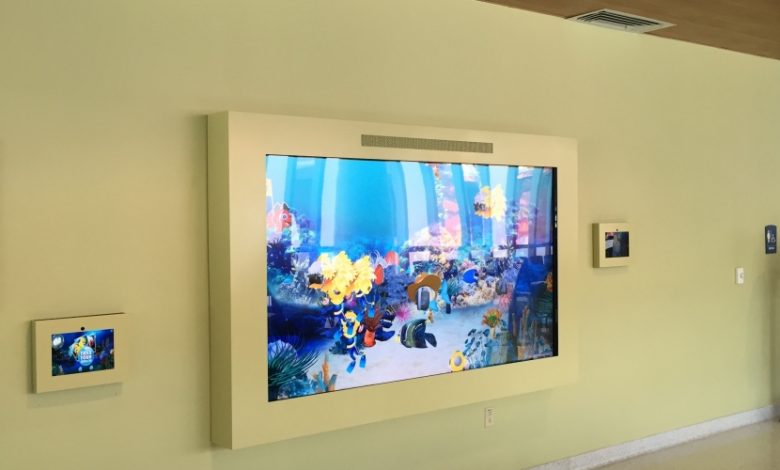 Miami-based Intermedia Touch, a high-tech integrator of digital signage and interactive digital directories, implemented an interactive "aquarium" at the Nicklaus Children's Hospital emergency room in Miami. The system involves two tablets coupled with an interactive, high definition 90″ display. The monitor displays an interactive aquarium called "Shell-fie," that enables users to take their picture and have it graphically placed on a chosen fish in the aquarium.
According to the company, the objective of the project was to provide the children and their families visiting the hospital's ER with a fun distraction. Working closely on the content with hospital officials, the aquarium teems with sea life that "reacts" entertainingly with every touch.
Intermedia Touch says the main issues when dealing with a system in place at a children's emergency room involve durability and sanitation. Children may attempt to hang from the mounted tablets or may hit the touch screen aquarium with more force than a typical touch surface used in other venues. Likewise, the location has a high risk to be unsanitary at times.
To overcome the challenges, an enclosure was built utilizing durable materials that can withstand abuse. The monitor itself is covered by gorilla glass, and the entire system is enclosed with ventilation in a region that is inaccessible to children. The enclosure, while protecting from physical damage, also allows the hospital staff to easily sanitize the interactive surfaces.
The hospital says the display accomplished what they hope it would, which is to improve the overall atmosphere in the emergency room and help parents have a way to, however briefly, entertain and calm their sick or injured children.