Features
Featured Project: Axiom Design & Build's Large Wall Feature for Ntrepid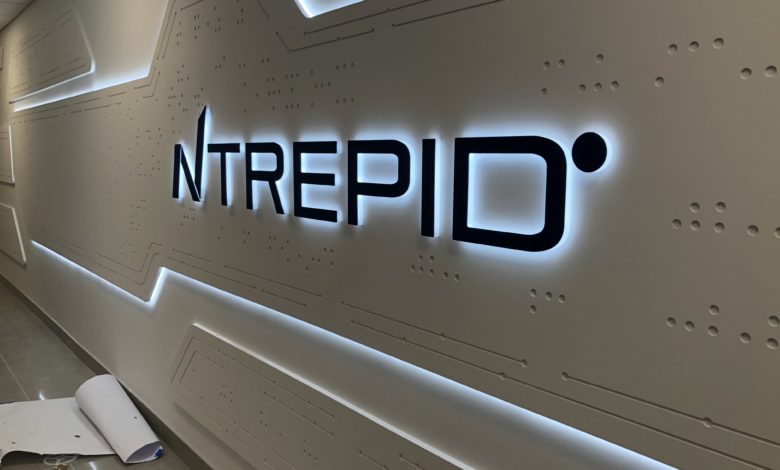 Axiom Design & Build, a sign and fabrication company, recently completed a large wall project for Ntrepid, a software, hardware, and cybersecurity company.
"The feature wall was fabricated with multiple panels of exterior grade MDF in different sizes and installed off the wall," Chrystal Gopaulsingh, the company's project manager, tells GRAPHICS PRO. "Each panel is edge-lit, as well as the Ntrepid logo, which completes the wall perfectly."
When asked about the project's uniqueness, Gopaulsingh points to the "sheer scale of the signage."
She explains, "It stretches 90 feet across with panels of multiple depths and sizes. The centerpiece hovers an inch off the wall, allowing LED lights to shine from behind the piece. Along with the backlights, the one-inch dimensional edge-lit lettering on the surface shows through as the focal point upon arriving on the elevators into the corporate office."
As far as challenges went, the lighting required wiring, which Axiom Design & Build had to complete early in the installation process.
"Early planning of layout was essential in having all wiring aspects work seamlessly with each other," says Gopaulsingh. "Having the power supply from behind (the) wall accessible and exactly where we needed it proved that proper planning pays off. Having had anticipated that challenge ahead of time was the key to having the project completed without an issue, and signage was successfully lit from all angles without exposed wire."
Axiom Design's services include custom sign fabrication, dimensional letters, illuminated/back-lit signs, etched/engraved signs, stencils, etched glass, vinyl graphics, and ADA signs.