Features
Featured Project: Aquarium Video Wall Adds Extension to Landscape
The wall-to-wall, floor-to-ceiling LED video screen simulates a real-time rainforest experience
The Dallas World Aquarium (DWA), an interactive jungle and aquarium that welcomes thousands of families, students, and researchers to its facility each year, recently completed construction on its newest exhibit — the Cloud Forest Trek.
The third-floor rainforest attraction is a multi-sensory exhibit featuring a three-toed sloth from Costa Rica, and the Southern Pudu, the world's smallest species of deer. The exhibit also highlights numerous threatened frog species from the Andean cloud forests in Colombia, Ecuador, and Peru.
DWA collaborated with SNA Displays to create a wall-to-wall, floor-to-ceiling LED video screen that simulates a real-time rainforest experience, transitioning from day to night. SNA Displays manufactured the large-format video wall, which features curated footage of the South American rainforest where the Aquarium has ongoing conservation efforts.
"I wanted our guests to get lost in the rainforest," says Daryl Richardson, the Aquarium's founder. "The video wall brings to life the exotic beauty of the rainforest and, paired with the natural elements in the Cloud Forest Trek, creates a truly panoramic experience."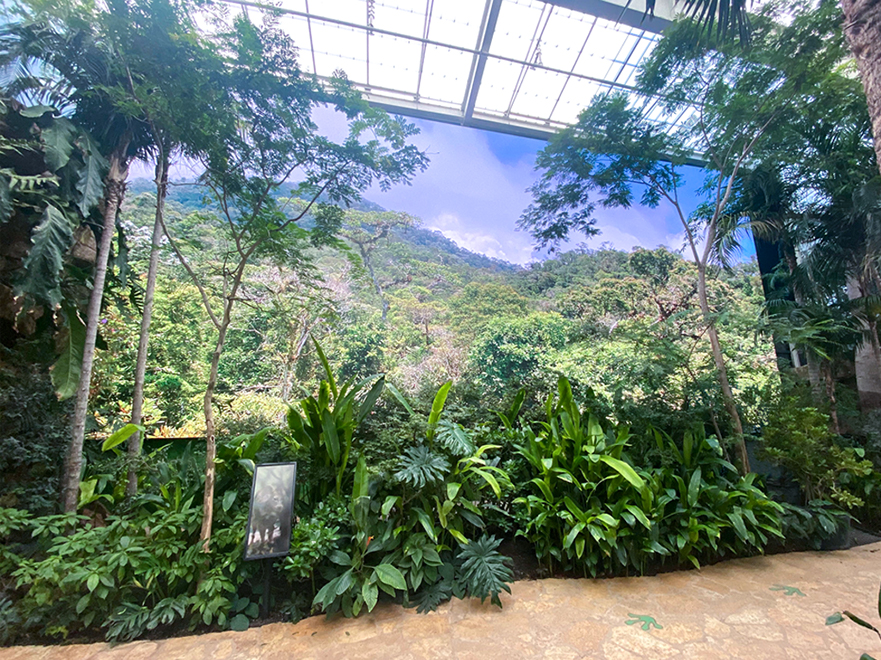 The LED, which stands nearly 25′ X 52′, features a resolution of 1,890 X 3,960 pixels and is comprised of just under 7.5 million total pixels.
"I can honestly say this is the first time I've been involved in integrating our display technology within jungle foliage," remarks Nicole Rotyliano, project manager for SNA Displays. "This LED technology blends seamlessly with the rainforest environment and really provides visitors with an immersive visual experience. With the ability to show realistic scenic backdrops for the animal habitats, the depth of field provided to visitors is absolutely stunning."
Audio-visual integration and installation assistance was provided by Ford AV, a commercial integrator of AV technologies.