Features
Featured Project: Agio Imaging Uses 3A's Dibond for Structural Display
The structure, made of Dibond, is 45' x 10' x 17' deep.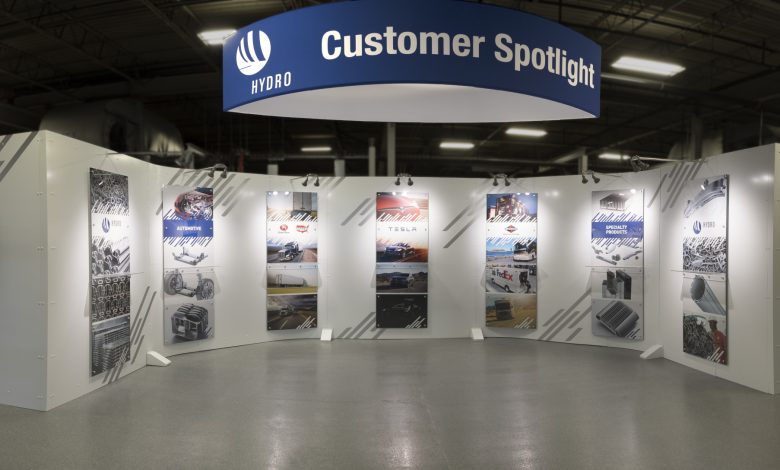 Kalamazoo, Michigan-based Agio Imaging, a grand-format imaging provider, was hired recently by Norway-based Hydro, an aluminum company with U.S. headquarters in Rosemont, Illinois, to create a permanent structural display for its headquarters. The display would be used to show visiting customers the company's many custom aluminum extrusion products.
The company chose Dibond, manufactured by by Davidson, North Carolina-based rigid substrate manufacturer 3A Composites, as its material of choice.
"Our client's vision was to create a customer experience center to spotlight top clients and to showcase the capabilities of their manufacturing facility," says Davina Logan, director of sales, marketing and administration for Agio Imaging. "Our solution offered a bright, open design that could include digital media integration, interchangeable panels for future updates and space for expansion.
"Since this display was considered to be a permanent structure, we knew Dibond would be our material of choice for this project. There are a lot of materials on the market to choose from, but we needed the strength, durability and modern aesthetics of Dibond and knew it was offered in oversized sheets. Dibond can be scored and routed to perfectly-milled sections that allow us to seamlessly butt the panels in displays."
Agio Imaging purchased approximately 2,056 square feet of 3mm white Dibond from 3A Composites' distributor, Agfa Graphics of Aurora, Illinois, including: 36 5′ x 10′ sheets for cladding the structure and eight 4′ x 8′ foot sheets for direct-printing customer display panels.
Both 3-D modeling software and Adobe Creative Suite were utilized by the Agio Imaging team members to design the approximately 45′ x 10′ x 17′-deep display.
Agio Imaging designed the display with a custom metal structure that is fully clad on all sides with Dibond. An Esko Kongsberg X Series CNC router was used to cut the Dibond panels to their final size and shape and to mill holes for fasteners. The custom-fitted Dibond panels were mounted directly to the metal structure with decorative mechanical fasteners.
The customer experience center is designed with a curved back wall installed between two flat end sections. Two 65″ LCD display screens were direct-mounted to the Dibond end sections to incorporate multi-media presentations.
Agio Imaging used a super-wide-format Agfa flatbed UV digital printer and OEM inks to direct-print seven Dibond panels-routed to 36″ x 95″-with images of products and customer end applications.
"We achieve great color saturation and excellent adhesion with Dibond," says Logan. "This allows us to produce high-quality graphics for our clients. After all, their image is our image."
The printed Dibond panels were sandwiched beneath acrylic sheets and directly mounted to the structural display's back wall with 1-inch stand-offs to create dimensional interest. Acrylic shelves used to display customer products also were attached to the panels.
The display was finished with vinyl décor graphics applied to the Dibond walls and to mounted acrylic sheets as well as custom painted acrylic lettering. A printed fabric graphic display suspended above the showroom designates the area as a "Customer Spotlight."
"We've received great feedback from our client about this display, which has proven to be a hugely successful marketing tool," said Logan. "They love being able to walk their customers into a structure that is filled with visuals describing their products and capabilities. They're also able to customize digital media on the LCD screens to welcome each customer. This display gives their customers a much better idea of what they can do."
This was the largest freestanding customer display created by Agio Imaging to date, the company says.