Features
Expand Your Heat Transfer Capabilities
Save money on toner with true black.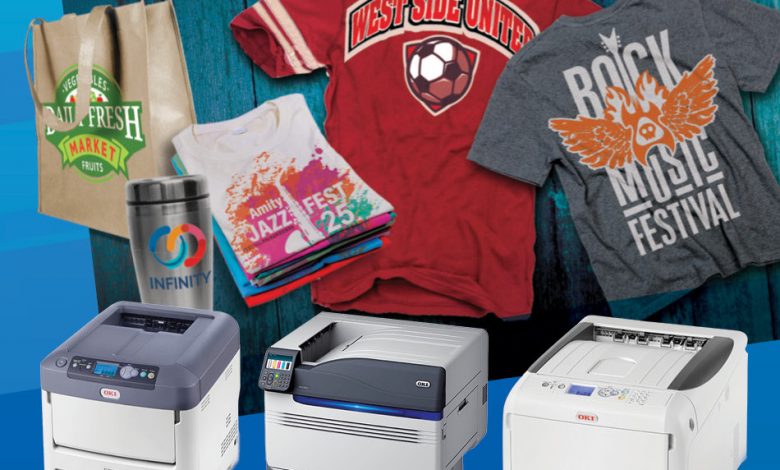 About this Sponsored Content
Johnson Plastics Plus, headquartered in Burnsville, Minnesota, has been a leading supplier to the engraving and sign making industry since 1970. Our Johnson Plastics Plus commitment to serving the needs of the engraving, sublimation and sign making customers remains our primary focus. Visit www.jpplus.com for more information.
One of the benefits of heat transfer printing is the ability to print in full-color, including white, and transfer to virtually any surface. One of the minor drawbacks of a CMYW printing process is that black comes out as a "composite" color, meaning it's a combination of cyan, magenta and yellow. While the end results are typically suitable for most applications, the use of multiple inks to create the color black can be a costly process. This is particularly true for designs and images with large dark areas.
The new OKI 9541WT heat transfer printer comes with a FIVE color printing capability, with toner for cyan, magenta, yellow, white and black. This means images and designs will print with a true black, saving money by not wasting cyan, magenta and yellow toner on a "composite" black.
In addition, having a true black in your printout helps make the surrounding colors "pop" and gives the designer more control over what the final print looks like. For example, a true black on a white shirt has a slightly sharper contrast than a composite black on the same shirt, and that sharper contrast helps other colors stand out.
PRINT LARGE TRANSFERS… OR A LOT OF SMALL ONES
The OKI 9541WT can print on paper or transfers up to 13″ X 19″. This allows for garment transfers that rival those found with traditional DTG and screen-printing applications. The OKI 9541WT is ideal for businesses, schools or clubs looking to add full-color images on garments in a small to mid-size quantity order.
In addition to printing a single image with 13″ X 19″ capabilities, this larger size also allows you to print multiple smaller images on one sheet of transfer or regular paper. Perfect for smaller, full-color invitations or transfers, the OKI 9541WT makes your printing process faster and more efficient.
In the video below, Steve Stallard, Digital Printing Product Manager, goes over the highlights of the OKI 9541WT, now available from JPPlus.
For more information contact Steve via email or visit JPPlus.com.