Engraving Services Co. Business to be Sold
The Australian-based business is in the market for a new owner.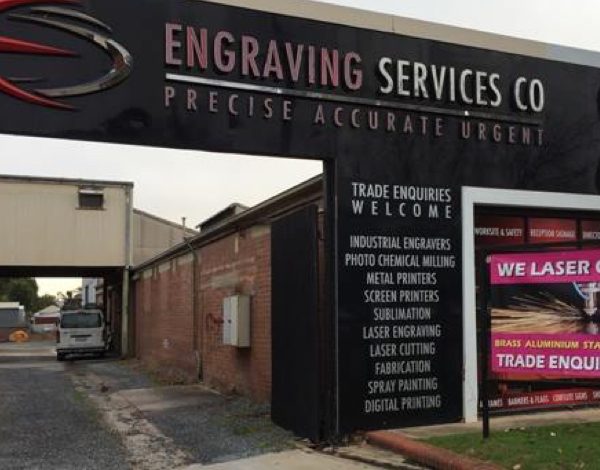 Southern Australian-based Engraving Services Co. (ESC) is up for sale by the current owner, Peter Vasic, who can no longer run the business due to his health. The company has produced wayfinding, retail, and general signage along with recognition plaques and name badges for clients in the world of engineering, aviation, maritime, and more since 1968.
Over the years, ESC has gone through several changes, including expansion and name changes. It was originally founded as Number Plates Services Co. and was located next door to the Motor Vehicle Registration department at the Adelaide Railway station in Adelaide, Australia. In 1973, it moved to Nailsworth and changed its name to Engraving Services Co. According to Vasic, the company expanded over time and built a reputation as pre-eminent industrial engravers. ESC merged with AMPE Signs in 2008.
The business had several employees working pantographs in the 1970s, and in the 1980s, it purchased a Dahlgren Wizzard and a Newing Hall 350. Today, the shop operates with a large-format photochemical milling line; rotary CNC engravers; fiber lasers; wide-format UV flatbed and roll-to-roll printer; screen-printing facilities; two plotters; plastic extrusion equipment for embosser dies; and many more pieces of equipment. There are currently five employees along with Vasic and his wife, Kathy.
Vasic has owned the 50-year-old company with Kathy since 2004. Prior to ESC, he ran a small design, sign, and art studio where he specialized in menu systems for the hospitality industry. Since taking over, his favorite aspect of running ESC is creating strong bonds with clients and becoming a relied-upon partner. "I also really enjoyed all aspects of marketing the business," Vasic adds.
His hope for ESC is that it continues into the future so the creative team can continue to find solutions to challenging projects. "Our team is solid and capable of continuing as a self-sufficient unit," Vasic explains. "The secret will be finding a compatible purchaser that is forward-thinking and open to the ideas bound within our team, allowing the current employees the opportunity to share their strengths and capabilities to enhance whatever they currently offer."
The decision to sell was made in March and the business will be liquidated if not sold.
For more information, visit www.engravingservices.com.au.