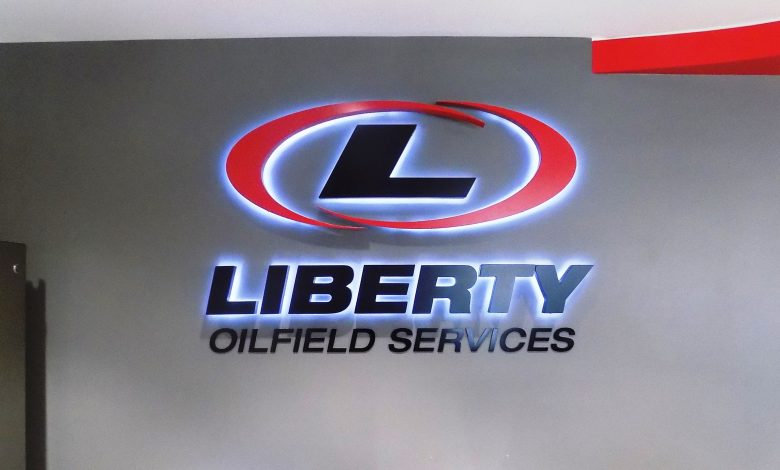 Throughout the years, halos have readily been used in artwork and descriptions to portray reverence. The notion of a glow—a visible aura—that crowns a figure would signify unparalleled qualities within it. It's a light, an illumination, a radiance that cannot be matched, and that "goodness" has only grown, spilling into the sign industry to enhance the light in projects, making them clearly distinctive.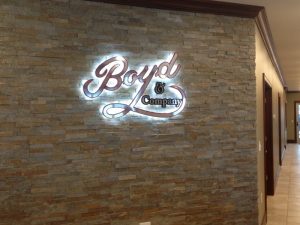 This particular light (pictured to the right) comes in halo-lit channel letters, using LED components to create unmatched luminosity. They can cast widely, in various colors, indoors and outdoors, and they remain illuminated longer than ever before. The ability to include this type of light quality speaks volumes to the advancement of LEDs, channel letters, and the raw skills of sign makers.
So, let's investigate what is within, around, and contributing to the halo effect of these signs, including potential customers, challenges, and solutions to potential problems.
Business, Value, and Benefits
Identifying a target audience is key for sign makers to deploy halo-lit projects. Some customers will view this type of sign lighting as an "add-on" or something extraneous to the whole of the sign. Pushing the true benefits of the sign helps to build value.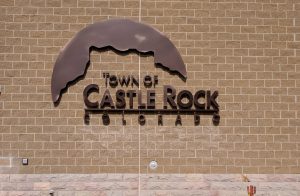 "Halo-lit letters and logos are extremely versatile and can be used in a multitude of environments that require a sophisticated look," tells Dion Flaska, project manager at Gemini Signs Inc. He continues to build a case for using halo-lit signage, adding, "The lighting effect is bold enough for large exterior signage and can be soft enough for branding the company board room."
It's true, this type of signage is a great fit for many applications, inside and out, and across several industries. The actual lighting of the letter is done in such a way that it doesn't detract from the sign but gives it a defined allure.
"I see them in situations where a more subtle light is desired, or a refined architectural design, material, or lettering style is required. They also are great on textured backgrounds," explains Brad Camp, president, Royal Signs, Inc. "I would utilize them in interior applications and in residential areas, like residential community entrance signs because of their subtle light broadcast."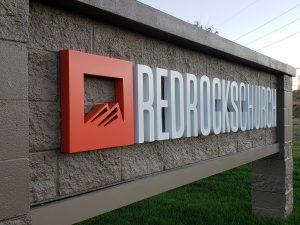 These signs don't have to be visually grandiose to make a difference. Much like the soothing voice of a story's narrator, you know the lighting is there without trying too hard to be the central focus.
"Halo-lit letters are best for a classic subtly lit option for a richer look," says Kip Husk, president, Husk Signs, a division of Husk Companies, Inc. "They are best viewed in low light situations."
Husk continues, stating that national outfits are great targets for halo-lit signage, those that have continuous orders of the same signage on a weekly basis. Once you are able to "spec" the sign to the customer's requirements and deliver on quality and accuracy, the orders will flow.
However, delivering on quality is sometimes easier said than done. Sign makers should concentrate on what's important in these types of projects.
"Even lighting is more critical than brightness," adds Husk. "Less spacing of LEDs can assure this. But the smaller the letter, the more difficult this is."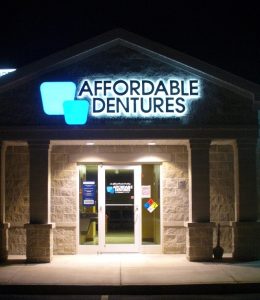 In some cases, though, smaller letters may be preferred. According to Camp, halo-lit jobs "have allowed the introduction of very small letters and they're much easier to install and service."
Much of the conversation about letter installation will come back to how comfortable the sign maker is in handling different sizes and styles.
The component being used in tandem with the letter—the LED—is also an asset with many derivatives. For instance, "Typically, blue LEDs are strongly discouraged for face lit letters because the letters/signs become almost impossible to read at night," shares James Cross, VP Signage Division, SDS Automation. "However blue light can work well for halo. Since blue lights are almost never used for face-lit signs, a blue halo-lit sign really stands out and gets noticed."
Husk recalls, "We have used color-changing LEDs, as well as front-lit and halo-lit on the same letters, for a very cool look for character."
A Better Letter
Looking again at channel letters, this time in more detail, there are elements to consider when applying this product to a halo-lit job. Obviously, sign makers have a number of different choices they can make when assembling and installing signs for customers. While completing more of these halo-lit signs they will determine what letters work best within their skillsets.
Size
Channel letters can be fabricated in a variety of sizes, from under a foot to over several feet. Placing these letters in the right position will have an impact on how the light is displayed. Manufacturers can be a great reference when trying to determine what size and placement are best for a particular project.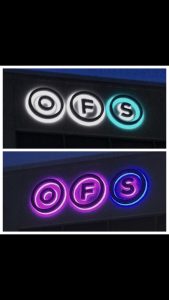 "Halo lighting works well for a wide range of letters but especially smaller, shallower, more intricate letters because it's more forgiving to light, small serifs and tight stroke widths as halo versus face-lit," suggests Cross.
In many instances, the size and width of the letters will not only have an impact on all of the other sign components, but also the labor that goes into it.
"(Use) ones with a wider stroke width. If the letter is too thin, it makes it difficult to get your fingers into, and sometimes the LEDs won't fit well," explains Husk. "We use HCI LED in all of our projects. The size of the LEDs, brightness consistency, length of the LEDs, and labor and material warranty help keep satisfaction at its highest."
Materials
For those who may have never completed this type of job, it's important to know not only the size of the letter but also what materials work best with the lighting.
Flaska proposes, "A variety of materials can be used when creating halo-lit signage. Fabricating from stainless steel and aluminum is very popular as well as routed block acrylic. Those are all great options when a high-end, sophisticated look is required. For something a bit more budget-friendly but still eye-catching, vacuum-formed CAB products are a great fit."
Environment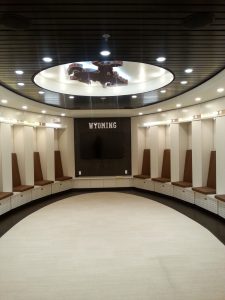 Again, halo-lit signage can be used in both indoor and outdoor environments; but it can also be deployed during daytime as well as nighttime.
"They are great when it is desired for the letter to light at night, but the desire during daylight is for the letter to be a specific metal, like bronze, copper, etc. or a specific architectural look," says Camp.
Because the effect of the light is more subtle than more traditional lighting techniques, the daylight does not impact the overall effect of the signage.
One of the steps in every halo-lit project should be to inspect the area where the sign is being installed. If it won't correctly emit the LED light then sign makers can create a custom background on which to install the letters.
"Halo-lit signs need a background on the same plane," shares Camp. "For example, a heavily corrugated or a variegated depth wall might not work well because some of the halo light would be bright and other parts would be dim, due to the further recessed depth of the wall. That's why halo-lit letters don't work well for raceway mounted letters unless a background is first mounted on the raceway."
All told, halo-lit channel letters are more than an afterthought or a nice bonus. There are customers that rely on halo-lit letters as an essential part of their business—a way to lure in visitors with the ambiance of their location, starting with their sign. They require the highest quality and "goodness" in the letters, which all begins with the sign maker.