The Miami Dolphins have a rich tradition of football success, having gone to five Super Bowls, winning two and being unbeaten during their '72 championship run. In a sport and world where nothing is ever perfect the Dolphins can refute that.
Along with the past accolades, trophies, and players and coaches in the Pro Football Hall of Fame, the Dolphins have always been a leader in football and sport in philanthropy. Thirteen years ago, the Dolphins created one of their most impactful initiatives, Dolphins Challenge Cancer (DCC).
Since 2010 this signature event has contributed more than $65 million, 100 percent of which goes to cancer research at Sylvester Comprehensive Cancer Center at the University of Miami. The DCC stands as the largest fundraising event in the NFL and represents the most significant known philanthropic pledge in all professional sports.
The Miami Dolphins recently once again joined forces with the South Florida community for the 13th annual Dolphins Challenge Cancer. DCC XIII made history in both fundraising and participation, raising more than $10 million and uniting a record-breaking nearly 6,000 participants.
The event has grown because of leadership, partners and fans throughout the community. The Dolphins Challenge Cancer's efforts spearheaded by the annual event is a demonstration of the "one team, one fight" mission as players, cancer survivors and community leaders come together to find solutions to this disease. Participants were given the opportunity to cycle, run, walk, or volunteer at the event. Thirteen years ago, no one could have predicted that this event would resonate so much within the community.
Some of us are weekend warriors. Others are serious athletes (we're not so sure about a 100-mile ride). PrimalWear, a three-plus decade client of ours, makes the clothing and accessories for this and many biking events, among other things, and are, in fact, a major sponsor for DCC XIII. We are lucky enough to make our contribution by providing the apparel-decorating services. Primal is an aggressive clothing line specializing in dye-sublimated biking apparel. We don't do the dye-sub work. We do, however, handle the screen-printed and embroidered apparel.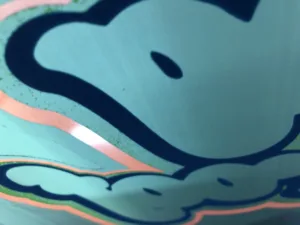 We began this project by downloading the original art files, and, as usual, we found some problems. Primal, which you may recognize from previous articles, has challenged us frequently, particularly with the sponsor art: a multitude of supporting sponsors with tiny logos filling up the back of the shirt.
Let's define our terms, shall we?
Sponsor, a noun, is defined as a person or organization that provides funds for a project or activity carried out by another. "The money for the ride came from sponsors." The verb: To provide funds for a project, activity or person carrying it out. "Jason is being sponsored by his church."
The dreaded sponsor back for any event is as challenging a project we get. While supportive of the cause, particularly DCC, we knew we might struggle with what always seems simple to the client. Re-creating the logos has its issues. While the files have improved considerably over the years, it's never easy.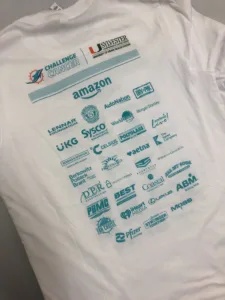 The sponsor logos were collected and provided as a PDF to size. This is what we typically ask for from our customers. That's good, right? Not! After opening the file in Illustrator, it had multiple process colors with several linked files and low resolution jpegs. Ugh! Some logos were vector and some not so much. We would need to make them production friendly for sure.
We ran a trace on the less than perfect logos in need of vector conversion. To speed the process, we actually sourced some vector conversion from a trusted partner and cleaned up the logos that were simple enough to fix.
The colors were identified with spot colors rather than the process colors initially indicated, allowing individual output. To maintain clarity, we made adjustments by opening up very small negative spaces and increasing line weights in tiny positive areas, creating space between, say, a drop shadow and the main image. We also dropped some outlines, increased spacing, and blew up registered ® trademarks ™.
With all of these sponsors and the DCC original art along the top, the final image would nearly max out our stroke at 20+ inches. Most of that was on a single color. To speed up production we ran two different screens to split up the print stroke lengths. Clever, eh?
Back to the front
The fronts were much better and easy to set up for seps. Same colors as the back. This year we added a survivor shirt to the order as well. We placed the eps files individually into Illustrator onto our registration board or template. Because of the size of some of the logos, we output at a 55 lpi (lines per inch) at 22.5 on CTS (Computer to Screen).
The inks were matched to the called-out Miami Dolphins and University of Miami colors using a color matching system and scale. Print order was a bit creative for minimal build up and smearing, minimal wiping and max production. It would be 5,000 pieces with multiple locations.
Since the shirts were white and 100 percent cotton (that doesn't happen too often) screens were all on 230 tpi (thread per inch), stretched to 35 N/cm2 on retensionable frames.
With the preplanned strategic print order we managed a fairly quick setup. With minimal micro adjustment we were ready to run. The squeegees were 65/95/65 triple ply dual durometer but with minimal pressure and still managed good ink saturation. We had the flood and squeegee speeds fairly rapid, again for speed.
This community has individuals who have dedicated portions of their life to help the Dolphins do their part in the eradication of cancer. Collectively, the DCC riders have pedaled over a million miles in the journey to beat cancer.