Features
Digital Upgrade: Adding Digital Printing to Your Shop
Discover how you can use digital printing to boost your bottom line in this article from the September issue of Printwear.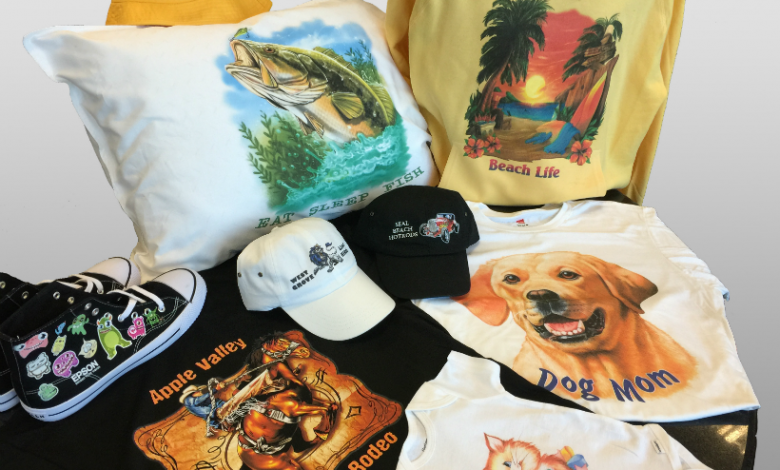 Digital technology is a continually evolving sphere that affects virtually all industries in today's world. Whether it's telecommunications and healthcare or entertainment sectors like music and movies, it's something that almost everyone has to contend with. In the decoration market, digital printing technology is a component that even if your shop hasn't adopted it, you're probably aware of its prominence. Printwear chats with a few industry experts on how digital printing technology like direct-to-garment (DTG) and direct-to-substrate printing can boost your bottom line, and how you can merge the modern with the traditional.
OPERATOR FRIENDLY
Bringing on another decoration method or technology in a shop might seem like a chore, but sources contend that in recent years, direct-to-garment and direct-to-substrate printing continues to become more user-friendly. "The technology has advanced considerably in many respects, from production time to personalization to image quality, thus making these machines more capable," notes Jessica Makrinos, Inkcups. Alongside increased automation features, she adds that user interfaces are "easier to operate than ever before."
Maintenance, one of the most significant and often time-consuming tasks in any shop, is one major upside to digital machines. "With older machines, a user had to be really vigilant in manually keeping up with her maintenance schedules or run an increased risk of the machine malfunctioning or print head clogging," says Jazmin Casing, AnaJet. Thankfully, today's direct-to-garment printers from many manufacturers feature built-in components to help a producer stay on schedule with routine upkeep. For tasks like head cleaning and white ink agitation, many printers now automate the process. With other maintenance tasks, many DTG printers now display smart alerts, so operators know when it's time to perform the designated duty. According to Casing, alerts can direct a producer to a section in the included manual, making the whole process even more comprehensive.
In addition to machine-based improvements, Tim Check, Epson, points out that pricing has become more streamlined with digital machines. "Job-cost estimation tools enable print shops to know the production cost before quoting a job to help maintain desired profit levels," he explains.
Above: Shops can also use digital technology to print order samples and speed up the approval process with customers. (Image courtesy Kornit)
WHAT TO CONSIDER
Arguably one of the biggest changes in the apparel decoration world is the shrinking gap between retail and wholesale. While e-commerce used to be non-apparel goods and bulk items, the online marketplace now encompasses a large variety of custom-decorated garments. How can decorators tap into this trend?  With the timely capabilities of direct-to-garment, direct-to-substrate, and even dye-sublimation printing, printers have the "ability to fulfill small, highly-customized orders with virtually unlimited colors," notes Casing. All these offerings, she adds, can distinguish a shop from its competition.
Shops can also offer a similar service on the hard goods side. With direct-to-substrate printing, Makrinos says businesses can save time, energy, and money while providing exceptional quality and efficiency.
For walk-in clients, digital technology has its perks as well. Decorators can use the technology to speed up job approvals on larger orders that previously may have taken weeks to finalize. "(Producers) easily create product design sample proofs for large volume runs; utilize digital to win these jobs that can then be printed either on digital equipment or with traditional screen-printing equipment," Check points out. For clients who require a physical garment sample to get final approval, like corporate accounts, this method is a powerful tool to seal the deal, he adds.
And while a shop doesn't need to bring digital printing into its arsenal, parties suggest assessing how and if it fits their business model is worth the time. "It opens up potential markets, and augments existing markets," suggests Geoff Baxter, Kornit. To not offer digital printing will potentially, to at least some extent, inhibit the growth of a business, he adds.
Overall, the key reasons shops will want to consider adding the services include:
Color options: In an industry where customers might traditionally be used to one- to two-color graphics for their goods, digital printing offers a vast array of colors and highly detailed artwork. "Digital printing allows companies to achieve full-color images, including photographs which have become increasingly more popular in this era of personalization," states Makrinos. This means everything from the family dog to a group photo from a recent bachelorette party can be added to apparel or hard goods with these technologies.
Short runs: DTG opens shops up to those small-quantity orders they may not have previously been interested in because of the downtime it requires to set up an embroidery machine or screen-printing press for a few shirts or hats. "Because DTG allows you to quickly and easily print a single image in virtually unlimited color, the technology makes it cost-efficient and profitable to fulfill small orders and even one-offs," says Casing.
Inventory minimization: Thanks to the one-off nature of DTG, stockpiling boxes of shirts is not as much of a necessity. "Essentially any company that would like to produce high-quality, short- to medium-size orders with lots of colors and without keeping any pre-printed inventory is a candidate for digital printing," notes Baxter.
Perceived value: If a shop highlights all the benefits of D2 like full-color and photorealistic prints, fast turnarounds, and no minimums, Casing suggests decorators can charge a premium for this service. "There is a perceived higher value for personalized items that are created very quickly, or even immediately," she adds.
OUR POWERS COMBINED
One of the most powerful parts of using direct-to-garment and digital printing technologies is that decorators can apply the disciplines they're already skilled at with these elements to offer their customers a whole other set of designs and product options.
"An emerging trend that we're seeing with our users is multimedia designs that combine more than one decorating method," explains Casing. "Incorporating DTG printing with embroidery or vinyl transfers can create some really beautiful effects." The result, she points out, is retail-worthy apparel that is on-point with growing fashion trends.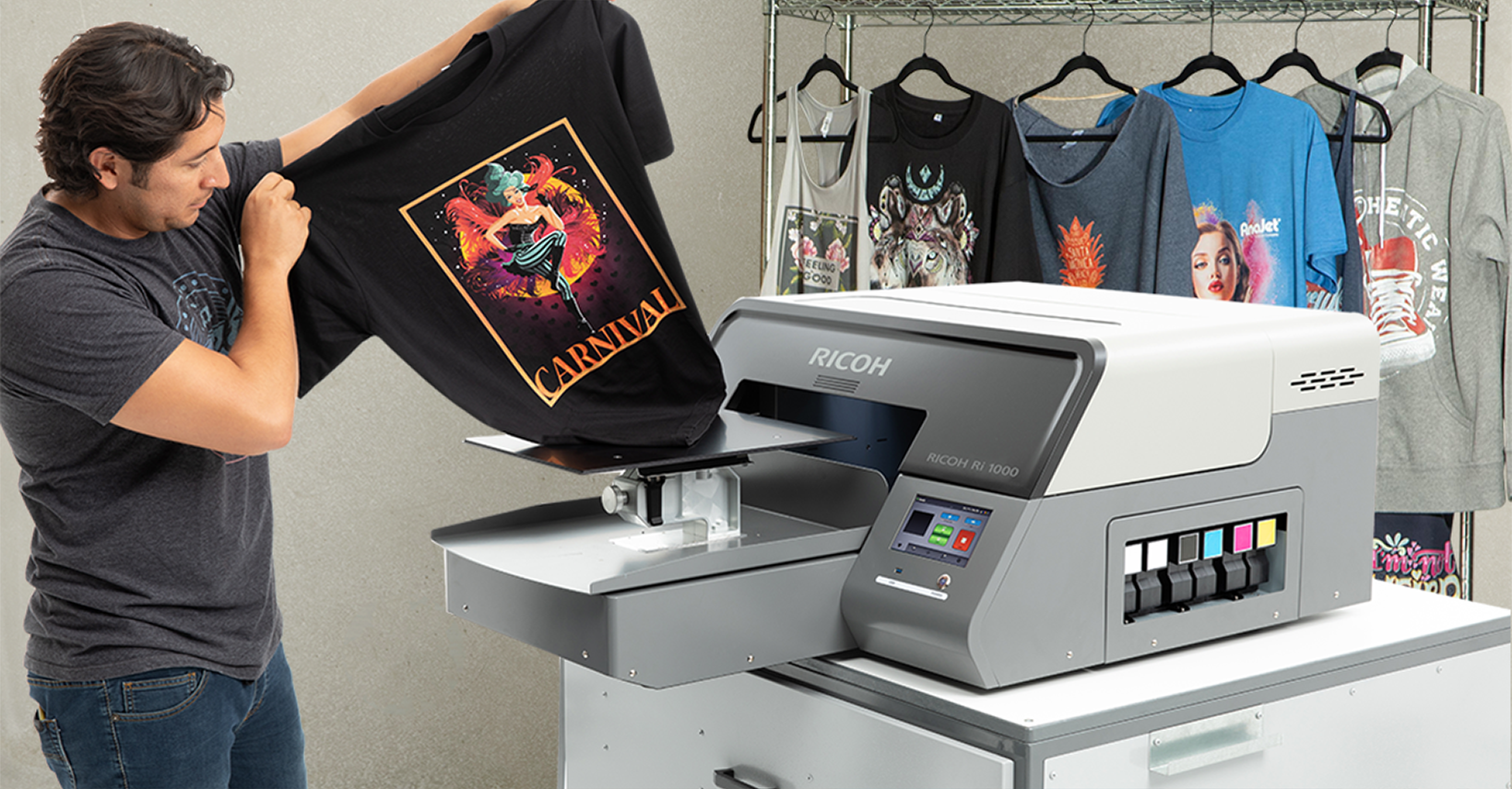 Above: Even if a shop hasn't adopted digital technology yet, there's a good chance they are aware of methods like direct-to-garment printing. (Image courtesy AnaJet)
In addition to multimedia effects, producers can employ digital technology to grow the promotional products arm of their business instead of outsourcing that element. "Some digital machines provide seamless graphics on drinkware and cylinders and offer unique design techniques such as mirror printing," says Makrinos. "If a company is constantly printing different artwork, they can easily changeover artwork or their product without having to create another screen." Alongside drinkware, digital printing also opens the door to substrates like wood and glass, allowing a producer to expand their offerings into markets like signage and awards and recognition.
On the hard goods side, Makrinos suggests that there are endless possibilities. "We'd encourage shops to extend their reach into markets that could benefit from digital printing technologies, such as toys, sporting goods, industrial tubing and packaging, edible items, retail, cosmetics, home décor (e.g., candles), and more," she suggests.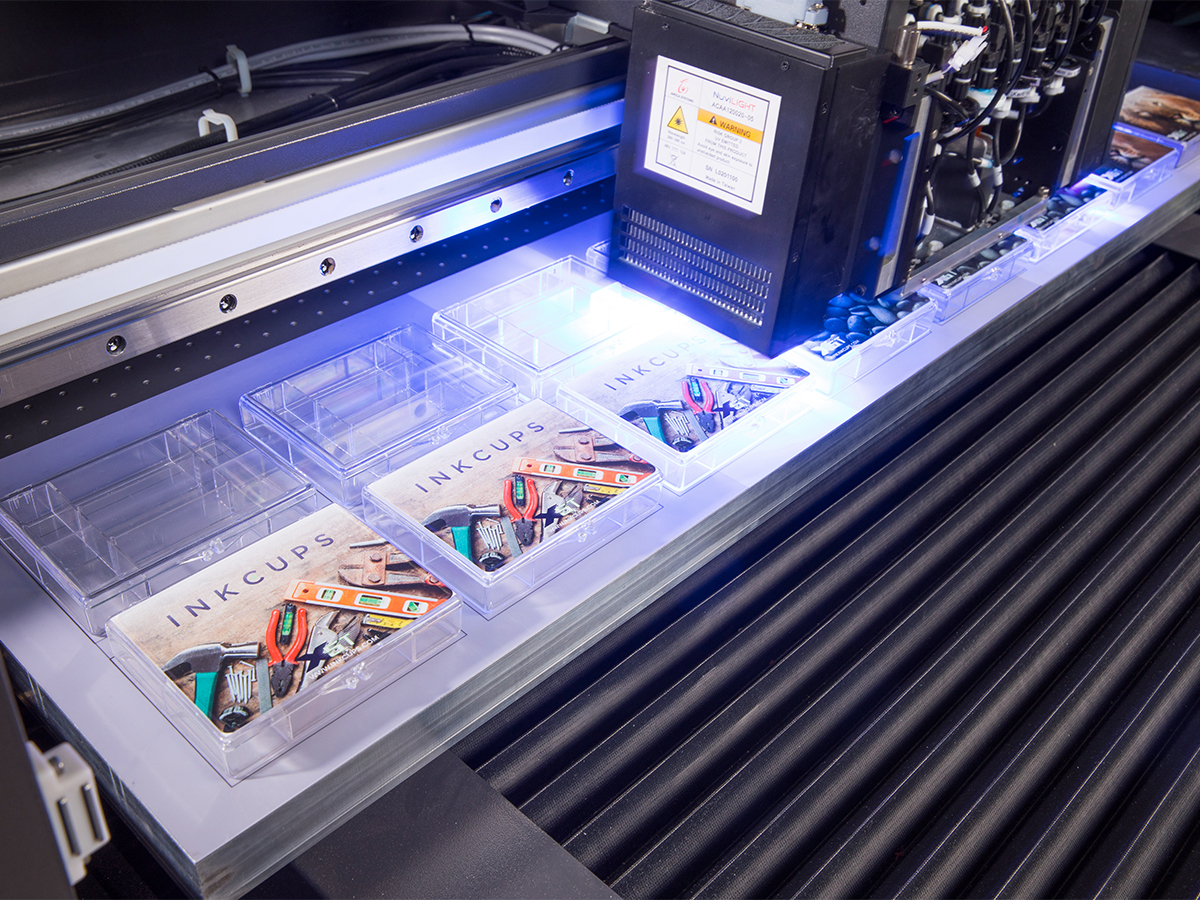 Above: Printing on hard goods will enable a shop to use non-apparel items as add-ons to existing orders. (Image courtesy Inkcups)
Because of the timely nature of DTG, Baxter also suggests that decorators can further immerse themselves in event-based printing for everything from family reunions to youth sports. "Youth organizations, like clubs and sports teams, is a great market for apparel and accessories," he explains. "You're not only getting larger orders because you're printing for a whole team of kids, but you also can sell T-shirts to kids' families and friends."
Digital technology works well as an add-on to existing disciplines too, says Check. A customer with an order of embroidered fleece jackets is the perfect candidate for a set of personalized water bottles or digitally printed tote bags, he notes. "Direct-to-garment and dye-sublimation are excellent complements to existing equipment a shop may already have," Check contends.
Ultimately, digital technology will help a shop meet the needs of a growing customer base looking for goods at the click of a button. And despite methods like direct-to-garment bringing more digitally-based techniques front and center, decorators will still have the chance to add their own personal flair to ensure clients keep coming back. After all, a decorator who's already skilled at bringing in new business and listening to customer's needs will be further improved by having another tool in their arsenal.
This article appears in the September issue of Printwear. Don't miss out on other industry news and topics-become a member here.