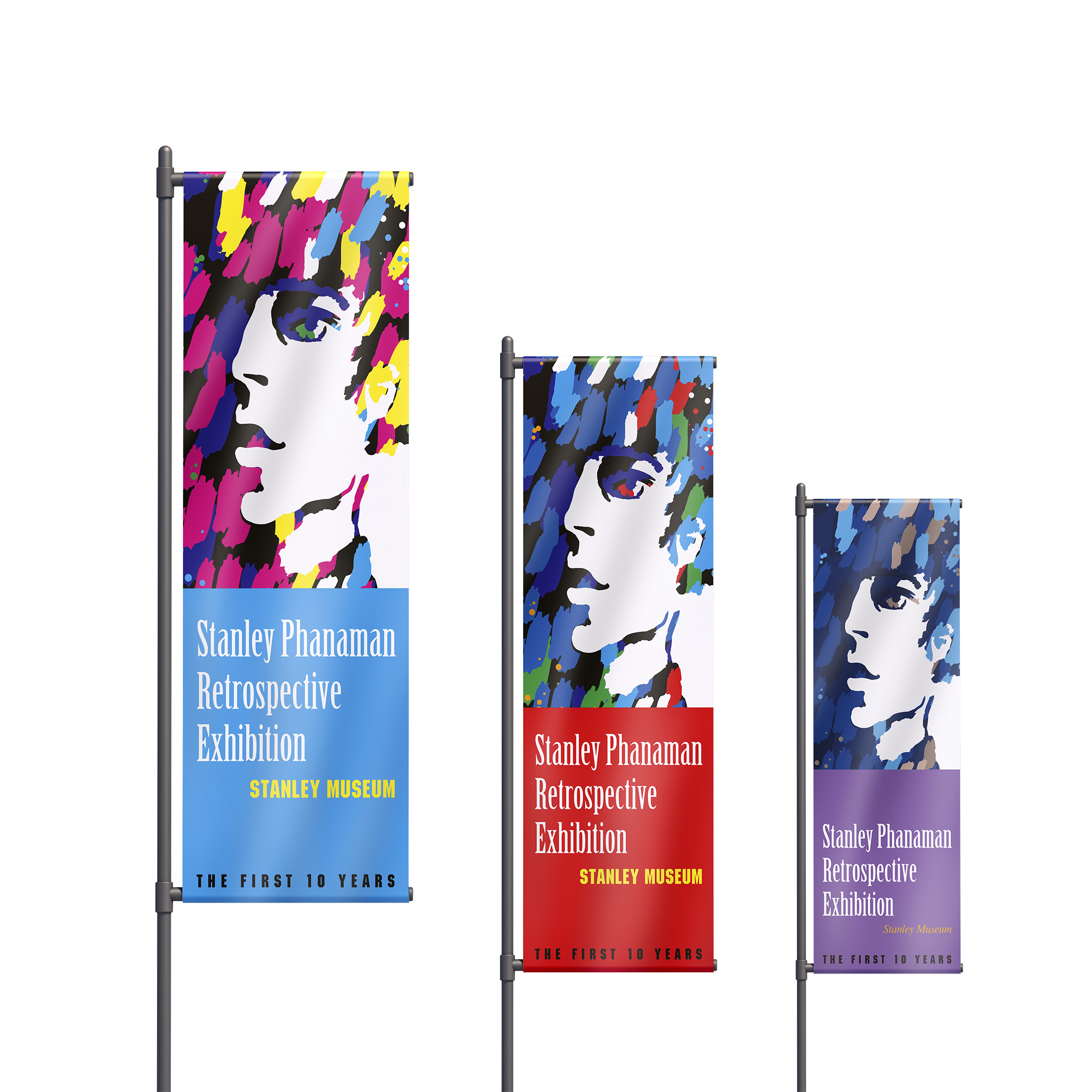 In the last handful of years, the growth of digital textile printing on anything from soft signage to T-shirts has exploded – both because the technology has become mainstream and the end customer likes the look and feel of fabric over vinyl.
"The technology is more mainstream, and it's higher quality. It's more reliable, easier to work with and easier to enter," says Mike Wozny, EFI, a developer of inkjet printing technology with a focus in water-based textile printing.
Printing on fabric became more viable in the last 15 years, tripling in growth in the past five years, Wozny says.
The growth is in both traditional textiles and soft signage in sign and banner applications. Those applications vary from back-lit, front-lit, and point-of-purchase displays to wind sails, rollup banner stands, double-sided banners, and step-and-repeat backdrops, among other uses. The various applications appear at conferences, trade shows, retail outlets, restaurants, outdoor festivals, and sporting and other events.
"The name is attributable to fabric's soft hand verses rough substrates such as paper, vinyl or rigid boards," says Sharon Roland, Fisher Textiles, which supplies more than 150 printable fabric media options to the digital printing industry. "An advantage of fabric over rigid substrates is that it introduces the sense of touch, which in a world where consumers crave experiences, adding the sense of touch and making the finished product more than just visually stimulating is very appealing."
Uses of fabric signs
Fabric printing includes both direct printing-the printer places the ink directly onto the fabric or textile-and transfer printing, heat pressing the print onto the fabric.
Direct printing, or direct-to-garment or direct-to-fabric printing, came about in 1996 with the introduction of the first commercially available DTG printer named Revolution, based on an invention of Matthew Rhome, Epson America Inc., a manufacturer of digital printers and other devices.
Rhome brought together the screen printing and digital technologies to create the Revolution. At the time, the garment decorating and sign industries were moving from old analog production to digital production, he says.
Sign makers hand-painted their signs before advancing to vinyl cutters and then wide-format inkjet printers to print the content direct onto various substrates, an evolving technology over the past 20 years, Rhome says. For making a large number of shirts or signs, they no longer needed to engage in the laborious process of screen printing, requiring film and individual screens for each color, but could use a digital format, printing from the computer onto the material in a multitude of colors, he says.
"We already had inkjet printers. It was about how to marry the two," Rhome says. "Everybody saw this as revolutionary."
Rhome developed a way to flatten the material and employ special textile inks that are pigmented, washable and durable and able to print on fabric, which the Revolution achieved. The printing became cleaner, easier and faster than the older technologies, he says
"You can't run a T-shirt through an inkjet printer," Rhome says, adding that with the Revolution, "It's basically printing a computer file. Once it's designed, you can print instantaneously. There are no screens. You have a design. You print. There's no setup."
Transfer printing's longevity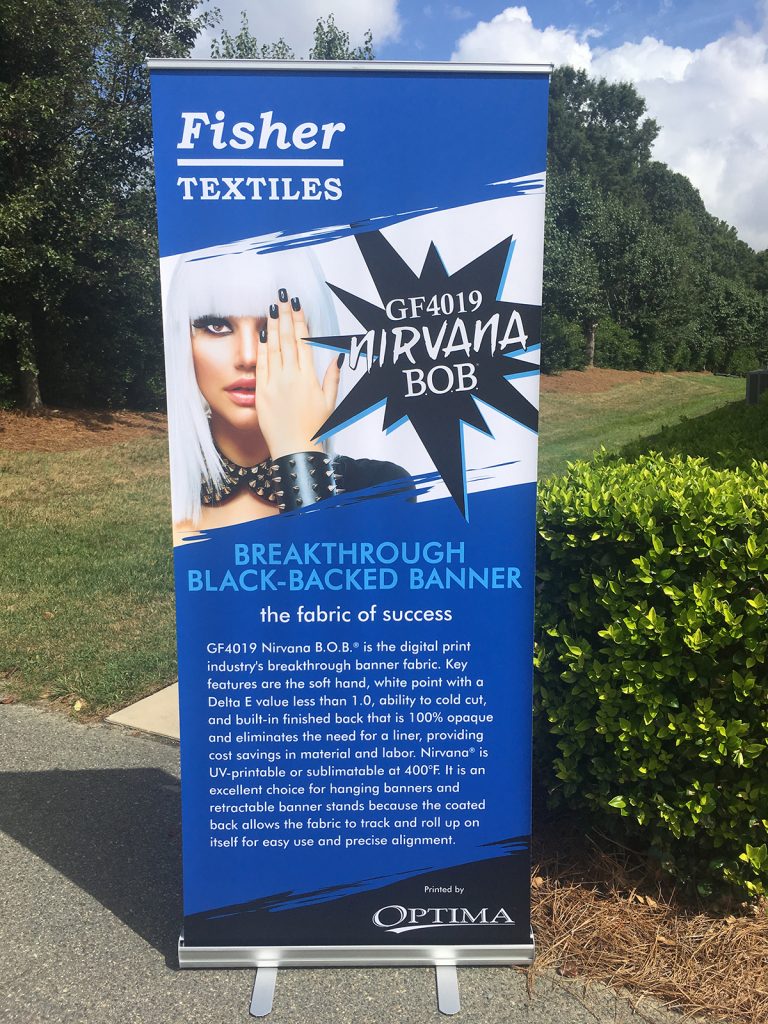 Digital transfer printing, alternatively, is an older technology that has been around since the early 1990s, Rhome says.
It requires a two-step process that involves printing to transfer paper, and then running the paper and fabric together through a heat transfer press, Roland says.
"The print is transferred by contact heat, which causes the dye to sublime. Having no affinity for paper, the dyes are taken up by the fabric," Roland says.  "Sublimated prints are extremely washable and scratch-resistant because the print is protected within the yarn."
Advancements in direct printing have made the print quality a close rival to transfer printing, Roland says.
"Direct dye-sub printing is the preferred print method for outdoor longevity because this process drives the ink further into the fiber, offering improved colorfastness verses paper transfer print, promoting longer use and better color vibrancy when exposed to weather elements," Roland says.
However, transfer printing is less expensive and more flexible than direct-to-fabric printing, which still remains the more widely used option for the signage industry, says Randy Anderson, Mutoh America, a manufacturer of wide-format and flatbed printers.
"If you have a problem with the printing, the fabric is done," Anderson says. "If you print on paper, you can see the problem. You're not out of the cost of the material. Printing direct takes more skill, knowledge and leading-edge technology."
Advantages of direct-to-fabric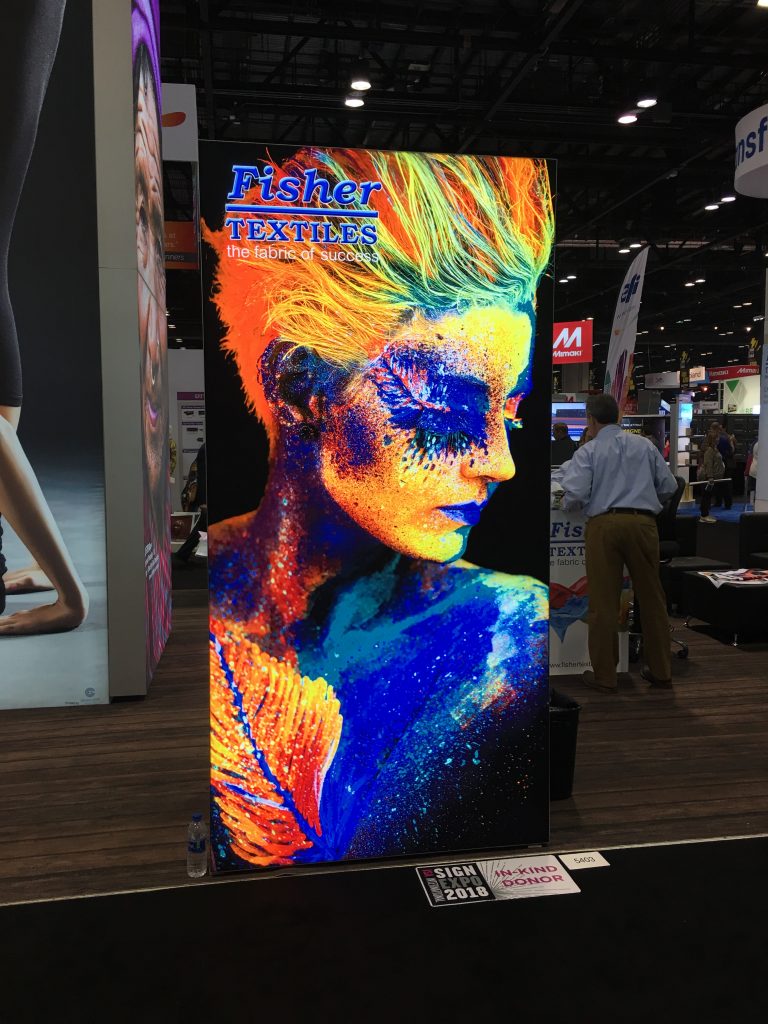 Direct-to-fabric printing has its own set of advantages over transfer printing, Rhome says. It's more durable from the way the ink, made out of chemicals with pigments and binders, binds to the fabric, he says.
Because transfer printing doesn't give as strong a bind, it will not work on some materials, like polyester and materials that are shiny or slippery, and doesn't lend well to printing on darker fabrics, Rhome says.
For those darker materials, direct-to-fabric printing requires a pre-treating device, a special fluid that seals off the material and allows the ink to adhere in the desired area, Rhome says. Without it, the ink will soak into the material and affect the whiting, he says.
Dye-sublimation allows for that better color saturation because the inks in the dye are denser than they were in the past and have improved in jetting out of the printer, Anderson says.
"Now, it's a very stable product," Anderson says.
Polyesters, which are more acceptable and fashionable in the clothing and signage industries, have become higher quality, making them the best material for dye-sublimation, Anderson says.
The print quality from direct printing is a close rival to dye-sublimation transfer as a result of many technological advances, Roland says.
"Direct-to-fabric printing has greatly improved over the past couple of years and continues to be a rapidly growing segment of our industry. … The production process is also improved since there is not a need to print the paper. Everything is done all at once with direct," Roland says. "It saves time and provides a cost savings in labor and material."
Common uses of direct-to-fabric
Direct-to-fabric printing is commonly seen for flags and back-lit signs, Wozny says. Flag signs need good penetration of ink to allow viewers to see both sides, and back-lit signs need that color penetration on the front in a high resolution and high density of ink, Wozny says.
"With transfer printing, it's difficult to get the back side to be as dense and bright as the front side, depending on the thickness of the material," Anderson says.
Fabric provides a different look to signage than vinyl, Wozny says.
"It provides that higher quality look and feel," Wozny says. "Vinyl you see everywhere every day. Fabric is different and new. … Whatever you can do with vinyl, you can do with fabric."
Fabric signs can be reused and are easier to fold and ship when employed at exhibitions and traveling events, plus they are more environmentally friendly than vinyl, Wozny says. The material weighs less and fits into smaller packages than vinyl, which has to be placed in a tube, he says.
"You can't do that with vinyl. It's a one-and-done type of scenario," Wozny says.
Fabric signs also are durable and easy to change out for sales promotions and rollouts, Roland says.
Challenges of fabric signs
However, fabric signs, unlike the harder substrates, have a shorter lifespan, Wozny says.
"A lot of our graphics are not long-term signage. It's not years and years. It's typically months," Wozny says, adding that fabric signs have short-term outdoor durability and will last longer indoors without the sun and weather conditions. "Banner vinyl is structurally sound, whereas fabric tends to have a lot less structure in it."
Fabric is a challenge to move through the printer in a fast, reliable way because of the give in the material, and fabric is prone to wrinkle, Wozny says. EFI uses unique technology to compensate for the give, including sticky rollers and drive motors, along with a system to manage color across many substrates, he says.
"Those systems combined enable us to repeatedly move the material," Wozny says. "Our fabric systems are specifically developed to handle fabric."
Direct-to-fabric printing requires a special handling, or feed and take-up, system to keep the fabric flat and wrinkle free when printing, adding to the cost of the printer, Anderson says.
"All of that now has been standardized and simplified to make it easier for our customers to use," Anderson says.
For fabric printing, several factors need to be considered, such as weight, stretch and intended use, Roland says.
"Each fabric is different, and it is recommended to profile and test-print first because there is not a one-size-fits-all print setting," Roland says. "Heat, pressure and tension conditions can greatly vary from one fabric to the next."
Direct printing is a continuously growing market and is constantly changing, Wozny says.
"There's still a lot of innovation going on," Wozny says. "The benefits are really something you can quantify. It's exciting as a result."