Features
Digital Screen Printing Explained
Digital screen printing (DSP) solves the main weaknesses of traditional DTG.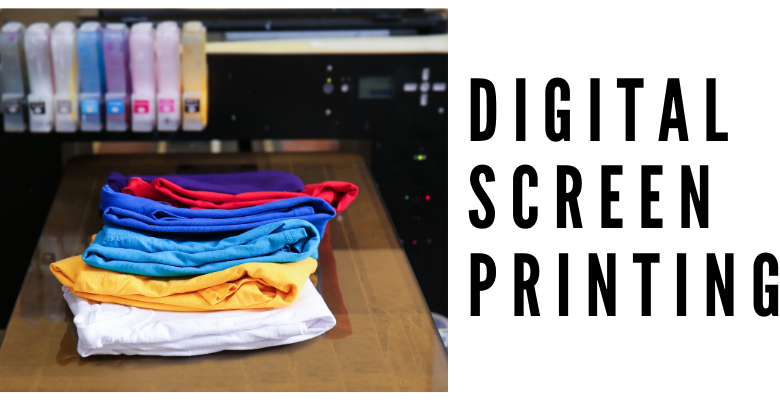 Digital screen printing (DSP) solves the main weaknesses of traditional DTG. It removes the pretreatment and white ink underbase layers from DTG and makes those layers the responsibility of a traditional screen print setup. This process offers many things all at once.
Faster white ink laydown
Dramatically reduced ink cost
Significantly increased DTG head life
Fast color registration
Faster job changes
No need for separate pre-treatment stations
Allows the use of a tunnel dryer (no heat press required)
Higher quality ink resolution & digital color blends
Single setup for poly, cotton, and blends
The machine works by laying down the pretreatment and white ink using traditional screen-printing screens. But all the color is printed in vibrant CMYK with the built-in high-speed commercial DTG printer. You can then finish with a clear coat screen and run everything through a standard tunnel dryer.
These machines have unbelievable advantages when dealing with sports leagues or jobs that have multiple combinations of top colors while using the same underbase. You can load up the whole league and have the DTG print each color combination differently.
For jobs that require dozens of prints of the same images, you'll get full-color prints just like you can from your regular DTG printer.
And then, because the pre-treatment and white ink layers are pushed into the garment instead of sprayed on, you get better adhesion of the ink. The machine gives a washability on par with traditional screen printing.
With jobs that don't need white ink, the machine functions just like a typical DTG.
COUNTING THE COSTS
Make no mistake; a new digital screen printing system will set you back more than just a few DTG printers. But if your print business is growing into a leader in your area, you'll want to look at the costs long term.
A typical commercial lease for equipment is 5-7 years. Project out your five-year costs versus the thousands each month you can save in labor, DTG white ink, and overhead.
If you're looking at a 5-7 year growth plan that will end up with five of the same DTG machines, 12 new heat presses, and five new operators' salaries each month, maybe you'd be better off taking out a lease on a new digital screen-printing machine and tunnel dryer that only requires one or two operators.
If you're looking to grow into your business slower or don't have the credit for the additional growth right now, you can always consider a newer, faster, vacuum platen machine that will multiply your current output for a lower cost.
The bottom line is your success is calling.  And you've got choices about how to meet your DTG production bottlenecks. Leverage new equipment where you can to take your business farther than your competition. Don't let outdated equipment stand between you and your dreams.