Digital finishing is an essential part of any sign shop's workflow. The right table cutter can eliminate bottlenecks to help your printing operation run smoothly and remain on the cutting edge.
The latest crop of flatbed digital die cutters can make life easier for sign and graphics businesses. If you are in the market for a new unit, finding the right machine for your shop will take some investigative research as well as asking the right questions.
What are some features to look for (such as vacuum table, double-head models, and router capabilities)? How much space do you need? How much power do you need for the motor? Which applications does this cutter excel in? How many tools do you need? What new services can you offer your customers? And, most importantly—how much money can you expect to spend? To help answer some of these questions, we spoke to some of the experts in this area and compiled some tips, product suggestions, and other points you need to consider when shopping for a flatbed digital die cutter.
Cuts like a knife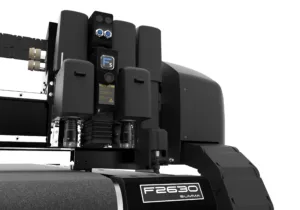 "As the lines between print market segments continue to blur, the new normal for print service providers (PSPs) is to offer a full spectrum of products ranging from retail promotional graphics, decals, and banners, to all types of displays, folding carton, and corrugated packaging," says Beatrice Drury, marketing manager, Zund America, Oak Creek, Wisconsin.
"To meet this incredibly diverse range of finishing demands efficiently and therefore profitably, PSPs need specialized tooling and automated workflows that encompass all phases of production—no matter the specific finishing process or application.
"Precisely for this reason, Zund continues to focus on adding capabilities and workflow automation to our modular systems," Drury adds. "For example, Zund recently added laser capabilities to its already extensive range of tool options. At the same time, Zund also introduced the over-head camera, which is a game changer when it comes to workflow efficiency. Instead of reading multiple register marks sequentially, which is the traditional registration method for flatbed cutting systems, the over-head camera captures all register marks at once."
Zund offers the BHS150, the latest generation of fully automated board loading/unloading/stacking—a system geared specifically to high-volume, industrial-level digital cutting/finishing. Paired with the dual-beam D3, the BHS150 is said to help deliver unprecedented non-stop productivity with 1.5m (5′) stacking capacity at either end.
"What's unique about Zund's modular machine concept is that a user can, for example, take the original digital cutting system they purchased for processing output from their flatbed printing device and adapt it to meet increased demand in, for instance, textile applications by adding a cradle feeder and Cut & Seal Laser Module," Drury explains.
She adds another user may want to expand on their routing capabilities with the powerful 3.6kW router and automatic tool changer. And a third may be interested in adding fully automated loading and stacking or picking/sorting and placing capabilities with the BHS 150 or the Robot PortaTable. "Zund can accommodate all of these expansions—be it with a brand-new cutter configuration or an update to an existing one. New components can easily be added, thereby eliminating the need for purchasing additional equipment and maximizing the ROI on existing cutting systems."
Digital is a game changer
Royce Owen, marketing director for AirMark Corp., Seattle, Washington, points out that flatbed technology is still relatively new when you compare it to traditional vinyl cutters, but digital technology of these models has moved rapidly, and they have become a staple for popular finishing options due to their flexibility as well as the growth of rigid printer capabilities.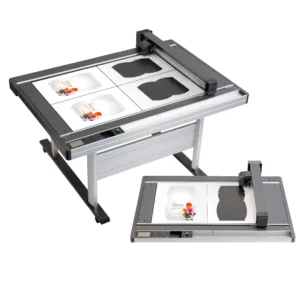 "Continuous-feed features and large cutting tables are both traits sign businesses should look for in a cutter," he notes. "The former helps prevent bottlenecks by working through projects one right after the other. Essentially, you can queue the next board before the previous ones are done. Continuous-feed cutters save time and help you complete more projects," he suggests.
Owen says in addition to knowing what types of cutters are out there, you should also look at your operations.
"The types of jobs you take on will determine your cutting needs. Will you be making product labels or large displays? Are you printing on vinyl or paper? Such factors determine the type of cutter you need along with the features it should have. For example, large products need space, which means a big flatbed cutter. As for material, get a cutter best suited for your medium. If you print on a variety of materials, you'll need a cutter that can handle them all."
Owen points out that large flatbed surfaces are also popular in the industry. "As more wide-format printers continue to be introduced, cutters have gotten larger to keep up with the demand. Not only that, but with more space, your machine can handle complex contour cutting."
He explains that another thing to consider is that flatbed cutters have many different tool options for a wide variety of applications. "Flatbeds cutters have a versatile motorized tool head that can accept many different types of tools for a variety of substrates and applications — from fabric, wood, leather, and acrylic, to foam board, cardboard, as well as roll material. The flexibility of the flatbed finishing system allows you to expand your business into new areas in many cases by just inserting a new tool."
Sizing things up
Owen reports that the size of a system can also be an issue for some smaller shops. "Many different sizes of flatbed cutters are now available. The flatbed cutters we sell have a rather small footprint and can fit into most shops, yet they are able to handle large panels of rigid substrate media. Rather than a vacuum bed or units that employ pneumatic media advance clamps to hold down the hard media and continuously move it forward to accommodate large finishing jobs. In addition, the roll support and conveyer systems allow for long, continuous runs of flexible media."
He adds that the type of work that your shop will be handling should be something that should be researched—what size and types of media, length, and tracking accuracy needs. "The number of functions included and the level of quality built into the cutting table must be balanced against how much you are willing to spend."
Accelerated results
Einar Ek, CAM solutions – pre-sales at Esko, Miamisburg, Ohio, says that the customer's job specs will determine the speed and power that is required.
"Let's be clear that acceleration is what is really important. Cutting long straight edges fast is pretty simple. Stopping and going quickly around a number of small detailed cuts is a much greater challenge. For example, the Kongsberg cutting tables sold by Esko are engineered for production with no compromise between speed and quality over the entire surface."
He says that the Kongsberg table's focus areas are pretty versatile and include sign making, P.O.P. displays, protective packaging, short-run corrugated and sample tables for packaging designers and converters. "Behind the many segments there are hundreds of materials from fine vinyl to heavy-duty paperboard or Plexiglas."
When looking at how many tools are needed, Ek says that the answer goes back to determining what materials are being finished. "Normally, a customer would own three to six tools directed at their specific material selection," he says. "For Kongsberg tables, it comes down to having the right portfolio of tool bits and blades to fit a customer's requests. Esko offers a complete set of advanced quick-change tool heads that provide versatility, making it easy to set up the cutting table to process any material."
More applications
Ek points out that adding digital finishing to your process allows you to offer new and exciting applications and capitalize on some key trends such as:
Personalization — "Every sheet can be printed differently. In the same way, every sheet can be cut differently."
Creativity — "Straight-cut signs are basically commodities. Companies compete for this business on price. Digital finishing tables, with the right CAD design software, can allow print providers to offer creative 3D displays. This not only offers the ability to enjoy higher margins for unique work; it also allows a print provider to offer structural design services as a separate profit center."
Interesting materials — "New and more interesting materials that can only be finished on a CNC machine. For example, there is the ability to finish re-board for P.O.P. display projects, and most other materials used for signs."
Just-in-Time production — "In-house finishing can deliver quick delivery times from the print provider. In addition, the print provider benefits with greater capacity from faster throughput," Ek concludes.
Making a sharp cut in fabrics
Maureen Damato, sales dealer account manager at Colex Finishing, Elmwood Park, New Jersey, says the biggest trend is the ability to automate and provide versatility and speed to increase productivity in shops. "Sign and graphic shops should make sure that their cutter is capable of cutting a wide range of media with the ability to handle every job request and expand your business.
She says the Sharpcut triple tool head is capable of cutting foamboard, coroplast, PVC, corrugated plastics and more while the router can route Dibond, acrylic, wood, and aluminum up to 2-1/2 inches-thick producing clean, smooth edges. "Colex also offers the EngView Library software that contains more than 2,000 resizable templates offering boxes, P.O.P., and trade show furniture."
Damato adds that the Sharpcut SXC1732 (5′ x 10′ Conveyor model) offers an optional production automation software QR code recognition with onboard registration camera to simplify the processing of jobs with no more operator errors loading and processing the correct file in addition to production information system that captures and reports on all jobs processed. This provides accurate information on time to process a job as well as linear cut lengths and media usage. This is an essential tool in understanding your finishing production capabilities.