Features
D&H Engraving Marks 50 Years in Business
Colorado-based mechanical engraving company has served the nation for half a century.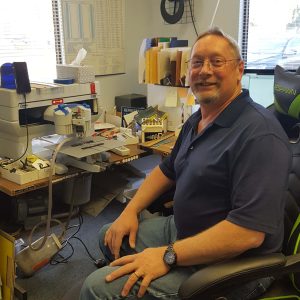 D&H Engraving, based in Broomfield, Colorado, has been mechanically marking for the last 50 years, serving the electrical and utility industries across the country. Steve Nelson runs the business now, but it was his father Don who started the company, naming it after him and his wife, Helen.
The year it all began was 1969. While also working for Adolph Coors Company, Don began mechanically engraving in the basement of his home in Arvada, Colorado with a New Hermes Pantograph manual engraver. Initially, he produced desk signs and nametags for local companies.
Throughout the years, D&H went through several different engraving machines while it bounced to and from several spots around the western suburbs of Denver before settling into its current location in Broomfield, where it has been the past 15 years. Steve, who officially purchased the company from his father in 1998, now operates with a New Hermes computerized engraver. Steve is the sole employee aside from his wife, Janet, who serves as a secretary.
Steve works on control panels, brass meter tags, switches, warning signs, and more for customers across the country. When reflecting on what has kept him in business all these years, he points to serving those customers to the best of his ability. "(You have to) be able to be flexible and take on different projects and not be afraid to fail a couple of times before you get something that they want," he explains. "A lot of times customers know what they want, but they don't know what they need or what's available. So, you have to be able to cater to them."
While working on his engraving orders, Steve has a view of the small local airport from his office window, which is perfect considering airplanes are a passion of his that he enjoys outside of his engraving business. When not engraving, Steve spends his time flying and chasing down airplanes to photograph. He also enjoys detailing planes a few days a week.
Steve continues to operate the shop in his father's name, who passed away last year. In about five years, he hopes to actively sell the business and retire. Until that time, he lives by this piece of advice: "Never promise the world, just deliver it."
For more information, visit dhengraving.com.