Customizing Awnings for Branding Purposes
Awning signs require certain materials, inks for durability, longevity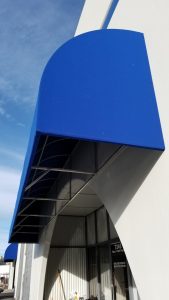 Awnings that aren't just for shade and shelter can serve as a large canvas for a business's branding but printing on them takes a few extra steps.
With sun and the weather requiring fabrics with greater durability, printers need to use the right inks and technologies to make them last. They also need to keep the colors and images vibrant enough to get passersby's attention on what becomes the business's sign or billboard. It's a platform for the business name to be on the front and sides of the building that adds to that visibility.
"They are artistic, yet architectural, ultimately giving a storefront or standalone building a different feel to a potential customer," says Christopher Guyett, Durst Image Technology U.S. "Even though static, they offer ultimate customization to portray a company's first impression. Traditional signs are still very important and attract traffic. The carefully appointed awning is personal and adds character for a potential visitor. They work hand in hand."
Awnings as a branding tool
Awnings, which serve as a secondary covering often located above a window, door, or an area of a sidewalk, are a source of "valuable real estate," says Scott Fisher, Fisher Textiles, a supplier of fabrics.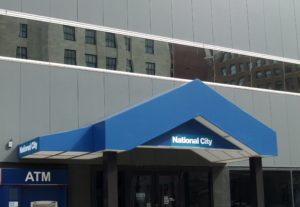 "You have the opportunity to market whether it's with a logo or some other message you're trying to get out," Fisher says. "It's probably going to be more visible because it's higher up."
Awnings can be customizable to the needs of the business and also provide an easily identifiable "landmark," says Peter Douglas, Cooley Group, a designer, developer, and manufacturer of high-performance, sustainable industrial membranes
"Think of iconic retail brands such as TGI Fridays (red and white) and Panera's (no words and a symbol of wheat)," Douglas says. "Awnings also provide brand consistency across locations geographically dispersed as well as an easily identifiable marker from a distance."
Awnings can be simple colored structures or decorated with a design or information giving the business's name, logo, and address. They often complement traditional signage attached directly to the building with the same colors and features, while serving various purposes. They provide expanded seating at restaurants and eateries, add public spaces at schools and government buildings, and achieve energy savings at office buildings. According to the American Society of Heating and Air Conditioner Engineers, businesses that use awnings can see up to a 25 percent savings in their energy bills.
"Awnings can assist in adding a sophisticated look to almost any storefront and outdoor signage while protecting clients and/or tenants from heat and bad weather," Douglas says.
Awning materials
Awnings typically are composed of canvas woven out of acrylic, cotton, or polyester yarn or vinyl laminated to polyester fabric. The canvas or fabric is stretched over a light structure of aluminum, iron, or steel and is light-diffusing in the summer and light-enhancing in the winter, while also providing shade, breaking strong winds, and protecting from rain and snow.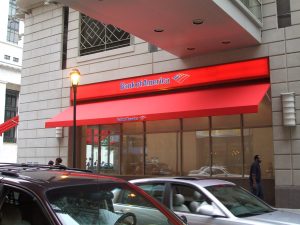 Because they are exposed to the sun, weather, and extreme heat and cold, awnings need to be durable and weather-resistant, making the selection of the material or substrate of "paramount importance," Douglas says. The substrate, the material where printing is carried out, needs to be of a high quality that will hold up to pulling, tensioning and weathering and be both weatherproof and flame retardant, which often is mandatory to meet code for commercial buildings, he says.
Other materials such as acrylic aren't inherently flame retardant, and materials that aren't waterproof can expand in the rain and become baggy, allowing the fabric to flap in the wind and fail prematurely, Douglas says.
Awning ink options
Selecting the right material is just as important as the selection of ink to retain the depth of color over time.
"For the awning application, the proper ink must be utilized to allow for stretch and durability," Guyett says. "The awning will be hit with direct sun, snow and all inclement weather."
The ink can fade if the material is outdoors for a long period of time or if it is constantly in direct sunlight, Guyett says.
"The only issue with long-term viability is ink and material lasting with the weather," he says.
Weathertyte Plus is printable for graphic images, logos, and lettering, receptive to various ink types, such as solvent, eco-solvent, and latex, and to pressure-sensitive films, Douglas says. To give the graphics greater outdoor longevity, a clear performance topcoat is applied, such as 3M and Akzo Nobel, for graphics digitally printed onto the awning, he says.
Latex, for example, is a colorant that is suspended in a liquid and propelled through an inkjet printer to print onto the vinyl and other materials, Fisher says. The challenge of using inks like latex and ultraviolet is the media they can be printed upon being durable enough for the outdoors, he says.
"Traditional awning materials are solution-dyed fabrics," Fisher says. "The printing technology can determine what application they can serve."
Instead of direct printing onto the awning, an appliqué with the graphic image or logo is printed and then placed on top of the material, Fisher says. The image is printed on a piece of vinyl and applied to the awning as a second step, he says.
"The decorating is happening via appliqué right now," Fisher says. "It's tougher and a lot of awning mat that are available are not suitable for direct printing."
Digital printing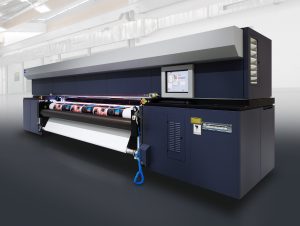 In fact, direct printing onto the awning is an emerging market, Fisher says.
"It really is dependent on the material and the ink getting better and the fabrics getting better for durability that an awning demands," Fisher says.
In spring 2018, Fisher Textiles released an awning fabric suitable for digital printing. The fabric will be coated to accept latex and ultraviolet ink, while also being durable, Fisher says. It also will be scratch- and UV-resistant after the printing, he says.
"There's a desire for awnings to be directly digitally printed and this fills that gap," Fisher says. "Right now, there are not a lot of options for textiles that will hold up in the outdoors."
Direct printing can be done digitally, allowing for large format color and process graphics. Digital printing can be done in-house at the awning fabricator or farmed out to a printer, a wholesaler or a sign company with a digital printer. The images are printed roll-to-roll in large format with professional sewing and finishing.
"All ink types are being used: solvent, eco-solvent, UV, and latex," Fisher says.
Durst Image Technology is able to print on a wider format without wrinkling, Guyett says.
"We build machines to handle roll-able and rigid media consistently and with proper registration due to industrial media handling, tensioning and transferring technology," he says. "Our focus is on industrial media handling of the material coupled with robust printing technology to precisely print to media used in awning applications, all the while producing exceptional print output."