Features
Creep it Real: Halloween Impression Ideas
Get some Halloween decoration inspiration with these fun and funky looks. 
Halloween is just a few short weeks away, and there are a number of items heat printers can customize to take advantage of this profitable holiday!
Take this trick-or-treat bag for example. You can get creative with fun, festive patterns and offer custom printed treat bags for the little ones. Burlap is a popular substrate being incorporated into many accessory items, so it's important you choose a heat transfer that will apply with ease. You also want to be cautious of the weave of the burlap. Look for one with a tight weave that has a nice surface area for the heat transfer vinyl (HTV) to hold onto.
Pro tip: When printing accessories like this, it can be hard to get a flat, even pressure. To avoid an uneven application from straps and seams, use interchangeable platens such as a 6″ X 10″ or 4″ X 4″ (depending on the design size). If you cannot use interchangeable platens with your press, heat printing pillows will help as well.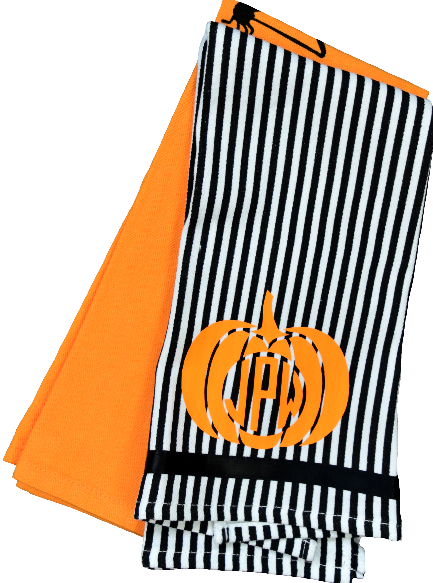 Printing home décor accessories creates a great opportunity for Halloween add-on sales. New homeowners and newlyweds are two categories of end users that enjoy buying décor decorated with initials, monograms, or names and dates. With the innovation of HTV and decal vinyl, you can customize just about anything and make it Halloween-inspired to increase holiday profits.
Whether it be punny, include song lyrics, or a popular quote or saying, incorporating graphic Ts into your offering for Halloween is a must-do. Think outside the box by mixing and matching different media types for the ultimate stand-out design that really catches your customer's eye. This fringe long-sleeve T was paired with glitter and glow-in-the-dark HTV so it can even be seen at night.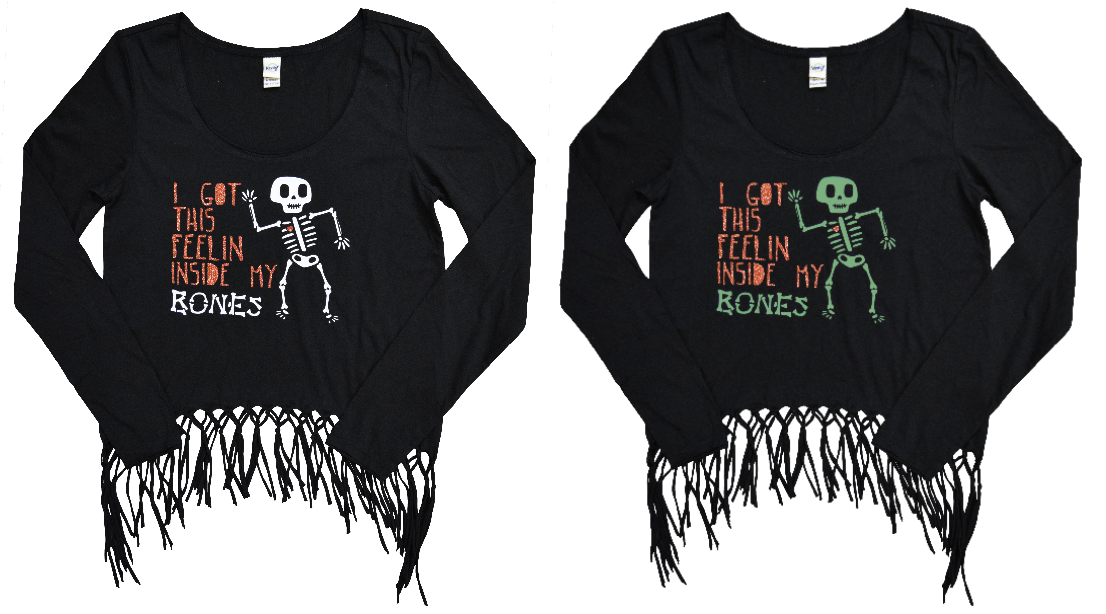 Pro tip: Different HTV has different application instructions. When heat applying different types for a mixed-media look, always go with the temperature of the HTV that applies at the highest. For example, glow applies at 320 degrees F and glitter applies at 300 degrees F. For this application, both HTV should be applied at 320 degrees.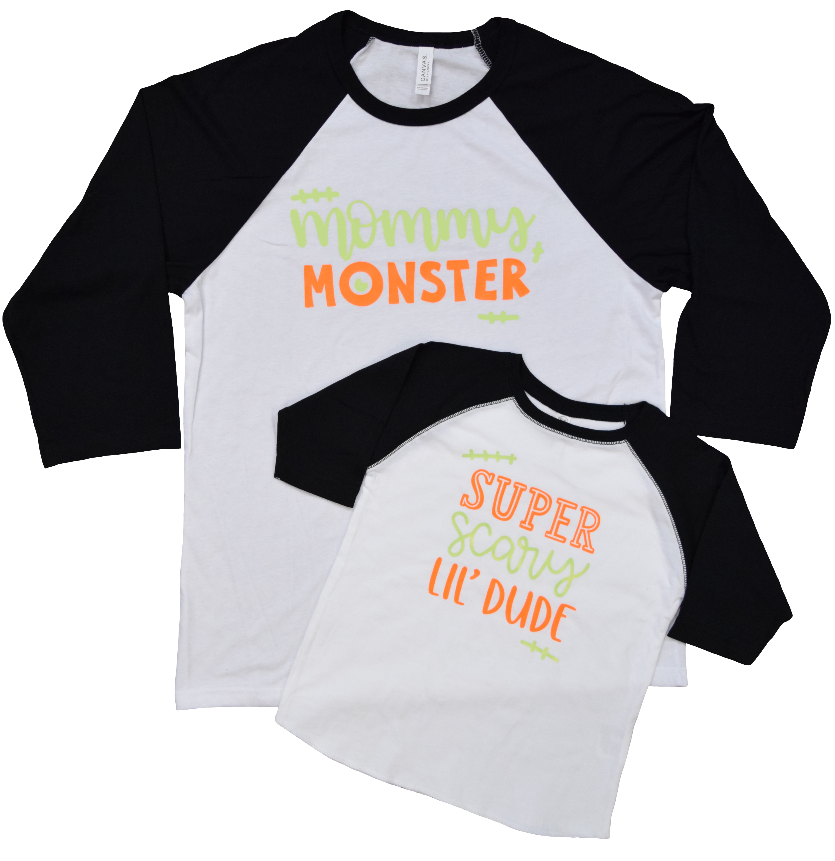 While on the graphic T discussion, don't forget companion looks. Companion shirts are custom printed Ts for mom and dad, mom and kid, dad and kid, or the whole family. They can be worn to parties, for family Halloween/fall photos, and even for trick-or-treating. This particular set was created using metallic lime green and neon orange HTV.
Finally, yet importantly, is the topic of printing for events. In October, there are many events like festivals, fright nights, and walks or runs to capitalize on. Heat printers can take advantage of printing onsite for attendees. Large jobs like this require certain transfer types to keep it cost-effective for the business, and screen-print transfers are the ideal option.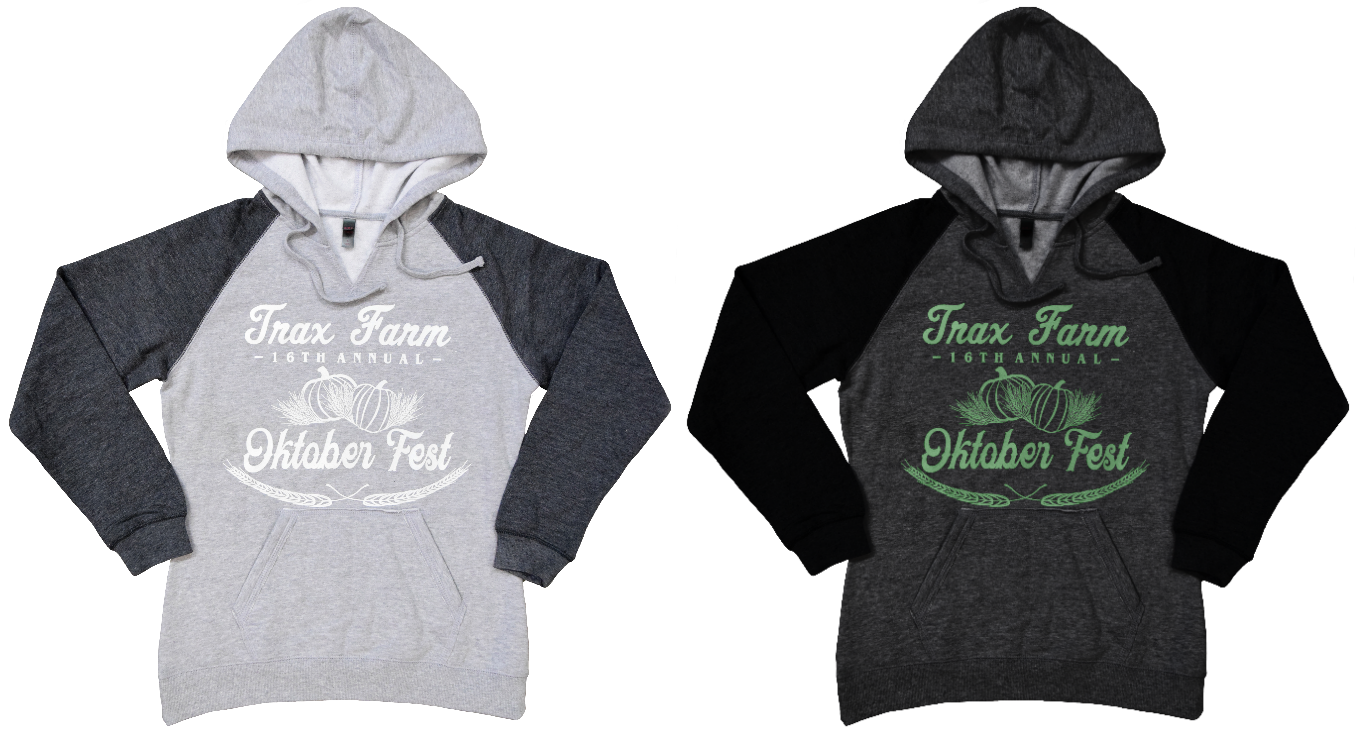 The hoodie shown above is a glow-in-the-dark screen print ink that applies with just a heat press. It shows white during the day and lime green at night and is perfect for any event this time of year.