What springs to mind when you hear the word value? It is a word with a lot of meanings. A few definitions from my dictionary include 1) of relative worth, merit, or importance; 2) monetary or material worth, as in trade or commerce.
In the context of our decorated apparel and promotional products industry, what is value? When your objective is to give your customers good value, you must first understand how they define and measure value. You won't be able to predict what your customers would think is a good value or not until you know their baseline of the perceived value of any given order or product.
Measuring value
Distributors of decorated apparel and promotional goods have admitted to me that they are unable to convince customers to pay for embroidered clothing. Therefore, they typically sell screen-print or heat-transfer orders instead.
The idea that people won't spend a lot of money on a high-quality product with fantastic, personalized embroidery on it is not one I accept. They pay retail prices all day long for apparel and products that are not customized or personalized. When an embroidery professional embellishes garments and products for a client, the customer gets exceptional value. So where is the disconnect?
No matter if you are the one offering value or expecting value, there is one key question: how, exactly, is value perceived and measured? After working with people who have bought and sold embroidered goods for more than 25 years, here is what I think value is: value is the difference between what someone expected to pay and what they were quoted, which would be the market price.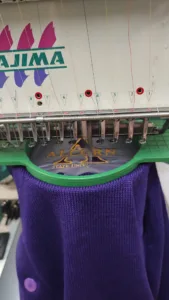 When you quote a customer a price of $55 for a moisture management golf shirt with a custom logo, and they are expecting to pay $60-70, they feel as though they are receiving an exceptional value. When a consumer exclaims, "Oh, I thought it would cost more," you know you have delivered a price that is rich in value.
On the flip side, you exceeded the value potential for a project if the price you gave is higher than the amount they intended to pay for that order. The customer will express this to you much more passionately than in the scenario described above. They say something along the lines of, "Oh, there's no way I could spend that." The consumer feels that this is not a good value in this instance.
You may need to put forth a lot of effort to win the order. You could propose an alternative product, giving the customer a less expensive option. Offering a good, better, best set of product options often demonstrates value and gives the customer the ability to stay within their expected budget. You could propose making the design smaller or suggest decorating fewer locations on the product, which are both excellent strategies to reduce the cost of the embroidery.
The way you present a sample product might affect the customer's perception of the value of that product more than you might expect. A shirt that is shown on a nice hanger and is free of wrinkles, stains, and snags will be seen as having a far higher value than one that you take out of a duffel bag and smooth out on the desk to try and reduce the appearance of wrinkles.
Indicating that a product is a personal favorite and that you frequently wear it yourself while displaying a sample creates a high expectation of value for that product. On the other hand, if you tell a customer, "This is the shirt that all the contractors use because they know they will be replacing it pretty often due to the nature of their work," they will correctly assume that the shirt you are showing them is less expensive.
Professional value
The perceived value of anything can be influenced by the surroundings. At a Ruth's Chris Steakhouse, a side of shoestring fries will cost you close to $10. A side of fries costs $1 when you order it from McDonald's.
Nevertheless, both begin with the same basic ingredient … the lowly potato! One dish has a 10 times higher perceived value than the other. What a fantastic illustration of controlling value expectations! Who would have thought that some good napkins, soft lighting, and well-groomed waitstaff could have such a significant impact on the value? Well, Ruth's Chris leadership is aware of it, that's for sure.
The customer's expectations of what they are willing to spend may be impacted if you pitch your embroidered clothing in a less-than-ideal setting. If the client says they can meet you anywhere, pick a spot that will help you showcase your work's worth accurately. Meeting someone in an office might be preferable to meeting them at the warehouse loading docks if you are discussing an order for dress shirts for the sales staff.
Your customers will have faith in the value they are receiving from you if they visit your place of business and see stacks of goods neatly folded on tables, machines in operation, and efficiently working employees.
Do you think they would feel the same sense of value if they enter your shop and disorder is the norm, clothing and products are piled on the floor, and the staff is hurrying around, seeming anxious or overwhelmed? Would you be willing to spend the same price at both shops if you were the customer?
Value fluctuates. It is influenced by factors over which we have full control. It is a sound business strategy to create expectations that are in line with the rates you want to charge for your embroidered garments and products.
Because we can affect our environment, how we present our products, and even the context in which we present our offers, we can influence the value others associate with our items. It could be time to take an honest look at how you are, perhaps even unwittingly, impacting your consumers' expectations if you are not receiving fair prices for your embroidered garments and products.