Could Facebook, LinkedIn and the like be effective business-building tools?
Could Facebook, LinkedIn and the like be effective business-building tools?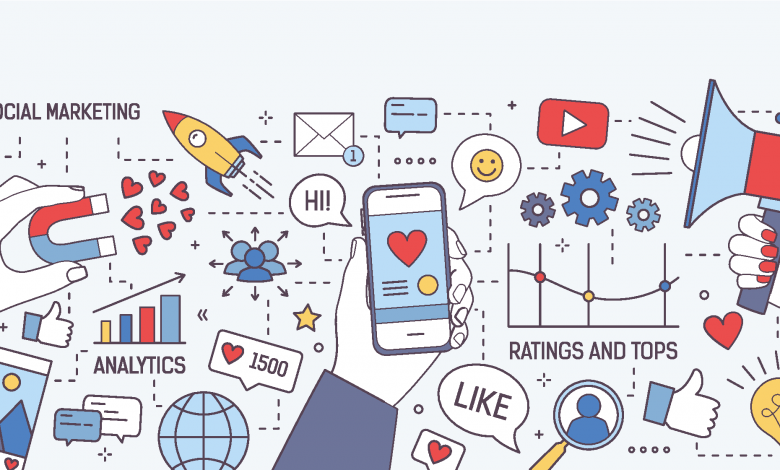 Seemingly every night, there's a "buzz" piece on the evening and entertainment news programs swarming around social media channels such as Twitter, Facebook, YouTube and Instagram. By "buzz," I mean the chortles and guffaws we aim at celebrities and athletes-and yes, politicians-getting themselves into hot water with their inane and outrageous posts and brain-droppings on social media websites. But, have you ever wondered if this means of real-time communications can be utilized as a worthwhile conduit between vendor and customer for the purpose of building a business?
To begin, why would a sign and digital graphics business owner ever consider social media as a marketing tool? Off the top of my head, here are several good reasons:
– Tons of people use it and spend hours reading posts, watching videos and reacting to other people's opinions and offerings
– Social media is gaining in popularity and is still growing-in fact, to many it's an obsession
– Social media can drive brand awareness, increase demand for your product and bolster a company's SEO ranking in organic search engine queries
– Many successful companies utilize social media-including your competitors
– It's fast, relatively free, versatile and could be cost effective, when used properly
Please indulge me in making the assumption at this point that you probably have dipped your toe in the social media pool already. C'mon, admit you do have a personal Facebook page and/or Twitter account, or have accessed LinkedIn a time or two, right? I'd even go so far as to wager that-since like three-fourths of small businesses-you've created social media pages for your shop but didn't really have a well thought out plan as to what you got yourself into.
How many times have you heard the saying "ready, aim, fire"? Well, nowhere else than in smart marketing practices does this expression apply more. And by the way, the sequence of steps in that axiom is not interchangeable. Any other order of those words is akin to jumping in feet first, unprepared and blind as to what lurks beneath the surface.
So, you may want to consider some measured insight into social media and draw your own conclusions as to whether social media marketing (SMM) is a viable option for your business. Let's go…
On your marks
Frankly, social media is not for the faint of heart. However, social media is a way to leverage the contemporary means of expression that many hip Baby Boomers, Gen-Xers and Millennials-aka your likely customers-are embracing and utilizing now. But you must do some homework first. Most of the troublesome social media posts that haunt and plague celebrities are the ones that are impulsive or hastily posted.
Still, choosing to pass on taking advantage of social media marketing could cut a business out from increased connectivity to customers. Consider some of these statistics:
– Facebook-by far, the most popular social media site-has more than 2.4 billion worldwide users who spend on average between 27 and 41 minutes each day connecting with friends and getting the scoop on the latest products and promotions. In fact, 78 percent of American consumers say they've discovered products on Facebook and 39 percent of users will follow a Facebook page just to get a special offer.
– In the Twitter world, nearly 600 million tweets are sent every day. Social media is the most rapidly adopted form of communication in history and 40 percent of Twitter users admit that they've made a product purchase as a direct result of an influencer's tweet.
– YouTube has over a billion users who watch more than 500 million hours of videos each day. Couple that with the fact that 87 percent of online marketers use video content to get their message out, 51 percent of marketing professionals name video as the content with the best ROI, and 64 percent of consumers make a purchase after watching branded social videos.
Making ready and taking aim
Before you pull the trigger on the tactical and practical details of your SMM plan, it's critical that you take the time to understand your audience. Who are they? What do they care about? What gets them excited? From your target prospects to your current customers, you will want to create 'personas' that describes the different types of people who may be or already are predisposed to buy from you. Often, this information is available to you from work you have done, and demographic research you already have available.
If you're starting from scratch and don't have customer personas yet, here's a set of questions you will want to ask:
– Customer background-At what types of companies do they work and what are their key job responsibilities? What are their likes and dislikes?
– Goals and challenges-What are their business and personal goals? How can your products help achieve those goals?
– Information sources-Are there specific social media channels where they do and don't engage?
– Role in the purchasing process-What degree of influence do they have in the decision-making process?
Listening to your audience on social media sites can be a helpful way to confirm whether your personas fit your SMM audience. Listening helps you understand in real-time what your audience truly cares about and shares. Find out which and how many of your customers and prospects are active social media aficionados, determine specifically what they are talking about and interested in, plan where to post content and conversations for maximum impact, and then following a regimented schedule. By doing so, you remove most of the chances to make irrevocable mistakes.
Social media at your service
Since 'word of mouth' marketing and referrals have been long-time mainstays of businesses in this industry's marketing/branding strategy, how could adding social media channels enhance or augment that strategy? If you've been in business for longer than eight years-which happens to be the average lifespan of an American company-that must mean that at least some people like what you do or what you sell. And, it's always been human nature to share our positive experiences. Social scientists have identified a concept of 'social currency' that exists within offline social networks.
For example, if someone were to ever inquire about the available services of a plumber, you'd probably guess they were in a pickle. If you-with a timely Facebook message, easy-to-access link on your website, or helpful tweet-were able to give them contact info of a trustworthy, competent, 24-hour plumbing service, they'd probably view you as a life saver. This raises your social capital in their eyes. And, you may be able to cash in that currency for a favor sometime in the future.
If I keep offering valuable information, you'll like me even more. Conversely, if I only pitch my product offerings or ask you for things without having any social currency to spend, your impression of me would be that of a peddler or leech … and you may not like me at all.
Whether in a B2B environment or retail selling to consumers, one needs to be aware of one's social-currency bank balance. If you've done something nice for a customer-such as, provide helpful information or spotlight them on your social media sites-get credit for doing so and leverage it. Invite them to be a friend on your company's Facebook page and ask them to say something about their experience working with you. What networks like Facebook, Linkedin, Twitter and even blogs do, to some extent, is to help people more easily share good and bad news about products or services they've purchased.
Content and cadence are the keys
In the spirit of Steven Covey's classic "7 Habits" book, there are Seven Habits of Highly Effective Social Media Marketers:
– They listen first
– They always give more than they expect in return
– They promote others and events more often than themselves
– They "mix it up" when developing and delivering content
– They are interactive and provoke helpful dialogue
– They are "Goldilocks" posters and tweeters-not too much, not too little, just right, and
– They never use social media to cast shade upon others or air out their grievances
So, let's say you're willing to give this SMM thing a try. To keep your audience engaged, make sure that your creating a variety of content that will help you achieve your SMM goals. The content you employ can take on many forms, and your mix may look different depending on which platforms you choose to utilize, the product line(s) you are highlighting, and in which of the six customer lifecycle stages-awareness, engagement, purchase, retention/loyalty, growth and advocacy-you are trying to impact.
You may want to consider having the following mixed into your content strategy: big rock content pieces (like free downloadable e-books, case studies and white papers); tip sheets/checklists; blog posts and infographics; photos and videos; fun visual content (such as memes, add-a-captions and cartoons); and slide shows and podcasts.
Social audiences-both prospects and customers-love visual content, so make sure you are using images and videos in your marketing mix often. Visual content appeals to raw emotions, creates intimacy and engages your audience on several sensory levels. Studies have shown that 77 percent of consumers say they been convinced to buy a product or service by watching a video, so you might seriously consider creating a YouTube channel and publishing "how to" and "did you know?" informational pieces.
Newbies to the SMM arena tend to have one of two problems with social media content; either they can't think of anything to post, or they've got so much material that they overwhelm their audience. Regardless of where you fall on the spectrum, the question of what and how often to post is a very important one. It's a matter of establishing a cadence.
Each social media site requires a content mix and frequency that matches the expectations of your audience. If Twitter is a good option for you, you may decide to tweet anywhere from three to six times a day without overwhelming your audience. And, the same applies to Instagram, Snapchat, and Pinterest. The general rule of thumb for Facebook and LinkedIn is to post no more than twice a day. Finally, since YouTube content takes longer to develop, publishing anywhere from weekly to quarterly is acceptable.
But is it worth it?
Is social media as a marketing tool cost-effective? What are the typical, anticipated costs associated with developing a social media marketing plan?
The fact is social media is challenging traditional ad agencies because there's almost no direct cost. It doesn't cost you a dime to host a Facebook page, start an exclusive Facebook closed group for select clientele, or run dozens of tweets a day through a free or reasonably affordable social media management program, such as HootSuite, Later or Buffer.
The only real cost associated with social-media marketing is time-which you can either take to figure it out or pay a freelancer, consultant or agency, if your time and expertise are in short supply. Of course, if you farm out the social media function, be aware there may be production and managing costs.
Your website needs to be a hub of activity pulling in the best content from your various social presences. You may need to engage a web graphics designer to create a few custom Facebook tabs. However, the related costs are significantly less than with traditional advertising. What's more, you can measure your return-on-investment. If you track every tweet that leads back to your website, and use Google Alerts to see how many people are blogging about you and track those links back to your site, you will be able to measure much of the buzz that is out there and compare it to how it's affecting your bottom line.
Use URL shortening links like bit.ly to track social posts back to your website. Develop a testing regimen to see which posts get the most views. If your website has good reporting tools, you should be able to track all the referring traffic and see how much of that traffic resulted in a direct sale or created a lead that can be followed up with an email or phone call.
Take the amount of revenue generated from this traffic and compare it to the time spent internally on the opportunity and how much you paid someone else for the effort. At the end of a quarter, you'll be able to calculate ROI. If the above explanation was mostly 'Greek' to you, it may be a good time to consult a social media expert.
Only undertake a social-media marketing campaign if you are ready to be honest, responsive and consistent. The single biggest mistake marketers make in employing social media is not being consistent. People want to see you as a reliable source of information, so you can't slack off for a few months and expect your social currency to go up. Good luck!