Considerations for Decorating Leather with a UV Printer
Adhesion testing is essential
Leather is one material that has a lot of applications that demand inks that can give when flexed. Journals, binder covers, seat covers, wall art, even apparel, and appliqués can all be printed with small to mid-format UV-LED printers using flexible or hybrid inks.
When dealing with real leather, it is essential that adhesion testing be done as some leathers have oils on them that can cause adhesion challenges. The fix may be as simple as cleaning the area to be printed with an alcohol wipe down, or as extreme as moving on to a different type of leather.
Thinner leathers present more challenges as the leather wants to "move" as it is heated by the lamps, which can cause misregistration between print layers or distortion of artwork. In these cases, the utilization of a vacuum bed or custom-made clamping jigs to minimize the movement of the material during printing is helpful.
Benefits of flexible inks on faux leathers
On the same line as leather is faux leathers, or "pleather." This material can be used for a number of the same applications as leather, but it is prominently used in the manufacture of sports balls like baseballs, basketballs, soccer balls, and volleyballs.
Artwork printed onto these items needs to be able to handle the abuse of being hit, kicked, bounced, slammed, and swatted, often into hard substrates like wooden and synthetic gym floors, rims, backboards, and goals.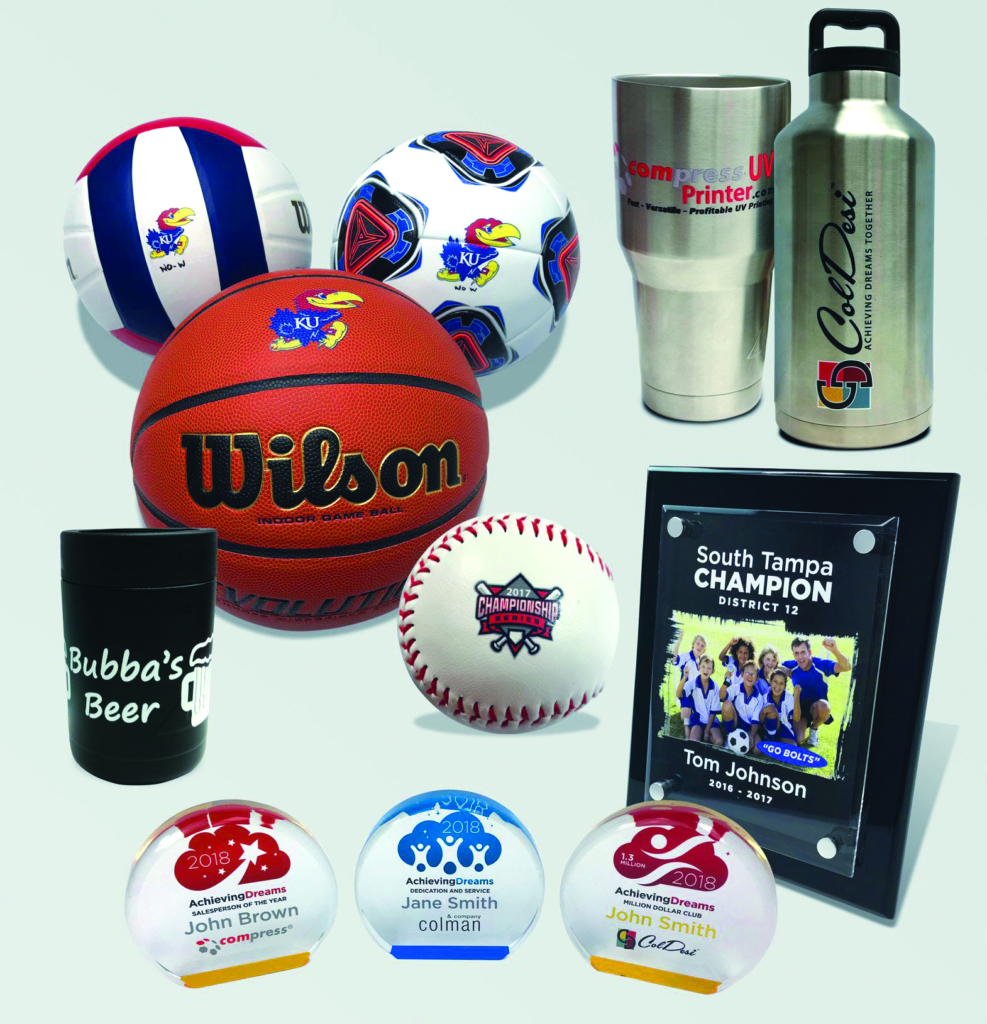 For most of these items, the secret isn't so much about adhesion as it is about positioning and finding the "sweet spot" for printing on a curved surface. This can take time and patience but eventually, you can determine the maximum size that each type of ball can handle. For example, a basketball may allow for a 2 1/2″ to 2 3/4″ diameter logo, while a baseball may be limited to 1″. Trial and error allow you to dial in these numbers.
Common sense also helps. If the numbers above are your limits, then it makes sense to start off at 1 1/8″ or so on a softball and maybe 1 3/4″ to 2″ on a volleyball.