Features
Condé Announces Date for Annual Open House
This year's open house will take place on June 27th in Mobile, Alabama.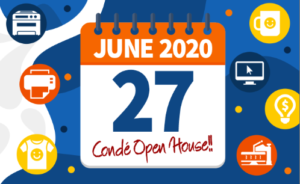 Condé Systems announces that its 16th annual open house will be held on Saturday, June 27, 2020. It will take place at the company's headquarters in Mobile, Alabama.
The open house consists of instructional and educational classes taught by industry experts, as well as live product and equipment demonstrations by Condé team members and vendors, according to the company. Attendees will also have the chance to meet with Condé account managers and more.
"Our annual open house is a great opportunity to gain valuable information from industry experts and get a first-hand look at sublimation equipment, and meet our dedicated team all in one place," says David Gross, president of Condé. "This year, we have improved our digital streaming capabilities, so the virtual open house will be more inclusive. Also, our door prizes will be more valuable than ever!"
Call 800-826-6332 or visit www.conde.com for additional information.