Features
Co-Founders of sockprints Talk Shop
The women-owned shop gives us a peek into day-to-day operations and shares advice and motivations.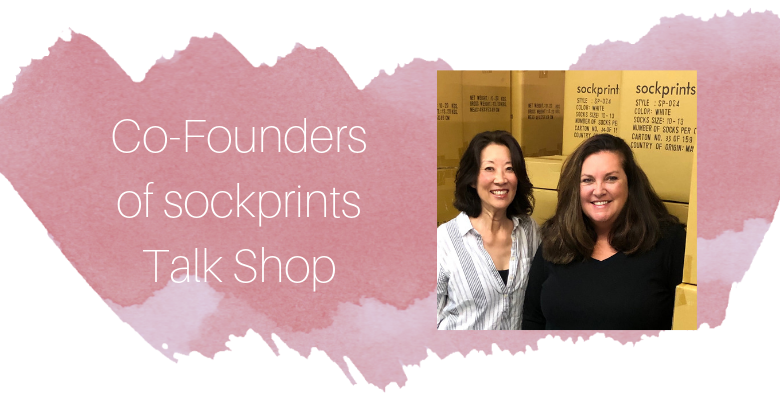 Name: Hayley Mullin and Jann Middo
Company: Sockprints, LLC
Title: Co-Founders
Years in Industry: 12
How did you get started in the industry? 
HM: I purchased my first DTG printer in 2007 to start a home-based business printing T-shirts and a couple years later I met my business partner, Jann Middo, a mom on my daughter's club soccer team. Jann worked in the hosiery industry for many years and saw some T-shirts I printed for the team and asked if I could do that on a pair of socks. We pulled together our expertise in DTG printing and socks and created a method for printing multiple pairs at a time, created our company, sockprints, and have been continuing our DTG journey ever since.
What does a typical day look like for you?
JM & HM: As most business owners will say, it's sometimes hard to tell when the day starts and stops. We're both in our shop during standard business hours each day working with our daily operations staff personalizing and custom printing socks and spend our hours away from the shop working on other projects to continue to grow our company. Our spare time, when we have it, is spent with family and friends.
What have you learned along the way, and what advice do you have for other women?
JM & HM: We have learned a ton. Hang in there and take a deep breath when you are frustrated if something goes wrong with your printer. Have realistic expectations about your printer and what it can do. Ask the experts and others in DTG printing a lot of questions. Go to trade shows for face time with industry representatives. Do regular maintenance on your printer. Be adventurous and try printing on new things. Spoilage on products happens, it's just part of the business. Keep tech support on speed dial!
How do you stay motivated in the day to day?
JM & HM: We always have a goal and something to work toward. There aren't enough hours in the day to get everything done we want to. The most recent project that's keeping us extremely motivated and excited is getting our blank socks and templates ready to sell to other DTG owners.
What's one highlight from your career you take pride in?
JM & HM: We're inventors and own a patent. We are extremely proud of our utility patent to print multiple pairs of socks with our template on our DTG printers. Our hard work and ingenuity paid off!