Features
Chat with Matt: An interview with Troy Downey
An interview with Troy Downey of Ape Wraps.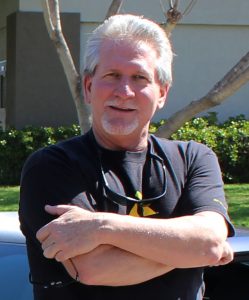 – How did you first get started in the wrap business? 
It was seeing my first wrapped vehicle and realizing the somewhat instant gratification of printed vinyl (that's not permanent) vs. custom paint bringing all of those concepts of custom paint jobs I never pursued back to life! Before getting into the wraps business, many if not most of my automotive paint schemes were either too complicated, too expensive or would take months to finish only to find out that their reality was only 60% of what I expected. It didn't take but three months after seeing my first wrap to get into the game.
      – Over the years, what have been the biggest adjustments you've had to make to stay relevant as a wrap installer? 
"Relevant" in the context you mention has never been important to me, as it does not pay the bills. Relevance, when it comes to where I've been and what I've accomplished over my body of work, serves me well and provides our clients and the consumers of our brands the confidence of knowing that my family will continue to be all about the hard work and R&D here. As for actual application, I try and get my hands on vinyl a few times a month, making time for the testing of our products and some for new materials coming to market. Consistency is a rule for us here, and it's not an adjustment.
      – What do you feel has been the biggest advancement in the wrap industry since you began your career? 
The obvious answer is digital printer technology because the films it prints on in that space makes up 90% of the pressure-sensitive film market. However, the biggest advancement in the pressure sensitive film market is as follows:
Today the increased efficiency of the installer is via the advancements in adhesive technology, namely air egress and stand-off technology. Air egress was the first development enabling the films to be installed faster and more efficiently by channels allowing the air to escape out from under the film during application. The standoff features enabled the films to become thinner as they paved the way for lower initial tack (or at least it made it feel that way) allowing the film to slide over the intended surface and only stick when we pressed on it. Those two technologies paved the way for what we know today as color change. Even if you weren't around those high-performance permanent adhesives from before, you surely know enough now, that solving that aggressive adhesive challenge has made the films of today the reason you're in the business. Literally 65% of your wraps readers here would not be in the business (therefore not reading this), if it weren't for those 2 advancements.
    – What are your favorite types of wraps to work on? 
They all are to some extent. Unfortunately, time is money for us, so I would have to say the flatter the surface the more I like it! Here's one: Client says, "Wrap my helmet (perfectly) because I let you wrap my race car." If you're not familiar with that scenario, that's how it goes down and is a loser every time.
      – How much of your business would you say is from repeat customers, and what kind of incentives do you give your customers to come back?
Seventy-five percent of our wrap business is return customers. As far as new business is concerned, we concentrate on quality over quantity, as many consumers are very economy based and most of those types of inexpensive materials that meet their budgets are not warrantable, therefore we elect to not participate as life is too short to have to sleep with those jobs. Incentives that we provide are, industry-normal higher-volume square-footage discounts, art discounts and reoccurring fleet discounts when it occurs. When it occurs? Yes, I provide the discount when what they say actually occurs (becomes true!) as in, when they deliver that next promised vehicle or two or three. I provide the discount at that moment.
  – When you think about weather and environmental conditions throughout the country, which area should feel the luckiest for its weather in terms of the best places to install long-lasting wraps? 
Don't worry about the weather, prepare for it. The best is the Southern California coast; it very seldom rains or freezes and averages 72 degrees F with 55% humidity. (San Diego specifically) Unfortunately, that answer didn't help anybody. If one was to relocate for the purposes of great weather for wraps, it's a waste of time. It doesn't matter where you're at, as most wraps aren't being used past their warrantable life span. Money best spent is on a facility that can accommodate the physicality of the various vehicles. Must have's:  No. 1 is a 14-foot rollup door, enough room to accommodate more than two large vehicles. No. 2: Never locate next to a cabinet maker or an insulation contractor because of airborne debris. No. 3: Have exposure to a high-traffic area, if you can afford it. Otherwise go with what you got and work your way toward those goals.
      – If you could go back in time and give young Troy Downey a piece of advice, what would it be? 
Develop a true association for the wraps industry, since the health of our industry could have depended upon it. I regret not driving this bus harder now. Allowing the wraps industry to be released on its own recognizance has developed serious consequences. You'd think that those so dependent upon our reoccurring business would've figured this out by now with a coordinated effort to create a group or an association that actually is willing to do the work to provide honest reliable answers to what's heard, seen and endured in social media and to be at the street level! Profits — or the lack thereof — the other guy, the materials, the printer, the inks, the installer, the owner, the client, the employee, and finally help shore up the uneducated preverbal race to the bottom!
You're not going to hear this from your wrap instructor, because that's about business, not wrapping. Surely, you're not going to hear it from your manufacturers at 30,000 feet, as they have absolutely no idea what's happening on the street. There's nothing possessing them to spend any time or effort enabling the industry to develop its people and their business skills. If they did, education could be measured by the instructor's conveying his or her first-hand knowledge as basis to understand the client, the books, the materials, the good the bad and the ugly. Our wraps industry remains a study, and we are all students that need to be developed, not sold.
      – What do you feel are the biggest challenges wrap installers will face in the future? 
I said it before and I'll galvanize it here: Having no knowledgeable association to answer to will be the challenge of a profitable wrap shop. This is being demonstrated today in the consumer having direct access to the same discounted media the shops do. For many, this is another nail in the coffin of "The Business in a Box" so many have relied upon, as that margin (profit) on media is virtually gone. Unless you are digitally printing, your days are numbered. (Them too, if they're not careful). One way or another, the manufacturers will sell their goods with you or without you. So, you'd better start getting with the program, as removing you from the equation will make their lives easier. There's nobody running the show, and when it's too late, it is!