Features
Chat with Matt: An interview with Tim Boxeth
This month's interview is with Tim Boxeth, marketing manager for 3M's Commercial Graphics Division.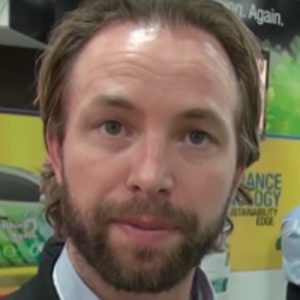 This month's interview is with Tim Boxeth, marketing manager for 3M's Commercial Graphics Division.
What path brought you to your current position with 3M?
Don't tell anyone, Matt, but I had a sticker book when I was a kid… I remember a lot of whimsical looking stickers, some Smurf ones and hockey themed stickers. Wish I still had that book. Then I began at 3M in 1995 as a sales rep promoting graphic films in the Southeast U.S. working out of Atlanta. In 2000, I moved back home to Minnesota taking a marketing position working with our graphics distributors. In 2006, I began marketing our inkjet line of products and this year transitioned over to marketing 3M's Wrap Film Series 1080 and 2080, 3M Automotive Window Films, and 3M Paint Protection Films.
When you started your career, did you foresee what kind of impact adhesive vinyl material would have on the sign and graphics industry?
Kind of, but probably because it was already well on its way. I saw the value it provided with cut vinyl and for screen printing graphics mainly for trailers. But then 3M helped introduce digitally printed graphics with electrostatic printing and everything changed. We saw graphics and full-color graphics in places we really had not seen much before… walls, floors, windows, and then somebody decided to wrap a bus, and then a car, even boats, etc. I did not see the magnitude of it all and what it has become.
What has been the biggest technological advancement in film you have seen in your career?
There are several things I'd say. First was 3M bringing slideability (aka "Controltac"), snap-up and air release (3M Comply) to the adhesive system in films. This really made wrapping stuff possible. Installers were doing it before to a certain degree, but these advancements made it a lot easier and faster. Films have become more conformable and offer greater lifting resistance, which is a requirement for vehicle wraps and textured walls. The recent introduction of a truly wrappable/conformable reflective film with 3M Scotchlite Print Wrap Film 780mC was groundbreaking. Let's not forget about 3M Knifeless Tape and the quality and creativity that opened up. And now the industry has a gloss color change wrap film that is so smooth and glossy due in part to a first-of-its-kind protective film layer that can remain on throughout installation with the new 3M Wrap Film Series 2080.
What are some of the most ingenious ways you've seen people deploy your company's film?
Wow, so many! Recently I saw an enormous, curvy, ceiling get wrapped with chrome film, crazy! There are so many incredible vehicle wrap designs, including film layering/embossing, printing on clear wrap film, and printing on metallic or reflective. The building wraps are always stunning. I saw one company wait for the ocean tide to go out, the boat sat in the sand, and they wrapped the boat just in time before the tide rolled in. We've seen wraps on mailboxes, gaming devices, ATV/UTV's, planes, utility boxes, refrigerators, helmets, motorcycles and you can even have your coffin wrapped. It's all so cool!
What are some ways 3M is working to reduce the environmental impact of wrap material?
The first thing that comes to mind was introducing the world's first non-PVC, high-performing wrap film – 3M Envision Wrap Films. The films are GREENGUARD Gold certified and the film is manufactured with less solvent and made in part with bio-based material.  Overall, our graphics division participates within 3M as a whole to improve every life and the communities around the world. Here are just a couple examples of 3M's results so far:
Since 2002, 3M has reduced GHG emissions by 63.7 percent
Since the launch of our 2025 Sustainability Goals we have reduced VOC (volatile organic compounds) emissions by 20%.
How long does it take a new product to go from drawing board to distribution?
The dreaded answer… it depends. I'd say for standard products it can range from 3 months to several years. Although, 3M does have the ability to make custom products and custom colors in certain product lines in less than three months.
What are some of the biggest business challenges you feel graphics shops are facing today?
Shops are looking to differentiate and market themselves more; it is competitive out there. The good thing is we are operating in a growth industry, especially in wraps. And the industry is offering more tools and training to help shops market themselves. I think of options here like 3M Graphics College, 3M white papers on various business topics or the new marketing tools to help restylers/wrappers market wraps to consumers. There is also a cooperative spirit amongst so many of the graphic shops and installers I know, and they learn from each other. I also continue to hear about how challenging it can be to find good installers. The industry is doing more and more training and certification, which definitely helps. Many options exist today from local and regional trainings/certifications on different applications to online information/vids or so many of the Youtube videos.