Features
Cam Earven on Making It in the Screen Printing Industry
Jeanene Edwards, VP of activewear marketing and merchandising for Fruit of the Loom and JERZEES interviewed Cam Earven on making it in the screen printing industry today.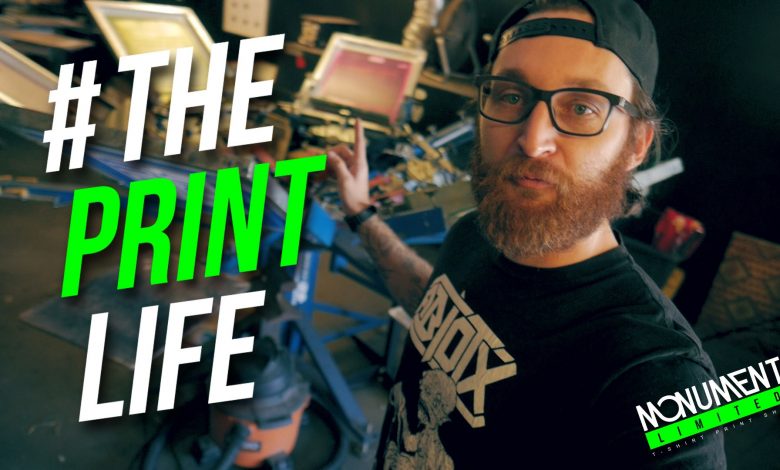 Jeanene Edwards, VP of activewear marketing and merchandising for Fruit of the Loom and JERZEES interviewed Cam Earven on making it in the screen-printing industry today. 
Cam Earven is an up and coming YouTube sensation in the screen printing industry and small business owner of Monument Limited in Arizona. His channel, The Print Life, takes viewers through a day in the life of a shop owner. Other than practical demonstrations, The Print Life is one of the many great voices in the decorated apparel industry that provides tangible and insightful advice online to the decorated apparel industry.
The decorated apparel industry, shop owners, and manufacturers are in the middle of a shift with how we sell products. We are all trying to learn how to master social media while making decorated apparel fun, unique, and visual.
I talked to Earven about what it takes to be a successful screen printer in today's decorated apparel industry. Watching Earven's channel can teach new and seasoned screen printers a lot about screen printing in the modern era.
Make screen printing cool
With his unique, honest and stylized approach to screen printing on his YouTube vlog, Earven lets his personality take over while providing viewers with an in-depth, experiential approach to screen printing. As an industry leader, Earven hopes to connect with and teach younger generations.
"The industry has some work to do when it comes to appealing to younger folks because, ultimately, it's very cool. It has creative limitations, but those creative limitations are fun. Any kind of artist or illustrator that wants to find a way to put their art onto wearable products or paper, screen printing is the option for them," says Earven.
The Print Life offers an insider perspective on the day to day operations of a print shop and a greater understanding of the decorated apparel industry. Earven approaches these topics in an unconventional, modern, and entertaining way.
"Screen printing needs to be thought of as a cool, fun thing," says Earven.
Don't play the price game
When starting out as a screen printer, deciding how to price your products can be tricky. You might want to up your prices for fear of not making enough to sustain your business. However, Earven suggests otherwise.
"I thought I was just going to do what all the big guys do and undercut everyone, corner the market and then raise my prices. Well, this industry is huge, and there are new people that come and go every week, so you can't corner the market. But what will end up happening if you're cheap is you'll run yourself out of business. You just can't play that game. What happens is if you play that game, the customers you have acquired will decide to leave you when you do decide to raise your prices. You might as well go after good customers from the beginning," says Earven.
Quality counts when it comes to products and building your customer base. Loyal customers will be willing to pay more for your products and services if they know what to expect with the finished product.
Connect online
Earven's channel is a great example of how screen printers can master the art of social media marketing. He has mastered the art of connecting online with prospective customers and those interested in screen printing.
While there is always more to learn on different platforms, Earven has accomplished a lot in the last two years of developing content. Looking at the comment sections within the channel or on social, you'll find questions being asked, people communicating and connecting with each other, and tip sharing. His channel has formed a Print Life community of followers. This has opened up opportunities for Earven to earn clients and market himself without spending a dime.
"I think the key for any screen printer, myself included, is to have a presence on social media and continue to engage on a personal level rather than a vague way," says Earven.
Earven tries to connect directly with viewers. He answers questions and discusses things that interest those who watch his vlog.
Stay original
Staying up with the trends is difficult in today's social media-saturated world. Breaking through the boredom barrier is key. As of recent, local shops and makers are making millennials stop and look. It can be challenging to stand out from the crowd. Earven suggests holding on to the craftsmanship of screen printing to stay relevant.
"However, I think you can leverage the cool maker and craftsman style if you start doing it now and you start selling it as more of an experience. People will come to love it, and it's still beautiful in that way. I think it's also catching on with the early start-up community with people that are developing their own brands or their own thing. I think it'll start to catch up on that hobbyist level," explains Earven.
Be authentic
If you have seen Earven's vlog, you know that he is entertaining and real. He has branded The Print Life as an extension of who he is. His shop and his vlog directly reflect his boisterous personality.
"To some degree, I think my brand shows others that they can do it as well. It shows them that you don't have to be afraid of not having all the answers. You can go for it and see where it lands," he says.
Earven's focus is to inspire younger generations and new and familiar decorators and make an impact on how viewers see apparel decoration. In the future, he anticipates The Print Life growing with his business.
"I'd really like to document the process of bringing on new people and show the hiring and business stuff that I think is overwhelming for any new business owner. I'd like to document that, so they see that it's all okay and that it's easy. I think the documentation of all of that stuff will be one of the things to look forward to most for me, the channel, and The Print Life brand," says Earven.
"When I'm 80 years old, I can look back and go, "Oh wow, look at all this crazy stuff I did and how good I looked doing it!"