Features
California Design and Print Shop Wins at THE NBM SHOW
Learn about one attendee's experience at THE NBM SHOW.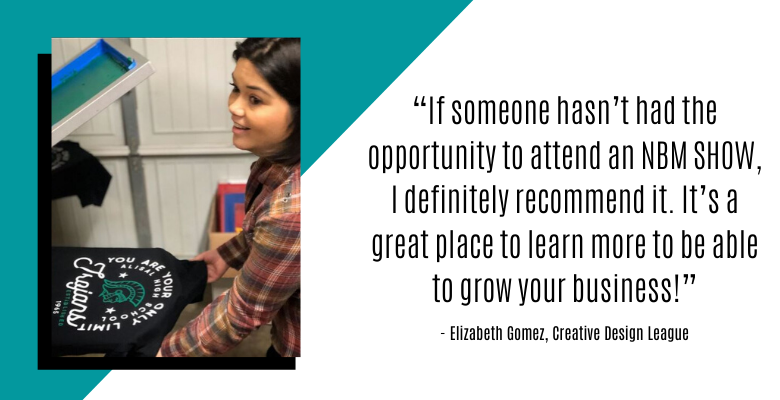 THE NBM SHOW is home to a slew of opportunities for businesses in the apparel decorating, sign and digital graphics, and awards and engraving markets. The Santa Clara stop, which took place Feb. 7-8, offered attendees the chance to network with industry peers and suppliers, as well as view the latest in products and technology for the three graphics markets.
Aside from networking and education opportunities, THE NBM SHOW also offers attendees the chance to win prizes. In addition to the show's $500 Buyer Bucks raffle, the Santa Clara show also gave some attendees a chance to take home a pair of Bose noise-canceling headphones.
THE NBM SHOW sent letters to alumni and non-alumni attendees to inform them of the Santa Clara stop. At the bottom of each letter was a raffle ticket with the attendee's contact information on it. To enter, participants had to bring the slip to THE NBM NETWORK booth at the show. A winner was chosen at random, and Elizabeth Gomez took home the prize.
Gomez of Creative Design League, a company that specializes in brand identity and sportswear decoration, went to the Santa Clara show in hopes of browsing wide-format printers and screen-printing presses. Gomez says her team not only completed their to-do list but was able to connect with and discover apparel vendors they'd never heard of before.
According to Gomez, Creative Design League offers "everything a business needs." From creating logos to screen printing, vehicle wraps, business signage, and promotional items, the design and printing company has its hands in several markets. "We're pretty much a one-stop-shop," she adds.
Gomez found out about THE NBM SHOW's 2020 Santa Clara stop via email, as well as direct mail, and knew she wanted to attend based on her past experiences with the event. She's been to THE NBM SHOW in Long Beach and knows it's the place to see new products in the market and get hands-on with the latest technologies. She says decorators can read all about equipment online, but being able to see and touch finished garments is different.
For THE NBM SHOW newbie, Gomez has some words of wisdom, "If someone hasn't had the opportunity to attend an NBM SHOW, I definitely recommend it. It's a great place to learn more to be able to grow your business!"
The next chance to do this is at THE NBM SHOW in Irving, Texas, March 12-14. Event staff plans to hold the same Bose headphones drawing, so if you receive a letter in the mail, be sure to bring it by THE NBM NETWORK booth to enter!