Features
Broadsign and Lemma Partner to Expand Programmatic DOOH Offerings
Through its Reach platform, Broadsign can now deliver access to some 50,000 programmatically enabled screens of various types around the globe.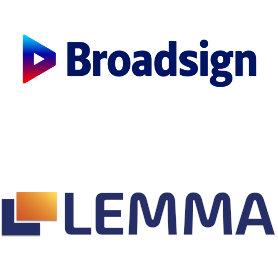 Montreal-based Broadsign International, a maker of automated digital software for the digital signage industry, announces a partnership with India-based Lemma, another digital signage software company.
Lemma enables programmatic digital out of home advertising in India and various other markets, and under the partnership, Broadsign's Reach programmatic supply-side platform (SSP) will be integrated with Lemma's demand-side platform. This will expand Lemma's digital out-of-home screen inventory while enabling Broadsign's global network of programmatically enabled publishers to reach new buyers throughout the Asia-Pacific region, which also includes Australia and New Zealand.
Lemma's digital buyers will now have a much larger pool of out-of-home screens to tap into, including roadside, retail, transit and other place-based DOOH screens.
This partnership is part of Broadsign's continued expansion. Broadsign Reach now supports more than 30 demand-side platforms globally, including now Lemma's, giving customers access to some 50,000 programmatically enabled screens around the world.