Features
Break Into the Banner Market
Get advice on increasing your share of the indoor and outdoor banner market
You're well aware of the high-impact results of a printed banner, be it at an indoor retail or trade show setting, or strung across Main Street to announce a summer music festival. Banner printing can be a lucrative business for even a small sign shop, with an endless variety of potential clients. But understanding the differences between banner materials and their uses, plus the variety of methods and costs of printing them correctly, suggests that you do a bit of research.
Sharon Roland, Fisher Textiles, says the world of banners neatly splits into two applications — hanging banners or banner stands — with durability being the biggest factor in choosing media for hanging banners used outdoors. For free-standing or roll-up banners used at stands, ease of finishing is an equal consideration when choosing the right media for the job.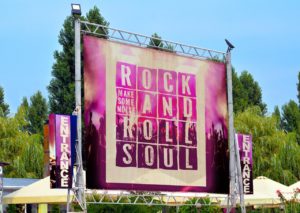 "It's always best to specify the intended end-use first before choosing which fabric to use," Roland says. "Fabric used for an outdoor hanging banner might not be the best media choice for a roll-up banner stand and vice versa."
Picking the ideal material then moves into considerations of application, cost, and your own equipment, or if it makes sense to upgrade to a latex printer to handle a wider variety of jobs.
Mike Compton, TVF, says the indoor/outdoor split in the banner world is mirrored in the two major products used: vinyl materials for long-lasting, weather-beating outdoor use, and a vast range of fabrics for indoor use. Each comes with its own printing considerations and special requirements for finishing.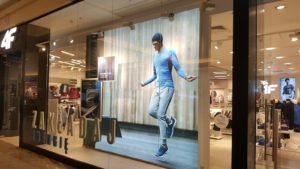 "Traditionally, outdoor applications have mostly been vinyl products due to durability and the relative environment where those finished graphics are being utilized," Compton says. "Indoor graphics have transitioned to fabric banner materials, primarily printed with dye-sublimation, heat transfer or direct-disperse inks, on polyester fabrics."
Vinyl banner materials, which can be processed more easily on inkjet equipment most shops already own, are an easy choice, but Compton cautions signmakers to consider the limitations of product quality before making what sounds like a too-good-to-be-true material purchase, especially in bulk.
"It's critical to keep in mind that when it comes to cost in banner fabrics, you typically get what you pay for," he says. "While inexpensive fabrics may seem more attractive based on cost alone, print service providers will often find more defects in those rolls, adding to waste and overall cost."
Bill Foster, Herculite, Inc., makers of Bantex Digital Media, also warns that imported vinyl often underperforms, producing less-desirable results for your customers.
"During the past few years, there has been an influx of imported, low-cost materials for banners and signs," he says. "While these materials are lower cost at purchase, their true cost is much higher because they do not allow sign shops to gain full advantage of their digital inkjet printers-lower-cost materials typically cannot run at maximum speeds and frequently result in wasted materials due to jams during production.
"More importantly, these materials cannot deliver high-quality results, resulting in customers refusing the finished jobs and asking for reprints," he adds. "After only one poor print job, those customers typically seek out other resources."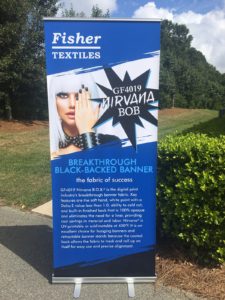 Not surprisingly, material manufacturers encourage sign shops to do their due diligence and explore some higher-quality options, which include a variety of American-made products. Herculite's Bantex Digital Media, a flexible composite textile designed and manufactured in the U.S., has been certified by HP for use with most of its commonly used forms of ink, run with digital inkjet printers. There are curl-free Bantex products, great for retractable banners, plus black-backed materials for complete opacity, as well as double-sided materials created to provide extended life in outdoor settings.
TVF offers its own line of latex performance products with a proprietary coating that provides the same rub-fastness as dye sublimation printing. And Fisher Textiles' latex-optimized Bannyl fabrics cover much of the same territory, with products that are up to 197 inches wide.
On the fabric side, an example is Fisher Textiles' Nirvana BOB, designed for roll-up banner stands, it is a printable, soft-knit fabric with a coated black back, which provides a built-in liner for finished applications. Roland says the fabric can also be cold cut with a razor or circular cutter, providing a finished edge that does not need to be sewn together.
Compton says there are a variety of other innovations which help eliminate the need for sewing or adding silicone edge for framed graphics, as well as easier ways to add grommets, banner pole loops or other accessories for hanging and displaying banners.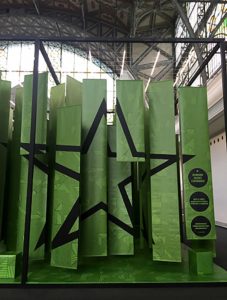 "You can now get pole loops where high-strength adhesive tapes can be utilized, as opposed to sewing or welding banner print media. High-strength grommet tabs are also available for banners that need to be suspended by rope or wire between posts."
Now that you have the materials down, where do you start? Compton suggests your existing solvent or eco-solvent printer will be great for many banner projects, but a latex printer will definitely give you more flexibility.
"Over the past few years, the adoption of small-format latex printers has increased dramatically-latex inks can be utilized on a wide variety of banner materials and other substrates, offering more diversity," he says. "The relative ease of printing, with little finishing necessary, has made them popular since the fabrics are cured with onboard printer heating elements."
What's more, Roland adds, latex printers can also handle laminates and paper, in addition to fabric media, so the same equipment can be used for not only banners and signage but also for producing vehicle wraps or POP posters.
Dye-sublimation or direct disperse printing processes allow print service providers to create brilliant fabric banner graphics, and still remain the predominant form of printing worldwide, Compton adds.
"A small shop would need to take into consideration the overall cost and their budget, plus the need of adding a heat press as well as transfer paper if they choose these methods of printing," Compton says.